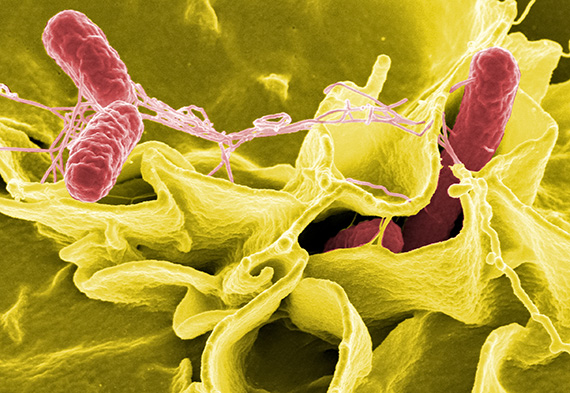 With an estimated 48 million illnesses annually in the U.S., food safety is a big deal. Some of the most recognizable brands — like Chipotle, Blue Bell, and Dole — have all been linked to outbreaks in the past year. While food has been known to be a source of illness for eons, how outbreak investigations are solved — and more importantly, how academics, regulators and the food industry learn from incidents — has changed drastically. Café Speaker Dr. Ben Chapman studies how food becomes contaminated with pathogens, how to avoid it, and what to do once food has been contaminated. Focusing on risk analysis, Chapman gathers data on food handling practices to prioritize management and communication efforts.
About our Speaker
Dr. Ben Chapman is an associate professor and food safety extension specialist at North Carolina State University. As a teenager, a Saturday afternoon viewing of the classic cable movie "Outbreak" sparked his interest in pathogens and public health. With the goal of less food-borne illness, his group designs, implements and evaluates food safety strategies, messages and media from farm to fork. Through reality-based research, Chapman investigates behaviors and creates interventions aimed at amateur and professional food handlers, managers and organizational decision-makers: the gatekeepers of safe food. Chapman co-hosts a bi-weekly podcast called "Food Safety Talk" and tries to further engage folks online through Instagram, Twitter, Facebook, YouTube and, maybe not surprisingly, Pinterest. Follow him on Twitter @benjaminchapman.
---
Have you seen The Secret World Inside You, our latest featured exhibition? Crawling on your skin, swimming in your gut, and traveling through your intestines are over 100 trillion teeny, tiny microorganisms. Collectively they are known as your microbiome, and they help keep you healthy. "Science Café: You cannot B. cereus" attendees will each receive a Buy One, Get One Free coupon to the exhibition – bring a friend, and meet your microbes!