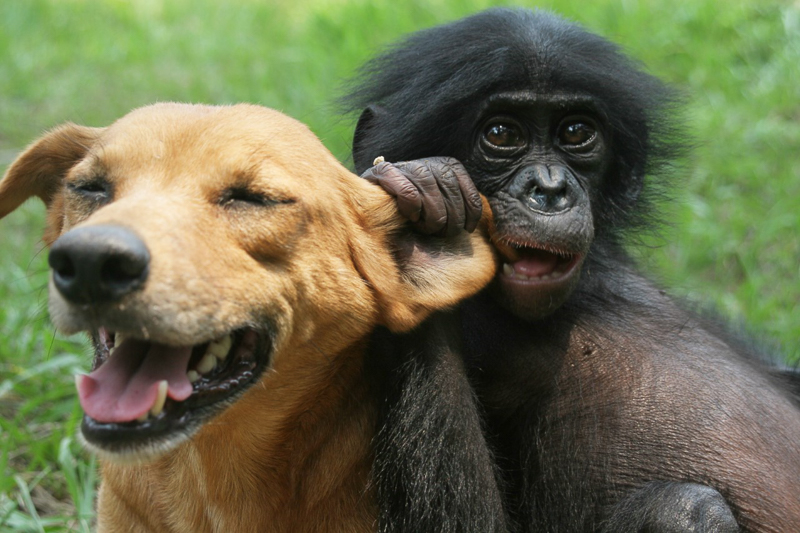 Join us for this virtual Science Cafe with Brian Hare and Vanessa Woods to discuss their new book, "Survival of the Friendliest: Understanding Our Origins and Rediscovering Our Common Humanity."
For over a century in popular culture, "survival of the fittest" has sometimes been interpreted to mean that some human lives are more valuable than others. This misunderstanding of the central pillar of biology has been used to justify eugenics and colonialism, and today continues to shape political agendas.
To Charles Darwin, and modern biologists, fitness was never meant to be confused with physical strength — much less a person, or a group of people's, moral worth. Fitness refers only to an organism's success in reproducing; it was never meant to go further.
About Our Speakers
Dr. Brian Hare is a core member of the Center of Cognitive Neuroscience, a professor of evolutionary anthropology, and psychology and neuroscience at Duke University. He received his PhD from Harvard University in 2004, and in 2005, following his work at the Max Planck Institute in Leipzig was awarded the Sofia Kovalevskaja Award, Germany's most prestigious award for scientists under 40. In 2007, Smithsonian Magazine named Hare one of the top 35 scientists under 36. Hare has published over 100 scientific papers and his research has received consistent national and international attention. In 2019, Hare and his research were featured in Steven Spielberg's documentary series, "Why We Hate."
Hare's first book with co-author Vanessa Woods, "The Genius of Dogs," is a New York Times Bestseller.
Vanessa Woods is the director of the Duke Puppy Kindergarten and an award-winning writer and journalist. In 2010, her book, "Bonobo Handshake: A Memoir of Love and Adventure in the Congo" won the Thomas Lowell award for nonfiction, and her children's book, "It's True, Space Turns You Into Spaghetti" was named an Acclaimed Book by The Royal Society in 2007. Her books have been translated into 12 languages. Woods received the Australasian Science award for journalism in 2004.
Hare and Woods live together with their dog, Congo, in North Carolina.
About the book
"Survival of the Friendliest: Understanding Our Origins and Rediscovering Our Common Humanity" (Random House; July 14, 2020), by scientists Brian Hare and Vanessa Woods, relies on the scientific definition of fitness and finds a surprising strategy that is key to our species' success.
Purchase your copy of "Survival of the Friendliest" with a signed bookplate from the Museum Store.