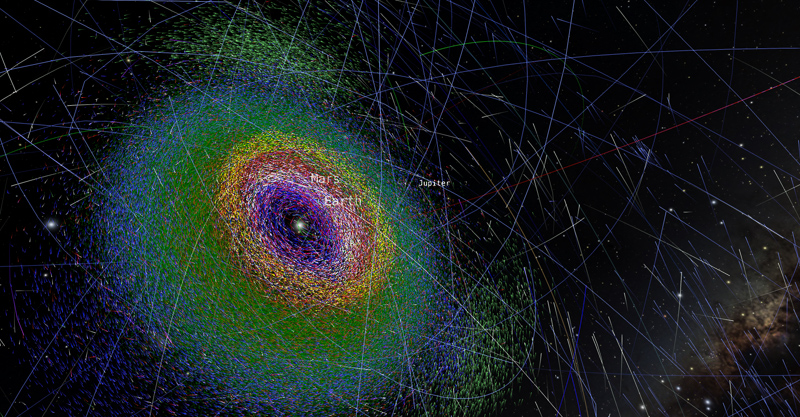 A "snapshot" in time of nearly one million asteroids and comets in our system and their positions relative to Earth, Mars and Jupiter. This visualization includes data from the Horizons Small-Body Database from the Jet Propulsion Laboratory, and was made with OpenSpace software (Image credit: R. Smith). Click to enlarge.
Join us as we explore our small but fascinating rocky neighbors, the asteroids and comets — leftovers from the early beginnings of our solar system ~4.6 billion years ago! What can these ancient relics teach us, and how do they continue to influence planets and life? Using real data sets and OpenSpace interactive software, we will explore these belts of nearby rocky debris and their cosmic dance with planets, including Earth, the gas-giant Jupiter, and Mars. We'll end at the Martian impact crater, Jezero —  NASA's next landing site to search for extraterrestrial life!
Learn more about OpenSpace at openspaceproject.com.
About Our Speaker
Dr. Rachel Smith is Head of the Astronomy & Astrophysics Research Lab and Curator of Meteorites at the NC Museum of Natural Sciences, Associate Professor in the Dept. of Physics & Astronomy at Appalachian State University, and Adjunct Professor at UNC-Chapel Hill. Rachel is especially interested in the chemistry that leads to planetary systems, and she is currently using NASA's Infrared Telescope Facility in Hawaii to observe massive, young stars across the Galaxy.