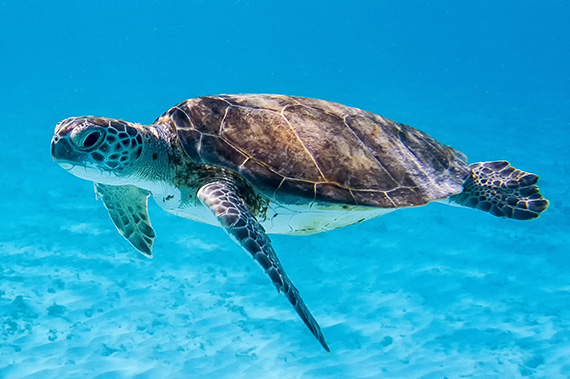 Come out to the Museum to celebrate the twenty-third annual Reptile and Amphibian Day, the nation's largest and most popular event dedicated to exploring the crawlers, hoppers and slitherers of the animal world. This year's theme is SEA TURTLES!
There will be presentations in the Daily Planet Theater and the Windows on the World stage throughout the day, as well as dozens of exhibits featuring live animals, crafts and activities! This event is perfect for all ages — from the youngest tadpoles to the oldest tortoises. Plus, don't miss your chance to sign up for a salamander drawing class!
---
PRESENTATIONS
SECU DAILY PLANET THEATER – FIRST, SECOND & THIRD FLOORS, NATURE RESEARCH CENTER
10:30am: Turtles of the World!
Dr. Bryan L. Stuart, Research Curator of Herpetology, NC Museum of Natural Sciences
Go on a journey all over the planet to explore the world's diversity of turtles. Learn how these creatures have adapted to survive in all sorts of different environments during this engaging presentation.
11:30am: Sea Turtle Hospital Virtual Tour
Kira Stearns, Education Associate, Georgia Sea Turtle Center
Join us for a virtual tour of the Georgia Sea Turtle Center. Meet some of our sea turtle patients, learn about sea turtle rehabilitation, and ask the experts your sea turtle questions!
12:30pm: How Sea Turtles Find Their Way Home
Dr. Catherine Lohmann, University of North Carolina at Chapel Hill
Sea turtles are famous for migrating all through the ocean and somehow getting back home. This talk explains how they use a built-in map and compass to find their way.
1:30pm: The Story of George the Python, Featuring the Man Who Brought Her to Raleigh
Master Sergeant Cliff Simpson, US Army and Authors Max & Morrow Dowdle
Hear the amazing true story of how a female Burmese python named George found her way from war-torn Vietnam to become the most popular exhibit in our Museum's history. At this presentation, you will hear firsthand how Master Sergeant Simpson found George while stationed in Vietnam and why he decided to bring her back to Raleigh. Joining Simpson will be Max and Morrow Dowdle, who recently published an amazing graphic novel about George's journey called "An Unlikely Refugee: The Story of a Python Named George."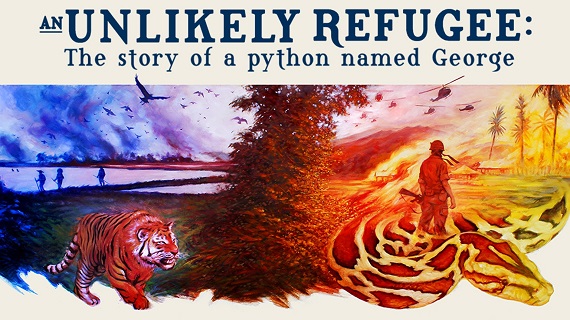 2:30pm: Live Snake Feeding!
Phil Bradley, Head of Terrestrial Exhibits
Watch a live snake eat and learn  about the different strategies wild snakes use to capture and consume their prey!
3:30pm: Jumpstarting: A Gopher Frog Conservation Story
Jeff Hall, PARC Biologist
Come and learn about the gopher frog and efforts by the NC Wildlife Resources Commission to conserve this interesting North Carolina species.  We'll discuss surveys and monitoring, pond restoration, and head-starting.
WINDOWS ON THE WORLD – THIRD FLOOR, NATURE EXPLORATION CENTER
11:00am: Amphibians and Wetlands
Alvin Braswell, Emeritus Research Curator
North Carolina has a wonderful assemblage of amphibian species that is a reflection of the natural communities they require.  Wetland habitats are diverse and support the amphibians and people.
Noon: Razor backs, vacuum faces, giants and … ninjas? Turtle diversity across time
Jason Bourke, PhD, NC Museum of Natural Sciences
Prehistoric turtles came in a wide variety of shapes and sizes. In this talk we will take a look at some of the stranger species that have evolved within this group.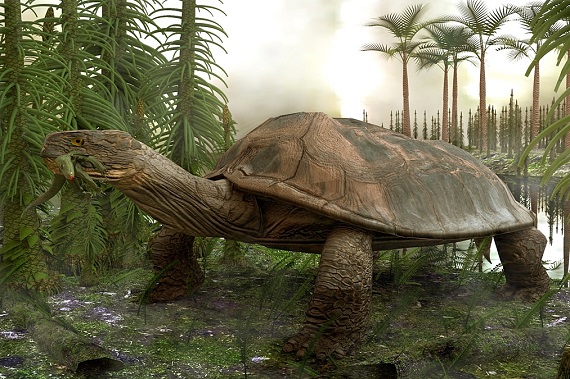 1:00pm: Them Turtles Ain't Right: The Weird Ways of the Chicken Turtle
Jeffrey C. Beane, Collections Manager for Herpetology, NC Museum of Natural Sciences
This presentation will be on the general natural history and ecology of the eastern chicken turtle, and will summarize a long-term study on a chicken turtle population in the North Carolina Sandhills.

2:00pm: (Museum Members Only) Live Snake Feeding!
Adrian Yirka, Head of Program Animals
North Carolina has a wonderful assemblage of amphibian species that is a reflection of the natural communities they require.  Wetland habitats are diverse and support the amphibians and people.
3:00pm: (Museum Members Only) Live Turtle Feeding!
Adrian Yirka, Head of Program Animals
Don't miss this special opportunity to watch the different strategies turtles use for eating — from the quick bites of a snapping turtle to the "vacuum cleaner" method used by the matamata!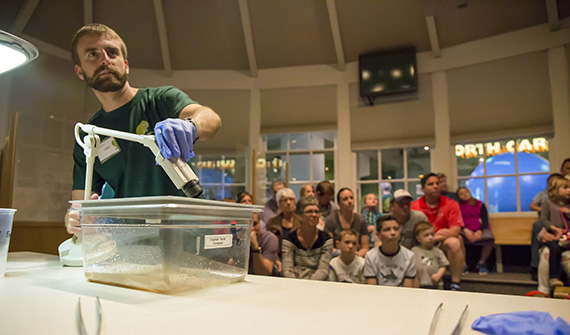 ---
STATIONS
FIRST FLOOR, NATURE EXPLORATION CENTER
Amphibian and Reptile Conservation
North Carolina Zoo
The North Carolina Zoo actively participates in the conservation of many species of amphibian and reptile, including several from North Carolina. Come visit us to learn more about these projects.
Herp Shop
NC Herpetological Society
Herp Shop will be selling T-shirts, books, tote bags, and magnets. All proceeds support the NC Herpetological Society's conservation, educational, and research grants projects.
My First Snake
NC Herpetological Society
This is a hands-on exhibit of captive snakes that people can observe closely and touch if they choose.  Experienced keepers can answer questions about these specimens, herp husbandry and NC herps in general.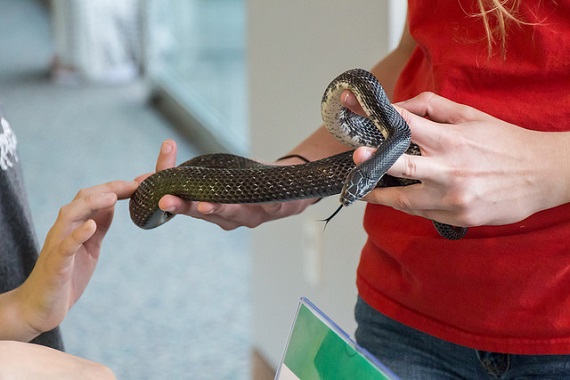 Sea Turtle Exploration
NC Museum of Natural Sciences
Find out what happens when sea turtles are "cold-shocked" and how the veterinarians at the Museum helped rehabilitate seven cold-shocked sea turtles.
North Carolina Natives
NC Herpetological Society
See and learn about a large variety of native North Carolina reptiles and amphibians! We will have snakes available for touching.
Native Salamanders of the Piedmont
KAO at Elon University and the North Carolina Herpetological Society
Salamanders are the most secretive of all amphibians but this makes them all the more fascinating. Stop by to see some of our local species up close and enjoy fun activities that will teach you how you can help protect their habitats.
Turtle Trekkers
Piedmont Wildlife Center
Learn how to become a citizen scientist by getting involved with our Turtle Trekker program! Observe differences between turtles and terrapins and meet a bearded dragon!
Project Simus
NC Herpetological Society
Project Simus is an initiative of the North Carolina Herpetological Society which focuses primarily on the southern hognose snake (Heterodon simus), but also studies other Sandhills area reptiles and flora and fauna associated with the longleaf pine ecosystem. Stop by to learn about this important project.
NCHS Youth Branch
NC Herpetological Society
The NC Herpetological Society's Youth Branch booth showcases the awesome opportunities we offer for second through 12th graders interested in all things reptile and amphibian. For those interested in joining, contact youthcommittee@ncherps.org.
Project Bog Turtle
NC Herpetological Society
Project Bog Turtle is a conservation initiative of the North Carolina Herpetological Society. The goal of the project is preservation of the critically endangered bog turtle and its habitats in North Carolina and surrounding states. Visit the booth to learn more and to find out how you can help.
NCHS Membership
NC Herpetological Society
Discover what the NC Herpetological Society (NCHS) is all about — who we are, what we do and some of the projects and initiatives NCHS uses to accomplish its goal of conservation — and consider becoming a member today.
Find the Copperhead
NC Herpetological Society
Test your snake ID skills as you try to Find the Copperhead! Learn more about this local venomous snake and see a live one up close.
Paint Face Transformation
Paint Savvy
Paint Savvy has partnered with the Museum for 8 years. They use locally sourced talented artists and are very excited to both support and serve "our most amazing area Museum" with the transformational art of face and body painting.
Incredible Reptiles
Alligator Adventure
Come meet some amazing reptiles face-to-face, like a giant alligator snapping turtle and a crocodile.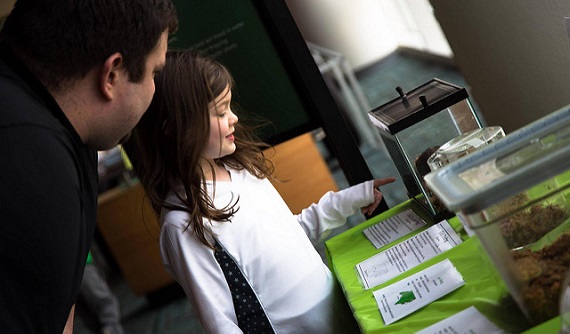 Phenomenal Frogs!
NC Museum of Natural Sciences
Why do frogs croak? What makes their tongues so sticky? And is there really such thing as a frog so big that it eats rodents? Find out the answers to these questions and more at the Museum's live frog table!
Friends Membership Table
NC Museum of Natural Sciences
Show your member ID card and receive a Reptile & Amphibian Day VIP badge (while supplies last) and prize giveaways. Enter into a drawing for the chance to win a special prize!
SECOND FLOOR, NATURE EXPLORATION CENTER
Green Iguanas
Triangle Iguana Rescue
Green iguanas are an exotic and majestic creature but are tropical animals that have very specific care requirements. Enjoy seeing these prehistoric-looking creatures up close while learning interesting and fun facts about them.
Shake Ya Tail Segments!
NC Museum of Natural Sciences
Rattlesnakes can shake their tails more than 100 times per second! Come learn about a research project investigating how the rattlesnake rattle evolved, and see whether you can move faster than a snake tail.
T-Shirts
NC Museum of Natural Sciences
Commemorate your time at Reptile and Amphibian Day with an amazing sea turtle t-shirt designed by a Museum graphic designer!
Turtle Shell Evolution
NC Museum of Natural Sciences*
Turtles have evolved all kinds of different shell shapes to adapt to different environments. Come learn why a softshell turtle has a leathery shell and a gopher tortoise has a hard and heavy shell!
*This table is supported by an anonymous donor.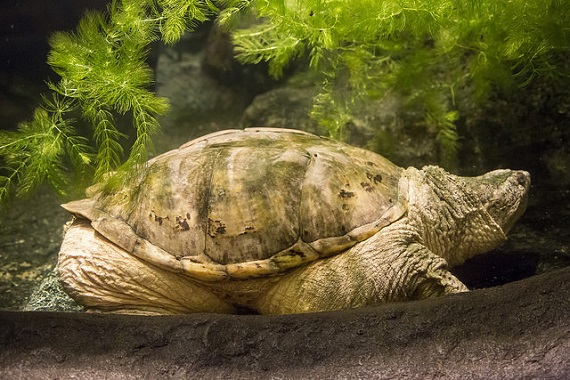 THIRD FLOOR, NATURE EXPLORATION CENTER
Avian and Exotic Animal Care
Avian & Exotic Animal Care
North Carolina's first veterinary practice dedicated exclusively to pet birds, small exotic mammals, reptiles, amphibians, fish and zoological species.
Identifying Copperheads
NC Museum of Natural Sciences
This table is about copperheads: how to identify them; their natural history; subspecies; and the local snakes that look somewhat like them.
Inviting Reptiles and Amphibians into Your Backyard
NC Partners in Amphibian and Reptile Conservation
Come visit our exhibit to see live animals and learn more about how to make your backyard inviting to reptiles and amphibians. Knowledgeable staff will answer all your questions about anything that hops, slithers and slinks!
Uncertain Future for Salamanders
NC Museum of Natural Sciences
We'll discuss the uncertain future of salamanders in the southern Appalachian salamander biodiversity hotspot of western NC using two posters we've developed previously. We'll especially focus on the rise of chytrid fungus, on NC salamander species, and on the animals and research occurring at the Museum.
Pollywog Playspace
NC Museum of Natural Sciences
A space with games and activities perfect for "tadpoles"! We will have storytime featuring reptiles and amphibians in the Blue Classroom at 10am, 11am, noon, 1pm, 2pm, 3pm and 4pm.
Giant Snakes
NC Museum of Natural Sciences
Hollywood thinks giant snakes are bloodthirsty killers but what does science say? Meet some real giant snakes and see how big you are compared to "Titanoboa," the largest snake that has ever lived!
Venomous Lizards
NC Museum of Natural Sciences
This exhibit features information and live individuals of the world's two living venomous lizards, the Gila monster and beaded lizard.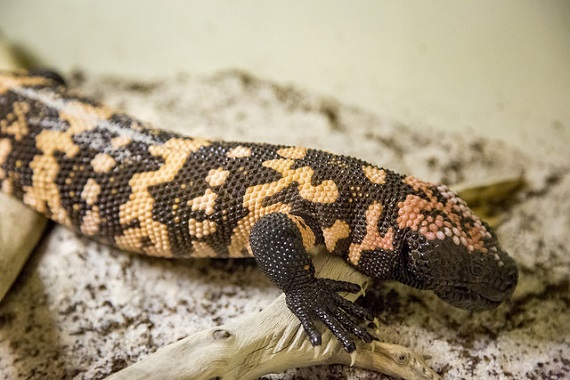 Name That Snake!
NC Museum of Natural Sciences
Meet some real live snakes and learn how to identify the most common snakes in your yard.
Herp Watermedia Painting Demo
NC Museum of Natural Sciences
Stacy will be creating some of her fun and colorful watermedia paintings of reptiles and amphibians as well as selling some completed pieces.
Herp Biodiversity
Biodiversity Initiative at East Carolina University
Come see a sampling of reptile and amphibian diversity and learn about the important role that biodiversity plays in the environment.
The Difference Between Reptiles and Amphibians
Nash Community College Math & Science Club 
This station will explain the difference between reptiles and amphibians and show why it's important to know the difference.
FOURTH FLOOR, NATURE EXPLORATION CENTER
Natives vs. Tropics: You Decide
NC Museum of Natural Sciences
Test your knowledge of native and tropical reptiles while getting acquainted with snakes and turtles from everywhere from the Amazon rainforest to the backyards of North Carolina.
Wetlands: Diversity and Function
Carolina Wetlands Association
Wetlands are extremely important to amphibian and reptile diversity in the Carolinas and beyond.  Wetland experts will be on hand to show some of the species that depend on wetlands, and to answer questions.
Sea Change: Trash Talking Turtles and Birds
Carly Stines: Girl Scout Gold Award and Youth Ocean Conservation Summit Project
It is predicted by scientists that, unless major changes are made in our use and disposal of plastics, there will be more plastic in the ocean than fish by the year 2050! Sea Change will interactively engage people with how they can turn the tide on plastic pollution with simple choices they make every day, saving millions of sea creatures and ourselves at the same time.
JMU Herpetology
James Madison University
This station will showcase posters that present undergraduate student research in herpetology at James Madison University.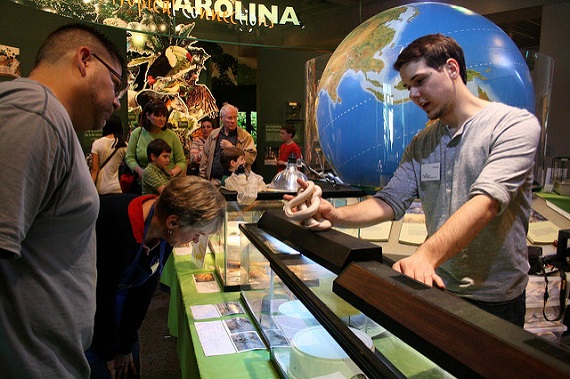 FIRST FLOOR, NATURE RESEARCH CENTER
The Traveling Tortoise
The Traveling Tortoise
The Traveling Tortoise is a mobile science program dedicated to the fascinating world of herpetology (reptiles and amphibians). Student of all ages will have an unforgettable experience interacting and learning about creatures from around the world.
Explore the Mountains-to-Sea Trail, North Carolina's State Trail!
Friends of the Mountains-to-Sea Trail
Learn about the 1,175 mile Mountains-to-Sea Trail, NC's state trail that winds from Clingmans Dome in the Great Smokies to Jockey's Ridge on the Outer Banks. The trail is easily accessible right here in the Triangle — go spend an afternoon, weekend, or several months seeing the best that North Carolina has to offer.
Slimy Salamanders
NC Museum of Natural Sciences
Learn about the diversity of salamanders in North Carolina, and the importance of temporary pools.
Green Tree Pythons by Kimberly Burge
Southern Chondros
Southern Chondros will have green tree pythons on display ranging in age from yearling to adult. They will discuss captive breeding of this species, general husbandry, ontogenetic color change, and anything else related to this beautiful species.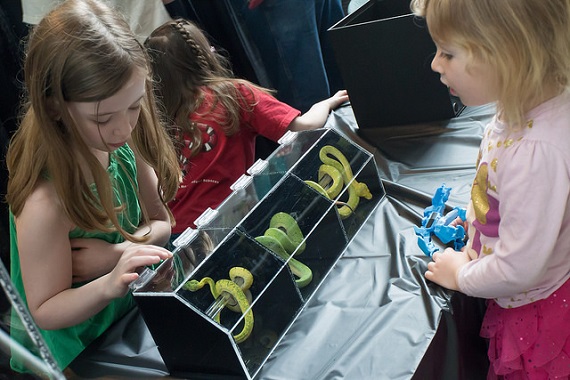 Fantastic Frog Craft
NC Museum of Natural Sciences
Use popsicle sticks and paper to make a fun frog craft that helps a frog catch a fly!
Sea Turtle Senses
University of North Carolina at Chapel Hill
Sea turtles can sense the direction of ocean waves from underwater and can feel tiny differences in the Earth's magnetic field.  This exhibit will focus on how scientists know those amazing facts.
SECOND FLOOR, NATURE RESEARCH CENTER
Nature Drawing with Professional Artist Patricia Savage
The Naturalist Center
Observe a salamander drawing demo with professional artist Patricia Savage. Get tips for sketching and illustrating your nature journals. Register to attend a class on nature drawing hosted by Patricia from 9am-11am here!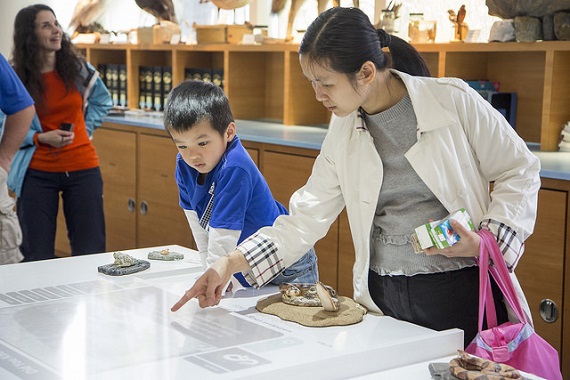 Turtle Conservation: A "Glocal" Perspective
NC Museum of Natural Sciences
Turtle populations are declining worldwide. This table explores some of the major causes of this decline and some of the work being done to conserve endangered turtle species.
Life in the Dark: Terrific Troglodytes
NC Museum of Natural Sciences
Did you know that there are some herps that live in caves their entire lives? How about snakes that hunt other cave-dwelling creatures? Check out this exhibit to take a trip through the dark, and come out with a cool snake craft!
Crocodile Education Station
NC Museum of Natural Sciences
Learn about the diversity of crocodilians around the world.
Tree Giveaway
We Plant It Forward
Did you know mangrove trees are crucial habitat for young sea turtles? Learn about all the ways trees occupy a crucial niche in our environment and go home with a free tree seedling!
THIRD FLOOR, NATURE RESEARCH CENTER
Testing for Chytrid Fungus
NC Museum of Natural Sciences, Genomics and Microbiology Research Lab
Chytridiomycosis ("Chytrid" for short) is an amphibian disease caused by a family of fungi found around the world, including here in North Carolina. Learn how scientists test animals for this infection by looking for Chytrid DNA.