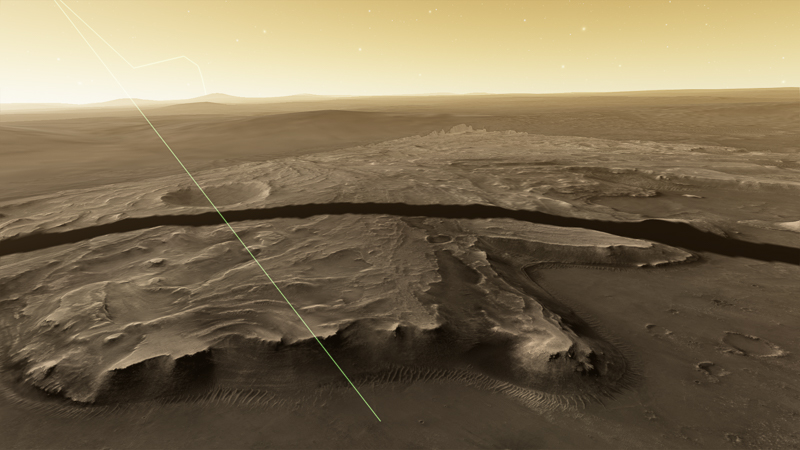 Projected landing trajectory (green line) for the Perseverance rover into Jezero Crater on Feb 18, 2021. A portion of the landing ellipse for Mars 2020 is shown as a broad band around the crater. Image rendered with real Mars mission data and star fields using OpenSpace software. Image: R. Smith. Click to enlarge.
Join us for a live virtual landing event!
NASA's newest rover, Perseverance, is going to land on Mars! Perseverance is NASA's biggest and smartest rover ever made, and this will be an epic landing. We will have live programming with NASA JPL Solar System Ambassador, Alan Rich and Museum astrophysicist, Dr. Rachel Smith. Join us as we eat peanuts during the "Seven Minutes of Terror" … when added together, the time it takes for the entry, descent and landing of Perseverance. We will also have live broadcast feed from NASA.
---
Register to get reminders, extra resources and to be entered into a drawing for a 2021 Astronomy Days T-shirt!
Download a children's activity kit, Percy's Pursuits, created by Anastasia Vail, Astronomy Educator and NASA/JPL Solar System Ambassador.
Schedule of Events
Note: All times EST
noon: The Science Instruments on Board Perseverance
Tony Rice and Matthew Funke, NASA JPL Solar System Ambassadors
12:30pm: Searching for Life on Mars at Jezero Crater
Dr. Rachel Smith, NC Museum of Natural Sciences/Appalachian State University
1:00pm–2:00pm:
Hands-On Model Making
Sarah Taylor, NASA JPL Solar System Ambassador*If your family wants to follow along and build a model of their own you will need the following supplies:

Cardboard
One 6" x 6" square
Two 5" x 5" squares
Sharpened Round Pencil
Drinking Straw
Rubber bands in a variety of sizes/thickness
Two pieces of round hard candy with a hole in the middle
Scissors
Tape
A cup or glass to trace
Some coins or washers

Watch Perseverance or Tour the Solar System at home with NASA-JPL's "EYES ON THE SOLAR SYSTEM"
Alan Rich and Doug Lively, NASA JPL Solar System Ambassadors
2:00pm–3:45pm:
Meet the Perseverance Robot
Ken Brandt and Alan Rich, NASA JPL Solar System Ambassadors
History of Mars Exploration
Mike Keefe, Ken Brandt, Shawn Bayle, NASA JPL Solar System Ambassadors
Entry, Descent, Landing
Marc Fusco and Ken Brandt, NASA JPL Solar System Ambassadors
3:48pm: Entry, Decent, Landing Animated Video and Seven Minutes of Terror (in real time!)
3:55pm: Live Feed from NASA JPL Mission Control
4:10pm–5:00pm: Live Q&A with NASA JPL Solar System Ambassadors
Alan Rich, Mike Keefe, Ken Brandt, Shawn Bayle, Marc Fusco, Sarah Taylor, Matthew Funke