Got dino fever? PaleoPalooza, the nation's largest event dedicated to paleontology, puts the latest science and breaking discoveries on display. Festivities abound with dozens of displays, activities and presentations by paleontologists from North Carolina and around the world.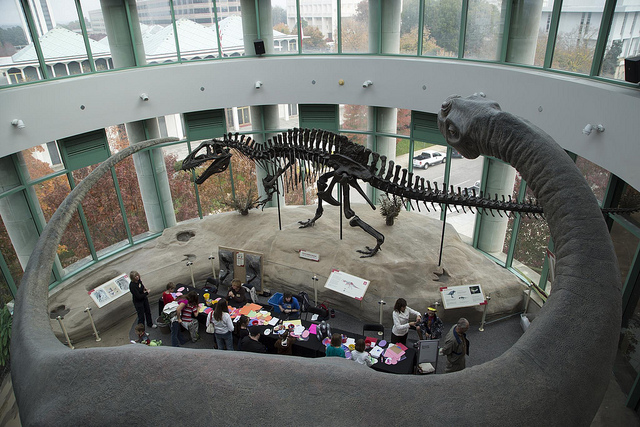 Keynote Presentation- 1:30pm, Daily Planet Theater
The Bizarre and Marvelous Cretaceous Mammals, Dinosaurs, and Other Animals from Madagascar
Dr. David W. Krause, Distinguished Service Professor, Stony Brook University
In 1993, Dr. Krause launched a reconnaissance expedition in search of Cretaceous mammals, dinosaurs, and other fossil backboned animals to Madagascar, a large island off the southeast coast of Africa that is home to some of the most bizarre plants and animals on the planet. Not in his wildest dreams did he anticipate the paleontological riches that he and his colleagues would find on that expedition, as well as on the 12 return trips since.
---
Daily Planet Theater Presentations –Nature Research Center, Floors 1-3
10:30am  What We Can Learn from Digital Dinosaurs
Jason Bourke, Paleontology Lab, NC Museum of Natural Sciences
11:30am  How Do We Know What We Know about Dinosaurs?
Dr. Mary Higby Schweitzer, NC Museum of Natural Sciences & Dept. of Biological Sciences, NC State University
12:30pm  Fossils of the Night- Bats through Time
Dr. Gregg F. Gunnell, Director, Division of Fossil Primates, Duke University Lemur Center
1:30pm  The Bizarre and Marvelous Cretaceous Mammals, Dinosaurs, and other Animals from Madagascar
Dr. David W. Krause, Distinguished Service Professor, Stony Brook University
2:30pm  How to Join the Tail Club Club
Dr. Victoria Arbour, NC Museum of Natural Sciences & NC State University
3:30pm  CT Paleontology: A New/Old Adventure
Lisa Schultz RT R CT M CT Senior Clinical Education Specialist, Siemens Medical Solutions, USA, Inc.
---
Windows on the World Presentations –Nature Exploration Center, 3rd Floor
11am  Gigantic and Still Growing! The Histology of Dreadnoughtus schrani
Dr. Elena R. Schroeter, NC State University
12pm  Dawn of the Dinosaurs: What Ruled Before the Dinosaurs
Susan Drymala, Graduate Student Researcher, NC State University, NC Museum of Natural Sciences
1pm  Meet the Animals: Ancient Animals
Museum Educator
2pm  Meet the Animals: Ancient Animals
Museum Educator
3pm  Skin in the Fossil Record
Tyler Bridges, NC State University
---
Special PaleoPalooza 3D Movie Schedule 
Tickets: $5 Adults; $4 Senior, Student, & Military; $3 Children (3-12); $2 Members. All of our films are about thirty minutes in length, and appropriate for most ages
12pm   Dinosaurs Alive!
4pm     Dinosaurs Alive!
---
Exhibits
Ancient Seals, Walruses, and Manatees
NC Fossil Club
Seals, walruses, and manatees used to swim along the ancient shores of NC. Their fossils can occasionally still be found along our present day shores and at various other sites in NC.
Appalachian State Paleontology
Department of Geology, Appalachian State
Check out multimedia and hands-on exhibits showcasing Appalachian paleontology students searching for fossils. Visitors can touch specimens and scale models.
Backyard Quarries
NC Fossil Club
Small private operations can produce a wide range of fossils. That's good news to North Carolina collectors in view of the squeeze on access to large mining operations. 
Behind the Scenes Tours
Paleontology Research Lab, NC Museum of Natural Sciences
Come behind the scenes and learn about the amazing research happening here at the Museum!  Tours will be held every hour, on the hour, from 10am-4pm. 
Dino Excavations
NC Museum of Natural Sciences
Hone your excavation skills by digging out dinosaurs from the surrounding sediment.  You can even bring your prize home!
The Dinosaur Hunters
NC Fossil Club
Check out North Carolina Fossils from a personal collection.
Dinosaur Playground Children's Activity Area
NC Museum of Natural Sciences
Hang out play with paleo-themed toys and games!
Fossil Dig
NC Museum of Natural Sciences
Learn excavation techniques and find amazing marine fossils from millions of years ago!
Fossil Identification
Smithsonian Institution
Provide identification service for anything fossil (or not) brought in by public.  Microscopes, modern shark, stingray jaws and dolphin skull available to help with IDs. 
Fossil Mammals and Stories of Extinction through Time
Duke Lemur Center Division of Fossil Primates
The Duke Lemur Center's Division of Fossil Primates contains mammal fossils from the past 55 million years. This exhibit will present ancient mammals that have no living relatives as well as a series of fossils from Egypt and Madagascar, ranging in age from 37 million years to sub-recent, that documents the origin and extinction of mammals throughout the history of Africa.
Fossil Plants of North Carolina
North Carolina State University
Come see fossil plants from the Triassic to Pleistocene of North Carolina!  See when tropical plants thrived in our state!
Fossils Large and Small
NC Fossil Club
View a varied display of fossils showing the diversity and size range.
Fossil Shark Detectives
NC Museum of Natural Sciences
Be a paleontologist for a day!  Help museum scientists study how sharks teeth were preserved in ancient North Carolina environments. The fossils you find will become part of the museum's permanent research collections! 
Fossils of the East Coast
NC Fossil Club
View fossils from North Carolina, South Carolina, Pennsylvania and New Jersey.
Fun Fossil Wood Facts
NC State University and NC Museum of Natural Sciences
Get acquainted with how trees turn to stone;  learn the basics of answering the question "What is it?" Handle ancient woods from trees dinosaurs walked around (or into?).
Gator Curator
NC Museum of Natural Sciences
Help museum paleontologists explore differences between captive and wild alligators by participating in our newest citizen science project–Gator Curator.  Gator curators will capture data about the shape of alligator skulls by putting landmarks on digital images. NOTE: This activity will be running from 12pm-3pm.

Gemstone Mining
Schiele Museum of Natural History
Visit the gemstone mine to search for mineral treasures like garnets, topaz, rubies, emeralds and rose quartz.  Take home what you find!
The Good Dinosaur
Disney*Pixar
"The Good Dinosaur" asks the question: What if the asteroid that forever changed life on Earth missed the planet completely and giant dinosaurs never became extinct?  Pixar Animation Studios takes you on an epic journey into the world of dinosaurs where an Apatosaurus named Arlo (voice of Raymond Ochoa) makes an unlikely human friend. While traveling through a harsh and mysterious landscape, Arlo learns the power of confronting his fears and discovers what he is truly capable of.
Human Evolution
NC State University Department of Anthropology
This exhibit will contain casts of ancient hominids, starting with the earliest and advancing through to modern humans.
The Hunt for the Perfect Auriculatus Tooth – In Memory of John Everett
NC Fossil Club
The display features the results of hunting Rocky Point Quarry, with fossil-hunter extraordinaire John Everett, 1-2 days every week for 2 months; June and July of 2004.  John was my friend, I was humbled by his knowledge and spirit.  I miss him; this display honors his memory. 
If Earth Were the Size of the Daily Planet
North Carolina State University-Osher Lifelong Learning Institute
The Daily Planet sphere outside the NC Museum of Natural Sciences is 70 feet in diameter. This exhibit illustrates component sizes of the earth's atmosphere, hydrosphere, geosphere and biosphere at that same scale.
Invertebrates Past and Present
NC Museum of Natural Sciences
Using specimens from the Museum's Invertebrate Paleontology Collection and the Museum's Invertebrate Collection, this exhibit will highlight the connection between modern invertebrates and their fossil relatives.
Lascaux Cave Paintings
NC Museum of Natural Sciences
Enter the mysterious Lascaux cave and check out the lovely paintings–and add some of your own!
Looking for Early Primates in the Bighorn Basin
Duke University
Learn about the ongoing work of crews led by faculty from Duke University and the University of Florida in the Bighorn and Bridger Basins of Wyoming. Our work has recovered examples of the earliest primates in North America as well as remarkably complete skeletons from a later interval when primates had begun to diversify.
Make Your Own Dino Feet! Kids' Craft
NC Museum of Natural Sciences
Stomp around like a dino with these adorable dinosaur feet!
Mammalian Evolution
NC Museum of Natural Sciences
This exhibit will feature mammalian fossils through time and explore their great diversity.
NC Ediacaran and SC Fossils
NC Fossil Club
Check out this personal fossil collection found over a 50-year period and displayed in museums and schools in Virginia, South Carolina and North Carolina.
NC Fossil Club
Visitors can view marine and land animal fossils from eastern NC.
NC Fossil Club Membership Table
NC Fossil Club
Learn about becoming a member of the NC Fossil Club, learn about different types of fossils and check out new books on NC fossils!
PaleoPalooza T-Shirt Sales
NC Museum of Natural Sciences
Purchase this year's shirt with its awesome new design and support the Museum's Educational Events!
Photographing Fossils
NC Fossil Club
Observe and engage with a photographer as he (hopefully) finishes a 15-year project to document the fossils found in North Carolina.
Sloths
NC Museum of Natural Sciences
This exhibit looks at the diversity of fossil and modern sloths.
Tar Pit Dig and Neolithic Necklaces
NC Museum of Natural Sciences
Excavate ancient mammal teeth and claws from the "tar pit" and make your own Neolithic necklace!
They Could Be Dinosaurs!
NC Museum of Natural Sciences
Meet some "ancient" animals and learn about how "they could be dinosaurs!"
The Virginia Museum of Natural History: Unlocking Our Vaults of Paleontology
Virginia Museum of Natural History
After 31 years of service to the State of Virginia, the Virginia Museum of Natural History has been a repository for Virginia's natural heritage.  To tell this story we present, through fossils and fossil replicas, a small sampling of this collection.
Visit! Explore! Learn! Discover! the Aurora Fossil Museum
Aurora Fossil Museum Foundation, Inc.
Visit the Aurora Fossil Museum to learn about the paleontology, geology, and prehistory of coastal North Carolina!
And of course learn about the formidable shark, C. megalodon, the State Fossil of North Carolina!
Watermedia "Cave Painting" Demo by Stacy Lewis
Stacy Lewis Studio
Stacy Lewis will be creating one of her "Cave Painting" series of original watermedia paintings.
Whale Shells and All Things Tiny
NC Fossil Club
Check out materials from reconstructed whale teeth "puzzles" to mini treasures found in take-home gravel.
---
Presented in partnership with the NC Fossil Club.
Sponsored by Siemens Medical Solutions USA.