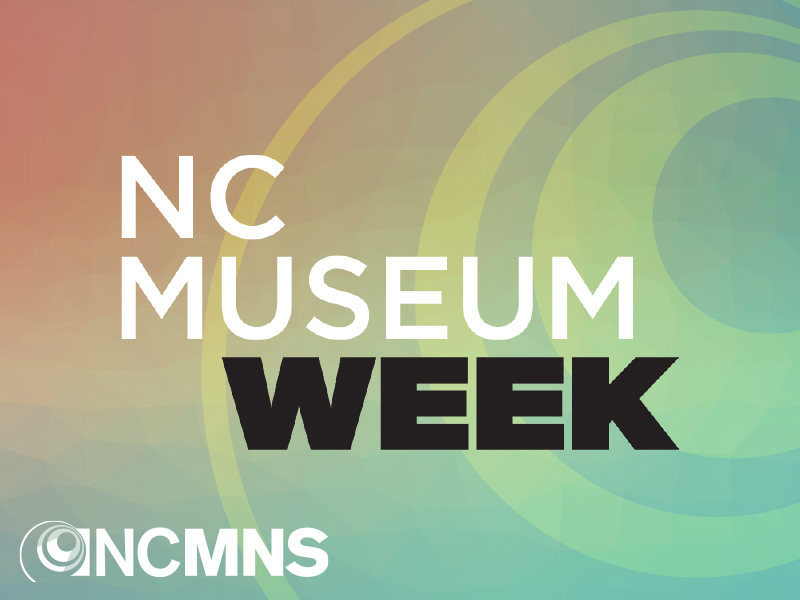 Celebrate Museum Week with the NC Museum of Natural Sciences
The North Carolina Museum of Natural Sciences is the state's most visited museum, the largest institution of its kind in the Southeast, and one of the nation's most celebrated nature museums. It is not only a wonderful place for the public to visit, but as a research-based institution the museum is also home to thousands of scientific specimens used by scientists to learn the secrets of the natural world. Join us to celebrate Museum Week and learn first-hand from research curators about the strange and wonderful treasures hidden within the Museum's collections!
Monday, June 1, 1pm – Why Are Museum Collections Important?
Join us for a conversation with Museum Director Eric Dorfman and learn about the significance of the Museum's collections of natural science specimens. From 1879 through today, the rich history of NCMNS collections gives us perspectives on nature in the past, the present and, most importantly, the future as we work to conserve the planet's biodiversity. https://youtu.be/91F22dr2O_s
Tuesday, June 2, noon – What is Ichthyology?
Join us for this program about the world of fishes! From freshwater to saltwater, there are more species of fish found in the world than any other vertebrate group. Meet Research Curator Alex Dornburg and Collections Manager Gabriela Hogue and learn about the sheer diversity of this fascinating group of animals. https://youtu.be/MCyGKpxWuPQ
Wednesday, June 3, noon – Malacology: Chasing the Wild Freshwater Mussel!
Join in our conversation with Research Curator Art Bogan to discover some incredible facts about freshwater mussels. Acting as Mother Nature's filtering system in rivers and lakes, these surprisingly charismatic, highly endangered and often overlooked creatures are sure to amaze you! https://youtu.be/JKWg3GR8wS0
Thursday, June 4, noon – Feathered Friends: Learn About Ornithology
The Museum's collection of bird specimens hails from the 1800s and resides 44 feet below ground, housed in special archival cabinetry. Join us for "Stories from the Underworld" as told by Brian O'Shea and John Gerwin, our Museum's ornithology research curators. https://youtu.be/IlkbwdBXedU
Friday, June 5, noon – The Scaly and the Slimy: Meet the Reptiles and Amphibians
Join us for a conversation with Research Curator Bryan Stuart to learn about the history and research going on with several North Carolina species in the NCMNS collection, including the endangered coral snake and a new species of two-lined salamander! https://youtu.be/5SM12MNRGaE