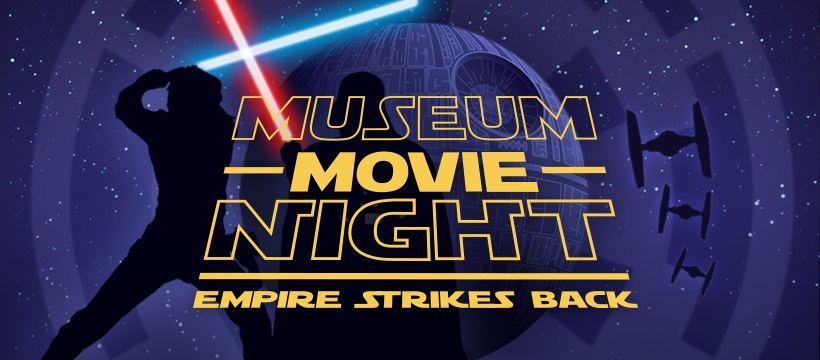 "It is a dark time for the Rebellion. Although the Death Star has been destroyed, Imperial troops have driven the Rebel forces from their hidden base and pursued them across the galaxy. Evading the dreaded Imperial Starfleet, a group of freedom fighters led by Luke Skywalker has established a new secret base on the remote ice world of Hoth. The evil lord Darth Vader, obsessed with finding young Skywalker, has dispatched thousands of remote probes into the far reaches of space…."
Join us at our next installment of Museum Movie Night: Where Science Meets the Cinema, where we will be featuring the second installment in the genre-defining Star Wars Saga, "The Empire Strikes Back." Catch the iconic battle on Hoth and meet the strange creature that lives in the swamps of Dagobah, known only as Yoda. We will have Dr. Patrick Treuthardt, Assistant Head of the Astronomy & Astrophysics Research Lab — and a huge Star Wars fan — as an expert to help explain the science behind this film and also test your knowledge with our movie trivia. Don't miss it!
Instructions:
Do you love movies? Want to know the science behind your favorite stories? Join our monthly watch party Museum Movie Night, where Science meets the Cinema! We encourage you to sit in your favorite chair, enjoy your favorite snacks, and stream alone or with your friends and family!
Step 1: Once you've registered, determine where to stream or rent your movie (you can use a website such as Reelgood or JustWatch to see where movies are available). This movie is available on Disney+.
Step 2: At 6pm EST on January 29, log into Zoom using the link you receive upon registration. We'll present a short from the AV Geeks' archive and prepare you for the movie.
Step 3: Let's start the movie! There will be a countdown so that everyone can synch-up and start the movie at the same time on their individual platforms. Join the live chat while you stream. (No spoilers please!)
Step 4: After the film, we'll chat with our science expert in a Q&A session where we'll learn about the science behind the film. Plus, there will be movie trivia!
Registration is required, and though the program is free, your donations help us to bring you more fun programs and events just like this.