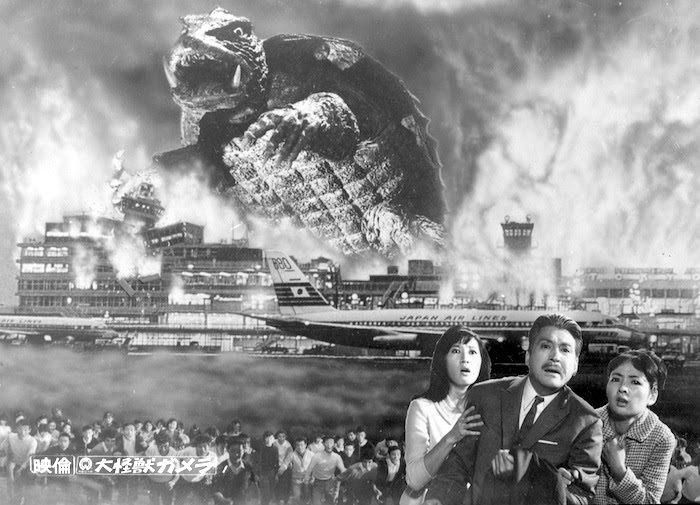 Join us at our Reptile & Amphibian Days 2021 installment of Museum Movie Night, when we will feature the very first installment in the Gamera series, "Gamera, the Giant Monster" (1965).
We encourage you to sit in your favorite chair, enjoy your favorite snacks and stream alone or with your friends and family. After the film, we'll have a Q&A with our science expert and learn about the science behind the film. Plus, there will be movie trivia! Don't miss it!
About the Film
A prehistoric giant turtle has emerged from the Arctic Circle and is smashing up Japan! The full might of the military is called in to deal with the threat but it seems like nothing can stop Gamera. Watch as a reptile the size of a battleship destroys high-rise buildings and goes head-to-head with artillery and bombers.
The fire-breathing turtle was invented to compete with the wildly popular Godzilla, and became a legend, starring in 12 Gamera movies, as well as comic books, anime and video games. Specially adapted for US audiences, "Gamera, the Giant Monster" is sure to thrill all ages.
Registration is required, and though the program is free, your donations help us to bring you more fun programs and events just like this.
How to Participate
Step 1: At 6pm EST on March 5, log into Zoom using the link you receive upon registration. We'll present a short film from the AV Geeks' archive and prepare you for the movie.
Step 2: Let's start the movie! We will be streaming "Gamera." Join the live chat while you watch the movie. (No spoilers please!)
Step 3: After the film, we'll chat with our science expert in a Q&A session where we'll learn about the science behind the film, followed by:
Step 4: Movie trivia!
If you have any questions about this program, please contact Hugo Romero-Sanchez at hugo.sanchez@naturalsciences.org.
---
Do you love movies? Want to know the science behind your favorite stories? Join our monthly watch party, Museum Movie Night: Where Science Meets the Cinema!
We'll host experts from different science backgrounds to separate science fact from fiction after each film. You can ask them questions, share your knowledge, and enhance your movie night experience!