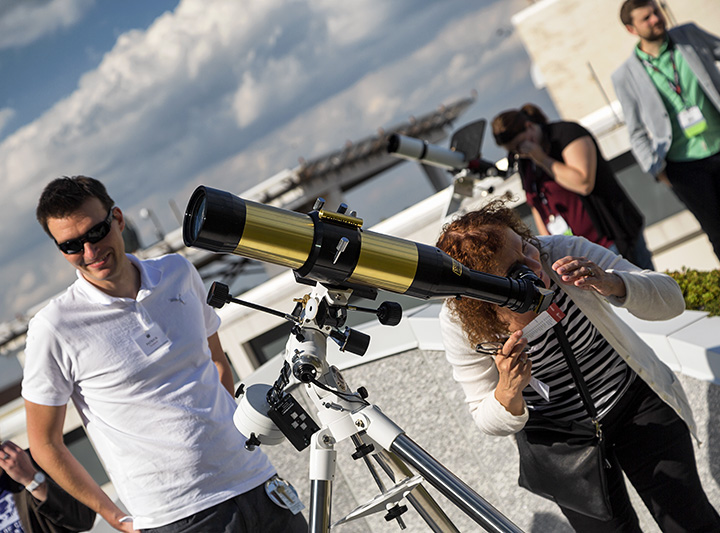 Star Formation & Black Holes
Join Head of the Astronomy & Astrophysics Research Lab, Rachel Smith, and Assistant Head, Patrick Treuthardt, on a special behind-the-scenes Member Tour. Learn about their exciting research projects on star formation and the physics of spiral galaxies. Hear about current star formation research, including observations of forming stars made from the Keck Observatory in Hawaii, and experiments on interstellar ice analogs at the Jet Propulsion Laboratory in Pasadena, CA. Get hands on with a citizen science project called Spiral Graph, which is helping our researchers measure the curvature of spiral arms and determine the mass of supermassive black holes at the center of galaxies.
Each session is limited to 12 members and will last about 30 minutes.
Weather permitting, solar observing will be available to Friday tour groups from 11:30am to noon, and to Saturday tour groups from 2:00 to 2:30pm on the fourth floor terrace.
All ages are welcome. No strollers allowed.
Registration Information
Member registration starts Saturday, March 17.
Brimley Society member pre-registration: Tuesday, March 13 – Friday, March 16.
REGISTER FOR THIS TOUR SESSION
Space is very limited. If your plans change and you are no longer able to attend, please call the Membership Office at 919.707.9296 or email membership@naturalsciences.org.
Join or renew your membership today!
Astronomy Tour Dates
Friday, April 20
Tour Group 1: 10:30am – 11:00am
Tour Group 2: 11:00am – 11:30am
Solar Observing (Weather Permitting): 11:30am – noon
Saturday, April 21
Tour Group 1: 1:00pm – 1:30pm
Tour Group 2: 1:30pm – 2:00pm
Solar Observing (Weather Permitting): 2:00pm – 2:30pm