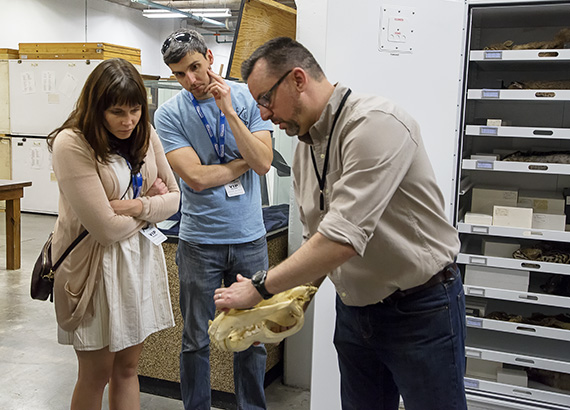 Return of the Whales
Get an up close and personal look at fin, right and sperm whale specimens on this behind-the-scenes tour of the Mammal Research Lab and Collection with Mammalogy Collections Manager, Benjamin Hess. You'll also get to see bats returned from the Smithsonian and other mammals from the recent acquisition of the NCSU Mammal Collection. Get your questions answered by our resident experts and enjoy special access to normally restricted areas of the Museum, while examining mammal specimens and learning more about the latest research and data collection being conducted.
Friday, May 18
Session 1: 10am–11am | Register for this session
Session 2: 11am–noon | Register for this session
Saturday, May 19
Session 1: 1pm–2pm | Register for this session
Session 2: 2pm–3pm | Register for this session
Please check in no earlier than 30 minutes before the start of your tour time at the 11 West Jones Street entrance. Each session is limited to 25 members and will last about 60 minutes. Please allow for a few minutes of transition time between sessions. Current membership and registration required.
Please note the following safety precautions:
All ages are welcome.
No food or drink allowed in the tour areas.
No strollers allowed in the tour areas.
While photography in the Research Collections is encouraged, the researchers will indicate when it is safe to touch the specimens.
Members will be guided down a flight of stairs during the tour. Contact Membership Coordinator Catherine Perkins in advance if the use of an elevator will be needed.