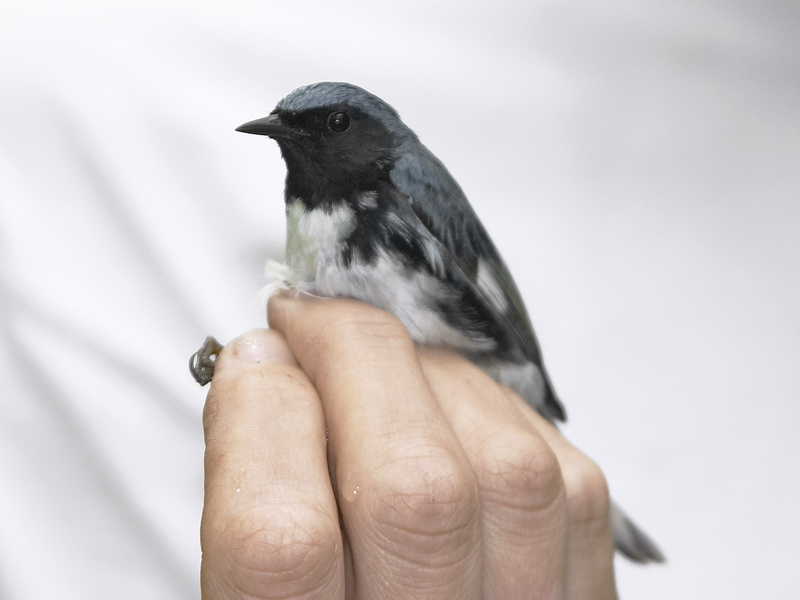 Museum researchers will be conducting a special bird banding demonstration at our Prairie Ridge Ecostation, and members are invited! Learn how songbirds are captured and tagged and about the data we collect before they are released. Come along as we check our nets and bring your cameras for close-up shots of hand-held songbirds.
Saturday, November 16 (POSTPONED TO NOV. 23)
Session 1: 7:30am–9:30am | Register for this session
Session 2: 9:30am–11:30am | FULL
Session 3: 1:00–3:00pm | Register for this session
Check in will begin at the start of your tour time at 1671 Gold Star Drive, Raleigh, NC 27607. Please check in with the facilitator at the trail entrance, which is adjacent to the parking lot and leads to the outdoor classroom — see "you are here" star on the Prairie Ridge trail map.
Our staff experts leading the demonstration will give a brief introduction before checking the nets. Nets will be checked and any birds processed several times during the program. We recommend staying at least an hour and a half, if you can. You never know what we'll catch in any given net check!
Current membership and preregistration required.
Please note the following:
All ages are welcome. Children under 12 must be accompanied by an adult.
Dress for the weather, as you would for an outdoor hike.
We'll have classroom access if you need to store items such as jackets, backpacks, etc., or to use the restroom.
Refillable water bottles and snacks are permitted (please carry out any trash when you leave).
Binoculars and field guide recommended, if you have your own. A limited number of each will be available onsite.
Photography is encouraged.