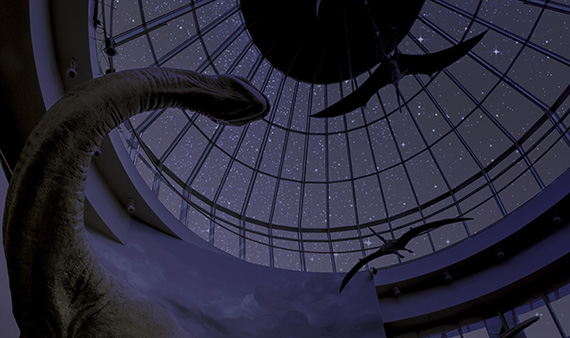 Night at the Museum :: Sleepover Basics :: Registration & Rules
Have you ever wondered what happens at the Museum after the lights go out at night? Would you enjoy sleeping among the dinosaurs, tree frogs, coastal fish, or a number of other amazing creatures in our exhibits? Join us for this exciting overnight event at the Museum, including live animal encounters, stargazing on the plaza, a 3D film showing, and other special programming. You'll fall asleep immersed in our world-class exhibits and wake up to a continental breakfast among old and new friends.
This experience includes:
A chance to see the Museum and our nocturnal animals come to life after hours.
The unforgettable opportunity to sleep alongside some of your favorite exhibits.
Self-guided exploration of the Museum by flashlight, and more!
Tickets are required and available for purchase online or by calling 919.707.9296. Registration extended to Friday, August 4, one week prior to the event date.
For sleepover basics and more details, click the links above or contact the Membership Office at 919-707-9296 or catherine.starek@naturalsciences.org.
---
Schedule of Activities
Friday, August 11
5:00-7:00pm         The Daily Planet Café is open for dinner for event guests
7:00-7:30pm       Check-in
7:45-8:25pm         3D film showing of Museum Alive
8:00-9:00pm         Nocturnal animal encounters, including the:
Two-toed sloth in our Living Conservatory
Lesser hedgehog tenrec (new animal!) in Windows on the World
Leaf insects and Madagascar hissing cockroaches in the Arthropod Zoo
8:00-10:30pm       Flashlight tours and crafts
9:00pm                  Quiet time begins in "early-to-bed zone"
9:30-10:30pm      Stargazing on the plaza
10:45-11:15pm    Get ready for bed
11:30pm               Lights out
Saturday, August 12
7:00am                  Lights on
7:00-8:00am         Get ready for the day; continental breakfast served in the Acro Café
7:00-9:00am         The Discovery Room is open early for event guests
8:00-9:00am         Animal/nature themed Yoga with Patrice (all ages welcome)
9:00am                   Museum opens to the public; event ends