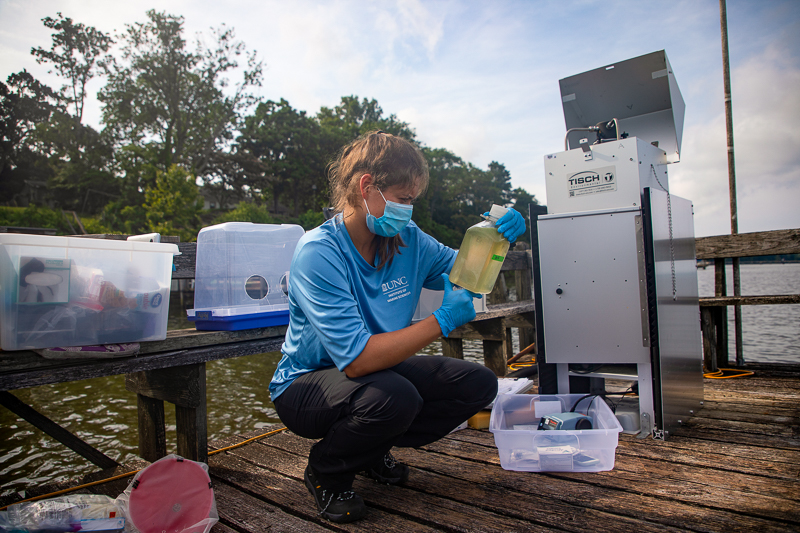 Haley Elizabeth Plaas, PhD Student, Environmental Science & Engineering, UNC-Institute of Marine Sciences
The expansion of harmful cyanobacterial blooms in the Chowan River/Albemarle Sound estuary poses an increasing threat to human and animal health. Over the past several summers, blooms there have been linked to the occurrence of alarmingly high concentrations of microcystin, a potent liver toxin. Human exposure to cyanotoxins is challenging to forecast, and perhaps the least understood exposure route is via inhalation. In the summer of 2020, Haley, in collaboration with researchers from UNC-CH, UNC-IMS, NC-State, and the Chowan Edenton Environmental Group, led a field campaign to quantify cyanobacterial DNA and toxins in aerosol and water samples of the Chowan River. Tune in to learn more about their findings and the environmental factors that may influence this potential route of human exposure to cyanobacteria.
Join us on YouTube! (Talk postponed)
---
Live Virtual Presentation hosted by N.C. Museum of Natural Sciences Daily Planet Curator Chris Smith and the N.C. Department of Environmental Quality Office of Environmental Education and Public Affairs staff.
You can post questions in the YouTube chat or tweet questions to #LunchTimeDiscovery and mention @NorthCarolinaEE.
Brought to you by the NC DEQ Office of Environmental Education and Public Affairs and the NC Museum of Natural Sciences.