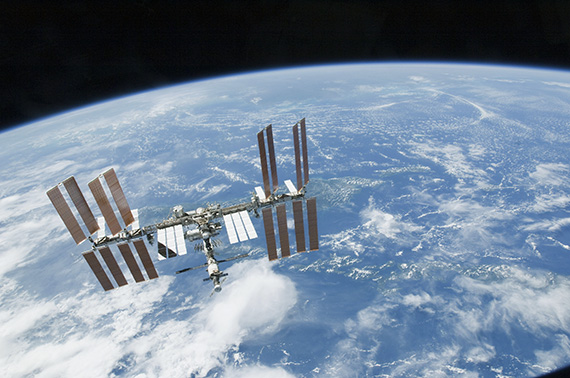 If you've ever wondered how astronauts do scientific research in microgravity, what it feels like to blast off into space or how it's possible to fall asleep while floating in midair, this might be your chance to find out! We're tuning the big screen inside the SECU Daily Planet Theater to watch a live video Q&A between the International Space Station and Talley Student Union at NC State's campus.
NC State University and the North Carolina School of Science and Mathematics will host a live video Q&A on August 30 with NASA astronaut Christina Koch, an alumna of both institutions who is currently serving as a flight engineer aboard the International Space Station. During the Q&A, Koch will answer questions from students at both schools. Seating at Talley Student Union is first-come, first-served for those interested in attending the live event.
This livestream viewing party will feature:
Chancellor Randy Woodson of NC State presenting opening remarks, followed by NCSU cosmologist Dr. Katie Mack's keynote address: "From the Lab to the Universe: Studying Physics to Explore the Cosmos."
The Q&A with NASA astronaut Christina Koch will be livestreamed on the NASA TV website
After the broadcast of the astronaut Q&A, audience members at the Museum will have the chance to participate in a moderated discussion with Museum astrophysicist Dr. Patrick Treuthardt and NASA Solar System Ambassadors Tony Rice and Ian Hewitt.