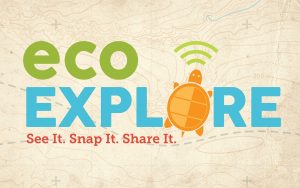 ecoEXPLORE is a citizen science project for kids in grades K–8.  Kids photograph wild species they find outdoors that are then shared with scientists.  As they participate, they earn points that they can trade for naturalist prizes, earn badges, and earn access to quarterly season summits where they can meet real scientists.  Learn about ecoEXPLORE and how to get started in this fun-filled citizen science adventure especially for children!
This program is especially for children who are NEW to ecoEXPLORE.  Note that children outside of North Carolina may participate in ecoEXPLORE and can earn badges, but cannot earn naturalist prizes at this time.
Want to learn more about ecoEXPLORE?  Preregister with our online form.