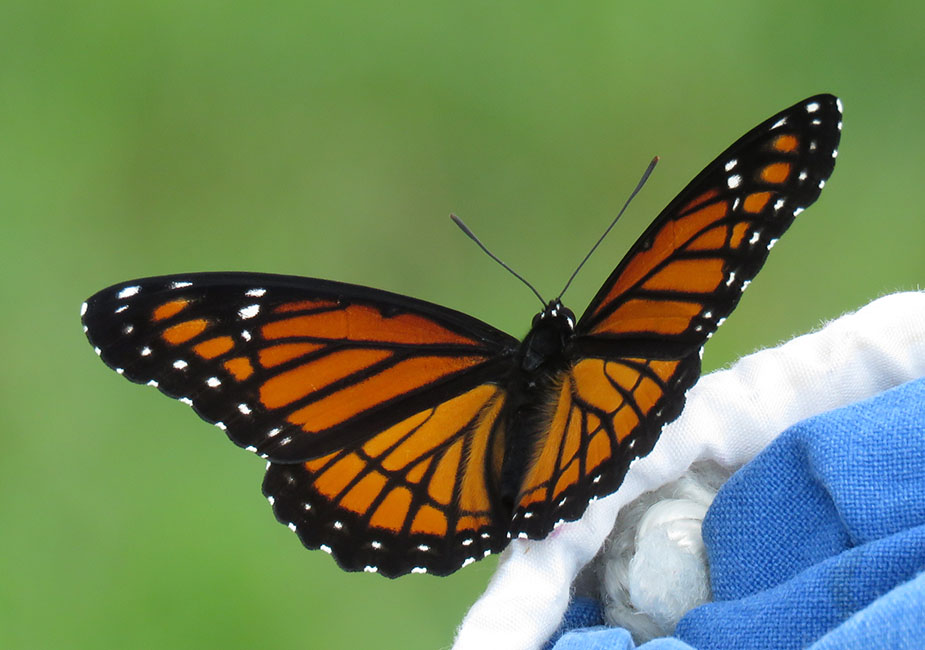 Join us at Prairie Ridge as we discover butterflies! Our entomologist will lead you on a tour of the garden and prairie areas of Prairie Ridge to look for these spectacular insects. You will learn how to identify common butterfly species found in the Raleigh area, enjoy a walk around the grounds at Prairie Ridge, and learn how you can help scientists discover more about butterflies by participating in citizen science projects. Bring your camera and binoculars (if you have them) and your enthusiasm for butterflies!
This program is free, but does require pre-registration and has a maximum of 20 people.  This program is geared toward older children and adults, so the minimum age is 12; children ages 12–15 must be accompanied by a registered adult.  Come dressed for the weather, wear closed-toed shoes (required!), and bring a water bottle.  A broad-brimmed hat and sunscreen are highly recommended. Consider bringing an umbrella to use as a sun shade as we walk — our trails are quite sunny and it will likely be hot.  The program is eligible for Criteria II or III credit toward the NC Environmental Education Certification program.
To register, please send a list of the names of all attendees in your group via email to Chris Goforth at chris.goforth@naturalsciences.org.  Include the ages of anyone under 18.  Chris will send a confirmation and a fact sheet upon receipt of your information with more details about what to expect during the program.  Questions?  Contact Chris for more information!