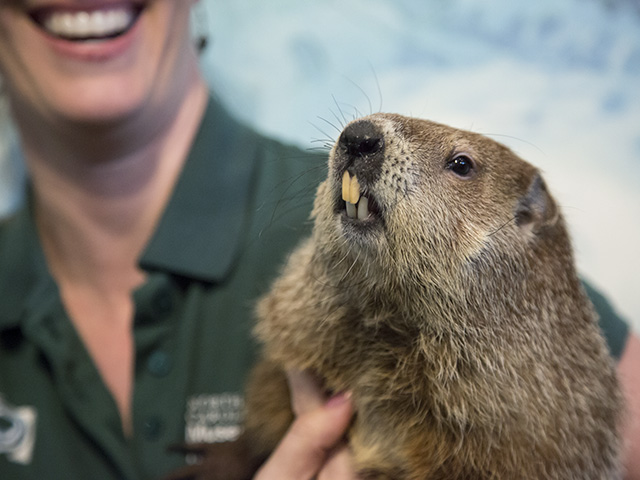 Meet Sir Walter Wally the groundhog and get his prognostication for the next six weeks!
The Shadow Ceremony is at noon on the Bicentennial Plaza, right in front of the Museum. Come out and see whether Wally can continue his climb up the Weather Channel's prestigious list of top "Groundhogs to Watch"!
Exhibits
Animal Architects
NC Museum of Natural Sciences
Groundhogs burrow into the earth to create their home. Learn about other animals that build their homes in the ground.
Animals in Winter
NC Museum of Natural Sciences
Groundhogs hibernate for winter, but how do other animals survive the cold?
Arachnid Diversity
Shaw University
Where do spiders go in winter? What other kinds of arachnids are there? Join us at the Arachnid Diversity table for answers.
Convergent Evolution
Saint Mary's School
Saint Mary's School's interactive display helps visitors understand convergent evolution as they match marsupial and placental mammals to their correct forest layers.
Groundhog Hats
NC Museum of Natural Sciences
Get ready for the shadow ceremony by making your own groundhog headbands!
Groundhog Toss Game
NC Museum of Natural Sciences
These groundhogs think there are six more weeks of winter headed their way. Help them get back in their burrow!
History of Groundhog Day
NC Museum of Natural Sciences
Ever wonder how Groundhog Day came to be? You'll learn about the history of Groundhog Day, and get to meet one of the original animals that was used to predict an early (or late) spring.
How Accurate is Sir Walter Wally?
State Climate Office of NC
Come visit the State Climate Office's booth to learn about the accuracy of Sir Walter Wally's forecasts. You'll also learn some fun facts about North Carolina's mammals and how climate influences where they're found, and have a chance to enter a raffle to win a rain gauge!
How Snakes Survive the Winter
NC Museum of Natural Sciences
Reptiles depend on their environment to stay warm, so what do they do when it gets cold?
Meet the Groundhog
Denise Shaduck Wildlife Rehabilitation
See Sir Walter Wally up close and learn about the importance of wildlife sanctuaries.
Observing Our Atmosphere
Wolfpack Meteorology
Interested in how to observe and predict the weather? You'll learn more about how meteorologists embark on the challenge of analyzing and forecasting the weather!
Piedmont Wildlife Center Ambassadors
Piedmont Wildlife Center
Meet native wildlife ambassadors and learn about their seasonal cycles and other natural history.
Plants4Kids
Alonso-Stepanova Lab, NC State University
Activities to stimulate interest in science among young people and to make plant biology accessible to every kid through cool experiments! www.plants4kids.org
Prairie Ridge Ecostation
NC Museum of Natural Sciences
Learn about the animals that can be seen in the winter at Prairie Ridge Ecostation!
Become a Mammal Citizen Scientist!
NC Museum of Natural Sciences
Learn how you can get involved in citizen sciences projects focused on mammals by helping us find all the mammals hidden around our table!
Signs of Spring
NC Museum of Natural Sciences
Ready for warmer weather? Find out what signs nature provides when spring is on its way!
Squirrels of NC
NC Museum of Natural Sciences Mammal Research Collection
We will have specimens representing the seven species in the squirrel family occurring in NC.  We'll be providing some basic information on their natural history, as well as some little known facts.
 *Plus, don't miss our amazing lineup of Windows on the World presentations on the third floor of the Nature Exploration Center. These programs feature live animals in an exciting, kid-friendly format.
Note: Groundhog Day may cause our 3D movie schedule to change without notice. Please call the Box Office for the latest schedule at 919.707.9950.