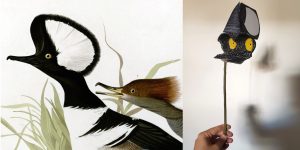 Take inspiration from naturalist-artist John James Audubon's lifelong exploration of birds to create your own twittering critter! In celebration of the Great Backyard Bird Count, join staff from the North Carolina Museum of Art for this virtual program to learn about Audubon's illustrations, discover birds of North Carolina, and create a bird sculpture from recycled materials. All ages welcome!
We recommend gathering the following materials so you can create along with our partners at the NC Museum of Art during the program:
Egg carton (required).
Scissors.
Tempera paint (paint stix, or paint and brushes) and/or markers.
Construction paper.
Feathers.
Glue; hot glue works best.
Bottle caps.
Natural materials, e.g. leaves, twigs.
Want to join in the fun?  Pre-register to receive the link to the virtual program.