5:30pm-7pm: Food, live music and science stations
7pm: Movie begins in the WRAL 3D Theater, followed by commentary.
YOUNG FRANKENSTEIN
Two hundred years ago Mary Shelley gave life to one of the most famous classic monsters in history. Made of human parts, the monster has ghastly appearance, but only wants to be loved. Frankenstein was a prescient science fiction story that explored themes of human creativity, social responsibility, and scientific ethics, but do you know what happened to the grandson of Dr. Frankenstein?
Help us celebrate the 200th anniversary of Mary Shelley's most famous novel, Frankenstein. Grab your torches and pitchforks and discover the hilarious story of Young Frankenstein! Plus learn everything you ever wanted to know about anatomy, ethics, electricity, and much more.
We'll host Dr. Eric Juengst, Professor of Social Medicine and Director of the Center for Bioethics at UNC as this month's expert to help us separate the science from the fiction following the screening. Don't miss it!
Learn more about Finally Friday: Where Science Meets the Cinema programming
Buy Tickets to Young Frankenstein!
"Young Frankenstein" is rated PG-13
---
THIS MONTH'S FILM
Young Frankenstein (1974) — This film is an affectionate parody of the classic horror film genre, in particular the various film adaptations of Mary Shelley's Frankenstein produced by Universal in the 1930s. It was directed by Mel Brooks and starred Gene Wilder as the title character and Peter Boyle as the monster.
Young Frankenstein tells the story of the grandson of the infamous Victor Frankenstein. Spending his life under the shadow of his grandfather's legend and even changing the pronunciation of his name, he struggles to prove that he is not insane as people believe. After discovering Dr. Frankenstein's diary, he begins to feel differently and returns to the family castle to replicate his grandfather's experiments.
---
SCIENCE STATIONS (5:30–7pm)
Reanimation
iBionicS Laboratory (North Carolina State University)
Can limbs function after removal? Learn more about the fascinating robustness and adaptability of an oft-overlooked creature.
Regenerating Body Parts
NC Museum of Natural Sciences
Do you know what the most important organs in your body are? Discover the only creature that can regenerate every part of its body, including its brain!
Spark of Life
NC Museum of Natural Sciences
How did we discover that humans are full of electrical activity? Create a battery with two pieces of metal and your own body!
Heart Rate
NC Museum of Natural Sciences
Your heart is always beating to supply oxygen to your body. Test how fast your heart can beat when you try different moves.
Operation
NC Museum of Natural Sciences
Can you safely remove the funny bone? Find out when you test your surgical skills with the game of Operation!
Buttons Handouts
NC Museum of Natural Sciences
Hot off the press! A new button from our movie collection has been released. Get one fast before they disappear!
---
Q&A AND TRIVIA BIG PRIZE (AFTER THE MOVIE)
Along with the movie and dynamic Q&A with Dr. Eric Juengst, be prepared for exciting trivia with Cool Prizes for correct answers and less cool prizes for incorrect answers! Grand Prize winner of the trivia contest will take home a Brain Candle, which is perfect for these cold nights inside of dark castles!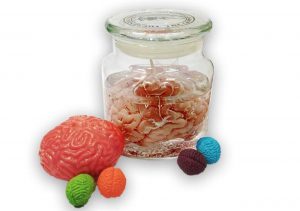 ---
 MUSIC (5:30PM – 7PM)
David Ballantyne is a singer/songwriter from London, England. He puts a new spin on old favorites by artistes as diverse as Smokey Robinson, the Beatles and Sinatra. His soulful voice covers a wide range of styles. David is the host of Classical Café on WCPE-FM.
---
FOOD & DRINK
This Finally Friday event is Frank Night! Enjoy Carolina-style hot dogs or Italian sausage for $6. There will also be a vegetarian option. And don't miss our selection of wine and craft beers!