5:30pm-7pm: Food, live music and science stations.
7pm: Movie begins in the WRAL 3D Theater, followed by commentary.
RAIDERS OF THE LOST ARK
"Jock! Start the engine!" We're about to go for a wild ride!
Indiana Jones himself will be leading an expedition into the jungle, where explorers like yourself will search for the artifact: The Ark of the Covenant. But you must be warned: this adventure is not for the faint of heart. Those who escape the expedition unscathed will be celebrated as heroes, but not everyone will survive. As Indiana Jones often says, "In order to be a good archaeologist, you gotta get out of the library!"
The plane is leaving on Friday, August 30th at 5:30pm for Finally Friday: "Raiders of the Lost Ark" We're hosting Assistant State Archaeologist Dr. David Cranford to help us separate the science from the fiction following the screening. Don't miss it!
Rated PG, but contains scenes with violence, gore and language. For more information check out the Parent's Guide on IMDb (may contain spoilers). Recommended for ages 13+.
Check out the upcoming movies and learn more about Finally Friday: Where Science meets the Cinema.
---
---
Raiders of the Lost Ark (1981)
When Indiana Jones was hired by the government to locate the legendary Ark of the Covenant, he wasn't expecting to find himself up against the entire Nazi regime. "Raiders" is an epic tale in which an intrepid archaeologist tries to beat a band of Nazis to a unique religious relic which is central to Hitler's plans for world domination. Battling a snake phobia and the French archaeologist who always seems to be one step ahead of him, Indiana Jones is in constant peril, making hair's-breadth escapes at every turn. The brilliant, nonstop action from director Steven Spielberg and producer George Lucas is a celebration of the adventure movies of an earlier era.
---
SCIENCE STATIONS (5:30–7PM)
"Snakes … Why'd It Have to Be Snakes?"
NC Museum of Natural Sciences
Indiana Jones may not love snakes, but the Museum of Natural Sciences sure does! Stop by the snake table to learn more about the snakes of the movie. You might even be able to meet some of our live slithery friends.
Webs in the Dark
NC Museum of Natural Sciences
Tarantulas are quite docile and rarely bite people, but they have a secret defense mechanism — they throw needle-like, barbed hairs at their attackers! You'll know if they hit you because they cause a nasty, irritating rash and some people may even suffer a serious allergic reaction.
The Hidden Clue
NC Museum of Natural Sciences
In order to be the best adventurer and explorer, you must learn the importance of keeping your messages secret by using invisible ink. You can even learn how to translate Egyptian hieroglyphs!
Poison Beauty
NC Museum of Natural Sciences
Did you know that for hundreds of years indigenous peoples like the Emberá people of Colombia, used the poison from dart frogs in their hunting blowgun darts? Stop by our table to see some beautiful dart frogs (and learn why ours aren't deadly)!
Defending the Tribe
NC Museum of Natural Sciences
Have you ever seen an atlatl before? What about a bola? Check out our table featuring cool primeval hunting tools including spears and blowguns. These amazing items have been used for centuries for gathering food and for defense!
Button Handouts
NC Museum of Natural Sciences
Hot off the press! A new button from our Finally Friday movie collection has been released. Supplies are limited, so get one fast before they disappear!
---
MUSIC (5:30–7PM)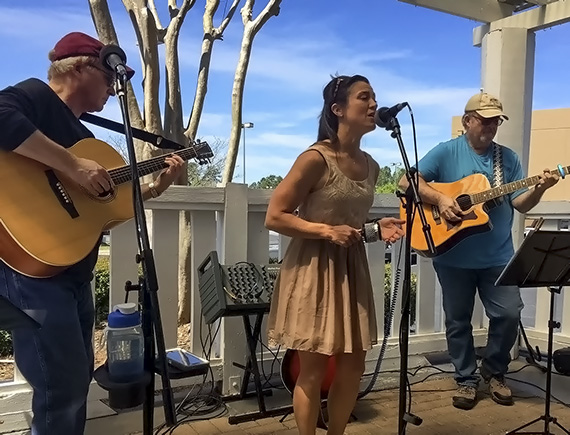 Loos Change is an acoustic trio based in Raleigh that plays a wide range of material from the 1960s to today. From the British Invasion to Americana, classic country, R&B, and pure pop, Loos Change has something for everybody. Don't miss them at this month's Finally Friday event!
---
 FOOD & DRINK
This Finally Friday event enjoy beef hot dogs or beef tacos for $6 or the quinoa & avocado salad for $8. And don't miss our selection of wine and craft beers and other snacks!