5:30pm–7pm: Food, live music and science stations.
7pm: Movie begins in the WRAL 3D Theater, followed by commentary.
E.T. the Extra-terrestrial
Do you see strange lights in the night sky? Are you hearing odd noises coming from your tool shed? Is your dog now afraid to venture in the back yard? Don't be scared — it might just be a stranded alien trying to "phone home."
Join us on January 17, 2020 for our Finally Friday film, "E.T. the Extra-Terrestrial." This heartwarming classic by Steven Spielberg will be shown in conjunction with our Astronomy Days event. We'll host Dr. Rachel Smith, Head of the Astronomy & Astrophysics Research Lab and Curator of Meteorites at the NC Museum of Natural Sciences, as this month's expert to help us separate the science from the fiction following the screening. Don't miss it!
Check out the upcoming movies and learn more about Finally Friday: Where Science meets the Cinema.
E.T. the Extra-terrestrial (1982) PG
After a gentle alien becomes stranded on Earth, he is discovered and befriended by a young boy named Elliott (Henry Thomas). Bringing the extraterrestrial into his suburban California house, Elliott names the alien E.T. and introduces him to his brother and little sister, Gertie (Drew Barrymore). The children decide to keep E.T.'s existence a secret, but the alien soon falls ill, resulting in government intervention and a dire situation for both Elliott and E.T.
SCIENCE STATIONS (5:30–7PM)
Alien Invasion!
NC Museum of Natural Sciences
"The Green Planet," E.T's home, does not have a monopoly on stranded aliens. Learn about aliens that are also earthlings…they just are in the wrong place! From rats to cane toads, invasive exotics are wreaking havoc on our native ecosystems. Meet a few and learn how you can help control the alien invasion!
E.T. Phone Home
NC Museum of Natural Sciences
In the movie, Elliot created a device to for E.T. to "phone home," but do you actually know the history of the telephone? How big were they originally? How did they work? Stop by this table and learn how we can all phone home!
Space Games
NC Museum of Natural Sciences
Come and test your knowledge of other space/alien movies. Can you guess a movie by seeing only one frame?
Paper Circuits
NC Museum of Natural Sciences
How many times have you used electricity today? Probably too many times to count, but most of the time, we don't even think about it. Explore the invisible science of electricity and circuits to create your own light-up E.T. paper circuit art to take home!
E.T.! Button Making
NC Museum of Natural Sciences
Make your own E.T. button to show your support of this classic film!
---
MUSIC (5:30–7PM)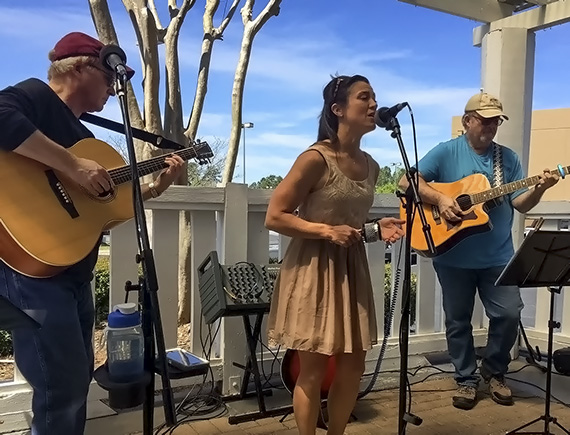 Loos Change is an acoustic trio based in Raleigh that plays a wide range of material from the 1960s to today. From the British Invasion to Americana, classic country, R&B, and pure pop, Loos Change has something for everybody. Don't miss them at this month's Finally Friday event!
---
Food & Drink
This Finally Friday event enjoy Chicken Tenders and tater for $6, Beef Hot Dogs with onions and sauerkraut or with tater tots for $8 or Green Apple Salad for $8.  And don't miss our selection of wine and craft beers and other snacks!