5:30pm-7pm: Food, live music and science stations
7pm: Movie begins in the WRAL 3D Theater, followed by commentary.
The Goonies
Maps, hidden treasures, deadly traps and pirates! All the ingredients for a great adventure! Follow the clues to find One-Eyed Willie's treasure with The Goonies and discover how famous pirates plundered the North Carolina shore from Cape Fear to Currituck.
Join us at the November installment of Finally Friday to watch The Goonies and learn everything you ever wanted to know about the science behind sea monsters, mythical creatures, pirates, treasure maps, pirate navigation and much more. We'll host Dr. Ann Ross, Forensic Anthropologist and Professor of Biological Sciences at NC State University as this month's expert to help us separate the fact from the flotsam following the screening. Don't miss it!
Learn more about Finally Friday programming
"The Goonies" is rated PG
---
THIS MONTH'S FILM
The Goonies (1985)
The Goonies, produced by Warner Brothers, was released in June 1985 and earned more than $61 million, placing it among the top ten highest-grossing films of 1985 in the US. Now, 32 years later, The Goonies has became one of the most-loved cult movies ever.
In the film, a band of kids who live in the "Goon Docks" neighborhood of Astoria, Oregon, attempt to save their homes from demolition and in doing so, discover an old Spanish map that leads them on an adventure to unearth the long-lost fortune of One-Eyed Willie, a legendary 17th century pirate. During the entire adventure, they are chased by the Fratellis, a family of criminals who also want the treasure for themselves.
The movie was directed by Richard Donner and the screenplay written by Chris Columbus from a story by executive producer Steven Spielberg. It stars Sean Astin (Rudy, The Lord of the Rings, Stranger Things 2), Josh Brolin (Men In Black 3, Milk, Avengers: Infinity War), Joe Pantoliano (Risky Business, The Matrix, The Sopranos) and Corey Feldman (Gremlins, Stand by Me, The Lost Boys).
Come out to this month's Finally Friday and explore what the film got right and wrong about maritime piracy.
---
SCIENCE STATIONS (5:30PM–7PM)
Myths of the Sea
NC Museum of Natural Sciences 
Discover the science behind the most famous mythological sea creatures and learn more about the real animals on which these are based.
The Hidden Clue
NC Museum of Natural Sciences 
Pirate maps are full of hidden messages. Learn how to protect your own treasure by creating secret messages using invisible ink.
Piracy in North Carolina
NC Museum of Natural Sciences 
Learn about the real pirates who plundered the North Carolina shore from Cape Fear to Currituck.
Isla Tortuga
NC Museum of Natural Sciences 
It's the most famous Island in the world of piracy, but do you know what it's name means? Come discover the animals that gave the name to this pirate island.
Hey You Guys!
NC Museum of Natural Sciences 
Everybody loves Sloth, the Fratelli brother who befriends Chunk and later becomes a Goonie himself. Come create your own dancing Sloth and even dance Chunk's famous "Truffle Shuffle" dance.
One-Eyed Willie's Lair
NC Museum of Natural Sciences 
Welcome to One-Eyed Willie's lair, where you can take pictures in our photo booth with prop replicas from the movie.
Ancient Navigation
NC Museum of Natural Sciences 
How in the world did sailors (and pirates), find their way across the seas before GPS? Well, for thousands of years they managed quite well!  Stop by the Ancient Navigation table and see some of the early methods of finding your way at sea (or land), and test out some of the cool navigation equipment, like the cross staff, the quadrant, the latitude hook and more. Learn a neat way to figure out your own backyard coordinates.
Goonies Game
NC Museum of Natural Sciences 
Are you a fan of the movie? Play different games to test your Goonies knowledge.
Pirate Alchemy: Turning Pennies to Gold!
NC Museum of Natural Sciences 
Get rich quick by turning an ordinary penny into "silver" and then "gold"! We can use a simple chemical reaction to convert pennies to silver, and then with a little heat, we can turn that silver to gold! Explore the ancient art of alchemy as we turn our pennies to treasure!
Buttons Handouts
NC Museum of Natural Sciences 
In order to get one of our exclusives buttons for this film, you will have to complete an adventure. Collect the cards from the various stations, and you will become a real Goonie!
---
Q&A and Trivia Big Prize (After the movie)
Along with the movie and dynamic Q&A with Ann, be prepared for exciting trivia with Cool Prizes for correct answers and less cool prizes for incorrect answers! Grand Prize winner of the trivia contest will take home a full-size prop replica of One-Eyed Willie's treasure map, bone key and Spanish doubloon. All the things needed to find One-Eyed Willie's treasure!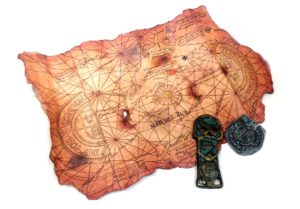 ---
MUSIC (5:30PM–7PM)
Ambient and symphonic electronica from Senator Jaiz and SkidMatik. http://reachingforlucidity.net/
---
FOOD & DRINK
This Finally Friday is Taco Night! Enjoy Chicken Tinga Tacos or Carne Asada Tacos for $6. There will also be a vegetarian option. And don't miss our selection of craft beers!