5:30pm-7pm: Food and Science Stations
7pm: Movie and commentary begins in the WRAL 3D Theater
LADYHAWKE
Before "Game of Thrones," "Lord of the Rings," or "The Princess Bride" there was "Ladyhawke," a fantasy film about magic, adventure and the perils of therianthropy. Starring Rutger Hauer, Matthew Broderick and Michelle Pfeiffer, this medieval adventure explores a world where some animals are actually humans– including the film's star, a red-tailed hawk. So what would it really be like to live your life as a bird of prey? How would you experience flight, feathers, and eyes that can spot a two millimeter bug from a hundred feet up a tree? Find out at the July installment of Final Fridays: Science and the Cinema when we take on "Ladyhawke."
This month's expert is John Gerwin, Research Curator of Ornithology at the Museum. Following the screening, he'll help us navigate the incredible world of raptors, and explore what films like Ladyhawke get wrong about the science of birds. Don't miss it!
Learn more about Final Fridays programming!
Ladyhawke is rated PG-13
---
THIS MONTH'S FILM
Ladyhawke (1985) — What do you do when the only thing standing between you and your true love is a hundred million years of evolution? That's what Captain Navarre (Rutger Hauer) must contend with in "Ladyhawke," a film about two young lovers cursed by a jealous bishop into living their lives apart. Navarre, a wolf by night, and his love Lady Isabeau (Michelle Pfeiffer), a hawk by day, can only be together as humans for a few seconds of twilight each day.
With the help of a petty thief (Matthew Broderick), the pair goes on a quest to lift the curse and free the town of Aquila from the evil bishop. Will the bishop be vanquised? Will the curse be lifted? And what does a rare astronomical phenomenon have to do with all this? Find out when Final Fridays: Science and the Cinema takes on "Ladyhawke."
---
SCIENCE STATIONS (5:30PM–7PM)
Live Hawk Falconry Demo
North Carolina Falconers Guild
Check out some live red-tailed hawks– the largest hawk in North Carolina– and learn about the amazing flying and hunting abilities of these incredible raptors.
Turtle-Glider Jousting
NC Museum of Natural Sciences
Hop on our turtle gliders and see if you can collect all the jousting rings! Suits of armor not provided.
Sherwood Forest Archery Tournament
NC Museum of Natural Sciences
Test your bow skills at this booth and see if you have what it takes to wear the feather cap!
The Great American Solar Eclipse
NC Museum of Natural Sciences
Solar eclipses figure prominently in "Ladyhawke," but did you know the United States is gearing up for one of these extremely rare astronomical events this summer? Come learn how to safely observe the August 21st solar eclipse at this booth, and where you'll need to go to see it in the full glory of totality.
What Makes a Raptor?
Wake Audobon Society
Check out real-life taxidermy mounts of some amazing birds of prey from all over the world and find out what makes these magnificent predators tick.
More details coming soon!
---
LIVE MUSIC (5:30PM–7PM)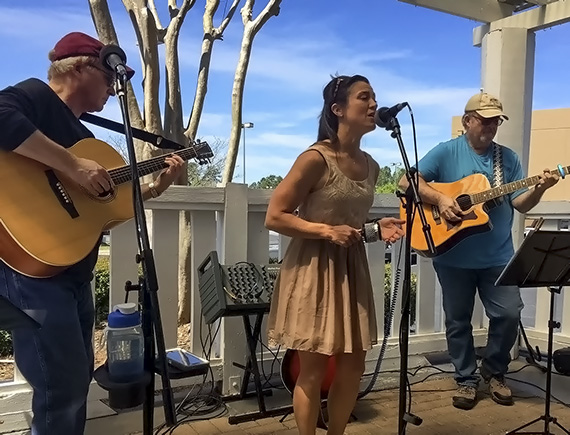 Loos Change is an acoustic trio based in Raleigh that plays a wide range of material from the 1960s to today. From the British invasion to Americana, classic country, R&B, and pure pop, Loos Change has something for everybody. Don't miss them at this month's Final Fridays event!
---
FOOD & DRINK
This Final Friday is Slider Night! Enjoy Pork BBQ Sliders or Meatball Sliders for $6. There will also be a vegetarian option. And don't miss our selection of craft beers!