5:30pm-7pm: Food, live music and Science Stations
7pm: Movie begins in the WRAL 3D Theater, followed by commentary
Ghostbusters
While skeptics deny the existence of ghosts, claiming there is no real evidence, polls and surveys have shown the public strongly disagrees. More than the 45 percent of Americans believe in ghosts or that the spirits of the dead can come back in certain places and situations.
Join us for the October installment of Final Fridays: Science and the Cinema to watch Ghostbusters and learn everything you ever wanted to know about the science of ghosts, or more accurately, the various real-world things that may cause us to see ghosts. We will host Shaun D. McCullough, Principal Investigator, US. Environmental Protection Agency, Affiliate Faculty, UNC Curriculum in Toxicology, as this month's expert to help us separate the science from the specter following the screening. Don't miss it!
Learn more about Final Fridays programming
"Ghostbusters" is rated PG-13
---
THIS MONTH'S FILM
Ghostbusters (1984)
"Ghostbusters", produced by Columbia Pictures, was released in 1984 as a ghostly comedy and ended with two Oscars nominations (Visual Effects and Original Song), three Golden Globe nominations (Best Comedy, Best Actor (Bill Murray) and Original Song), a BAFTA Award (Original Song) and nomination for Visual Effects.
In the film, after being fired from their university research jobs, Drs. Venkman, Stantz and Spengler promptly set up shop as parapsychologists specializing in psychic phenomena. Soon they're ridding Manhattan of bizarre apparitions, but the talents of these spirit exterminators — Ghostbusters– are severely tested when beautiful Dana Barrett and her nerdy neighbor become possessed by demons living in their building.
Directed by Ivan Reitman and starring Dan Aykroyd, Bill Murray, Harold Ramis, Ernie Hudson, Sigourney Weaver and Rick Moranis.
Come out to this month's Final Friday and explore what the film got right and wrong about science of "busting ghosts"
---
SPECIAL GUESTS
** Sorry for the inconvenience, but the ECTO-1 has been attacked by ghosts and covered in slime on its way to the museum. It's currently in the workshop being fixed and de-slimed, so it will not be at tonight's event.
Don't worry — the Ghostbusters of North Carolina haven't been scared off and will be joining us at the event!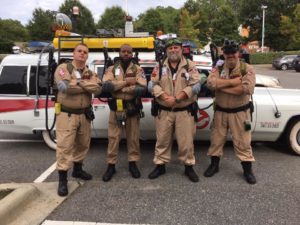 ---
SCIENCE STATIONS (5:30PM–7PM)
Sons of Zuul
NC Museum of Natural Sciences 
Discover the unusual fauna that surrounds us, including creatures that look like they're from another dimension. You'll see cats with two heads, animals that glow in the dark, eyes that are larger than melons, and more!
Ghost Camp
NC Museum of Natural Sciences 
There is nothing like telling ghost stories by a campfire, but do you think those stories could be true? Be a detective and use science to solve the mysteries behind four different ghost stories.
Slimer Spot
NC Museum of Natural Sciences 
Who doesn't know Slimer? This chubby green ghost can't stop eating and leaves everything covered in slime. Learn to create your own ectoplasm to play with and take home.
Ghost Faces
NC Museum of Natural Sciences 
Become a ghost with our ghostly makeup. Achieve that perfect pale face and dark-eyed ghostly look with face paint, but be careful that the Ghostbusters don't mistake you for the real thing!
Button Handout
NC Museum of Natural Sciences
Hot off the press!! A new button from our movie collection has been released. Get one fast before they disappear!
---
Q&A and TRIVIA BIG PRIZE (After the movie)
Along with the movie and dynamic Q&A with Shaun, be prepared for exciting trivia with Cool Prizes for correct answers and less cool prizes for incorrect answers! Grand Prize winner of the trivia contest will take home a Slimer Cookie Jar. It's the perfect place to hide your goodies from all those pesky ghosts and ghouls.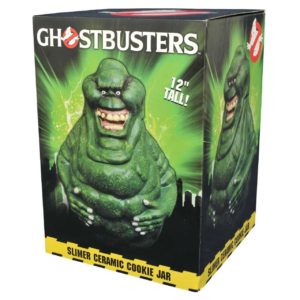 ---
MUSIC (5:30PM–7PM)
Atmospheric electronica and ambient soundscapes
---
FOOD & DRINK
This Final Friday is Slider Night! Enjoy Pork BBQ Sliders or Meatball Sliders for $6. There will also be a vegetarian option. And don't miss our selection of craft beers!