Dr. Kristofer Helgen, Smithsonian Research Zoologist and Head of Mammalogy at the National Museum of Natural History
$10 Lecture, $20 Lecture + Exhibit
Join us on January 7 for the fourth installment of the Extreme Mammals Lecture Series: Mammals in an Age of Extreme Environmental Change with Dr. Kristofer Helgen. Dr. Helgen will explain how modern scientific expeditions and detective work in museum collections can lead to the discovery of new species of mammals, as well as a better understanding of the ways that mammal species are increasingly endangered in a human-dominated world. From explorations in the remotest parts of New Guinea, the high forests of the Andes, and the plains of East Africa, Dr. Helgen will explain how extreme mammals cope with extreme environmental threats on a rapidly changing planet.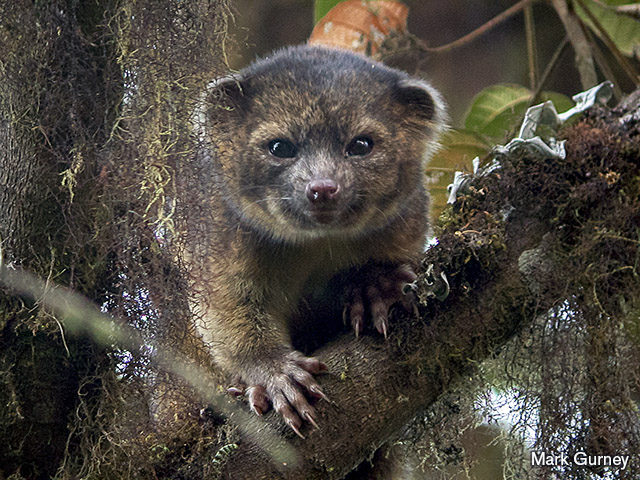 Tickets: $10 Lecture; $5 for students with valid ID at the Museum Box Office.  Add an Extreme Mammals exhibition ticket to your order and receive $5 off admission. Friends of the Museum members receive free admission to the exhibition.
Lecture will be held in the WRAL 3D Theater. The special exhibition will be open from 5-7pm before each lecture. Last entry time is 6pm. Tickets are available online or at the Museum Box Office.
About the speaker
Dr. Kristofer M. Helgen is a Smithsonian Research Zoologist and head of mammalogy at the National Museum of Natural History in Washington, D.C., where he oversees the largest museum collection of mammals and the most-visited Hall of Mammals in the world. His work focuses especially on research in museum collections and expeditions to document biodiversity and to study environmental change. He has worked as a zoologist in 50 countries and documented dozens of previously overlooked species of living mammals, including the Blue-eyed Spotted Cuscus, the Greater Monkey-faced Bat, and the Olinguito (pictured above). He received a bachelor's degree in biology from Harvard University, and a PhD from the University of Adelaide in Australia, where as a Fulbright Fellow he studied the evolution of mammals in New Guinea. He holds honorary or affiliate academic appointments at the Australian Museum in Sydney, the American Museum of Natural History in New York, George Mason University in Virginia, the Bishop Museum in Hawaii, the Natural Sciences Research Laboratory at Texas Tech University, and the National Geographic Society, where he was inducted as a National Geographic Explorer in 2009. In 2013 he was recognized among the "Most Innovative People Under 40" by Business Insider magazine. 
Upcoming Extreme Mammals Lectures
Enjoy a series of scientific talks on the diversity and evolution of mammals in conjunction with the Extreme Mammals exhibition. Learn what makes a mammal extreme: the biological characteristics, behavior and ability to adapt for survival. Each month, we will feature a presentation from renowned scientists and mammal experts.
February 4: Sheena Faherty, PhD candidate, Duke University, Department of Biology
Chill out! Hibernation as a "Cool" Way to Survive the Winter
March 3: Dr. Corinne Kendall, Assistant Curator of Conservation and Research, North Carolina Zoo
Africa's Greatest Killer? Understanding Human-Hippopotamus Conflict
For more information, contact Andrea Jones at 919.707.9839 or andrea.jones@naturalsciences.org.