Enjoy a series of scientific talks on the diversity and evolution of mammals in conjunction with the Extreme Mammals exhibition. Learn what makes a mammal extreme: the biological characteristics, behavior and ability to adapt for survival. Each month, we will feature a presentation from renowned scientists and mammal experts.
Predators, People, and Preservation: 20 Years of Carnivore Conservation
Dr. Luke Dollar, National Geographic Explorer
$10 Lecture, $40 Series, $20 Lecture + Exhibit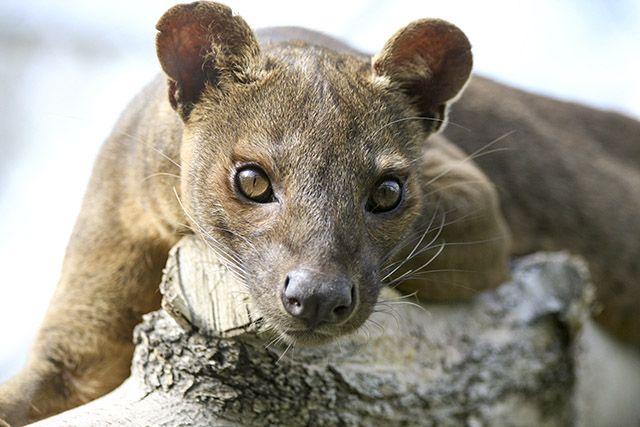 Madagascar's top predator, the cat-like fossa, finds life in the jungle increasingly difficult due to human expansion. Find out more about this elusive animal, its role at the top of the island's food chain and efforts to save the species in Predators, People, and Preservation with Dr. Luke Dollar.
About our speaker
Dollar is a Professor at Pfeiffer University, Adjunct Professor at Duke University, and Program Director for National Geographic's Big Cats Initiative. He first visited Madagascar in 1994 as an undergraduate research assistant studying lemurs with Duke University. The lemur he was assigned to follow was eaten by a fossa, an elusive predator found only on Madagascar. Dollar was instantly intrigued and upon discovering the species had never been studied, vowed to return. Dollar's fieldwork over the past 20 years has quantified the fossa's shrinking numbers, now about 2,500, and yielded a trove of data on its biology and behavior.
Tickets: $10 Lecture or $40 Series, which includes all remaining five lectures. Add an Extreme Mammals exhibition ticket to your order and receive $5 off admission. Friends of the Museum members receive free admission to the exhibition.
All lectures will be held in the WRAL 3D Theater. The special exhibition will be open from 5-7pm before each lecture. Last entry time is 6pm. Tickets are available online or at the Museum Box Office.
Dr. Luke Dollar on the conservation of the fossa:
Upcoming Extreme Mammals Lectures
December 3: Dr. Roland Kays, Head of the Biodiversity Research Lab, NC Museum of Natural Sciences
Coyotes: The Extremely Adaptable Predator
January 7: Dr. Kristofer Helgen, Smithsonian Research Zoologist and Head of Mammalogy at the National Museum of Natural History
Mammals in an Age of Extreme Environmental Change
February 4: Sheena Faherty, PhD candidate, Duke University, Department of Biology
Chill out! Hibernation as a "Cool" Way to Survive the Winter
March 3: Dr. Corinne Kendall, Assistant Curator of Conservation and Research, North Carolina Zoo
Africa's Greatest Killer? Understanding Human-Hippopotamus Conflict
For more information, contact Andrea Jones at 919.707.9839 or andrea.jones@naturalsciences.org.