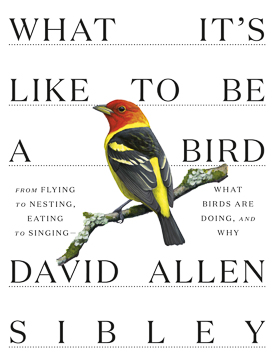 Birders and nonbirders alike! The Museum is partnering with Quail Ridge Books to help you gain a new and deeper understanding of what the wide variety of common backyard birds are doing … and why. David Allen Sibley will describe his observations of our familiar backyard birds that are highlighted in his new book "What It's Like to Be a Bird: From Flying to Nesting, Eating to Singing" (#1 New release in bird field guides). Your backyard will never seem the same again. A book signing will follow the lecture.
About Our Speaker
David Allen Sibley is author and illustrator of the series of successful guides to nature that bear his name, including The Sibley Guide to Birds. He has contributed to Smithsonian, Science, The Wilson Journal of Ornithology, Birding, BirdWatching, North American Birds, and The New York Times. He is a recipient of the Roger Tory Peterson Award for Promoting the Cause of Birding from the American Birding Association and the Linnaean Society of New York's Eisenmann Medal. He lives and birds in Massachusetts.
Tickets: $43 Book + Lecture (includes one copy of "What It's Like to Be a Bird: From Flying to Nesting, Eating to Singing"); $5 Lecture Only. Quail Ridge Books will have a limited number of books available for purchase at the event (including Sibley's previous books).
Member VIP Experience: Museum members are invited to enjoy an exclusive meet and greet with author David Allen Sibley from 6 to 6:45pm in the Coastal Hall. Light refreshments will be served. Not a member yet? Join today!