Join us at the largest event of its kind in the country! Spend a day learning about Darwin and what his theories of natural selection have done for the world of science, research and education. Meet some of the scientists who are continuing his work, and learn how Darwin's theories are being applied in cutting-edge research. In addition to hands-on science-education stations, there will be crafts and games for all ages.
KEYNOTE PRESENTATION: SECU DAILY PLANET THEATER
A Warm Little Pond: Darwin and the Origin of Life
1:00 pm
William Mesler and Professor H. James Cleaves II, Earth-Life Science Institute of Tokyo/Princeton Institute for Advanced Study
Mesler, a journalist, and Cleaves, a chemist who studied under Professor Stanley Miller (of "Miller-Urey Experiment" fame), will be discussing their recent book, "A Brief History of Creation: Science and the Search for the Origin of Life."
In their keynote address they will provide a historical perspective on Darwin's conception of the origin of life, and talk about some of the latest ideas regarding the origins of life on Earth. There will be a book signing following the presentation.
A Tea with the Authors
2:15 pm, Nature Research Center 4th Floor Classroom
Reserve your spot ASAP to attend an informal conversation with our keynote speakers at this year's Darwin Day. William Mesler and Professor H. James Cleaves II will be hosting a chat following their presentation in the Daily Planet in which they will answer your questions about the work they do and how they were inspired to write their recent book "A Brief History of Creation: Science and the Search for the Origin of Life."
We will be serving free refreshments made using recipes from the cookbook of Emma Darwin (Charles Darwin's wife) and will be raffling off one of the books. There will also be an opportunity to purchase "A Brief History of Creation" and get it signed by the authors. The program will last about 30 minutes. Please reserve your spot by submitting a reservation form.
FEATURED PRESENTATIONS: SECU DAILY PLANET THEATER
Darwin and the Irish Potato Famine: A Painfully Interesting Subject
10:30 am
Jean Beagle Ristaino, NCSU
Charles Darwin's famous voyage on the HMS Beagle led him around the world on a collecting journey that culminated in his theory of evolution.  In 1835, the Beagle traveled to the island of Chiloé and there Darwin discovered and sent back to England wild species of potato.  Darwin's interest in the potato and potato late blight spanned four decades.  He used the potato to investigate questions of what is a species, understand its ravages by a plant pathogen and investigate ideas on clonal versus sexual reproduction on species fitness.  Darwin's letters reveal his thoughts on free trade, population growth and food security as it relates to the Irish famine.  Darwin was involved in the first research to find resistance to late blight. Here, we discuss Darwin's studies on potato late blight and its relevance today in studies of migrations and the search for durable resistance to this important plant disease.
Predators in Paradise: Why Are Some Hunters So Effective on Islands?
noon
Rene Valdez, NCSU
This presentation will introduce the concept of island naïveté (tameness) and then explore the consequences of that naïveté when predators are introduced to islands. The presentation will conclude with an overview of ongoing conservation efforts to remove invasive predators from islands, including the recent rat removal from the Galapagos.
Darwin's "one special difficulty": The Problem of Social Insects and Natural Selection
2:30 pm
Adrian Smith, NC Museum of Natural Sciences
In Origin of Species Darwin wrote: "I ….confine myself to one special difficulty, which at first appeared to me insuperable, and actually fatal to my whole theory. I allude to the neuters or sterile females in insect-communities: for these neuters often differ widely in instinct and in structure from both the males and fertile females, and yet, from being sterile, they cannot propagate their kind." What about social insects presented a challenge to Darwin's theory and what evolutionary insights have we learned since?
Islands, Archipelagoes, and Atolls: Darwin and Wallace Find Evolution
3:30 pm
Dr. William Kimler, NCSU
Island geology and biology played a formative role in both Charles Darwin's and Alfred Russel Wallace's discovery of how evolution works. Miles and years apart, they had similar experiences and insights, prompted by the peculiarities of island life.
FEATURED PRESENTATIONS: WINDOWS ON THE WORLD THEATER
Ice Age Giant Ninja Turtles
11:00 am
Dr. Victoria Arbour, NC Museum of Natural Sciences
We'll learn about a weird group of extinct giant turtles with horns and tail clubs, which once roamed Australia and South America. There will be live animals at this presentation!
The Evolution of Mimicry: Is That Snake Dangerous?
noon
David Pfennig, UNC Chapel Hill Professor of Biology
Mimicry occurs when a species that can be eaten by predators (the 'mimic') evolves to resemble another species that predators avoid (the 'model'). Mimicry has long been used to illustrate the power of natural selection in promoting remarkable adaptation, and mimicry of deadly coral snakes by nonvenomous snakes is one of the clearest examples of this phenomenon. There will be live animals at this presentation!
Animal Adaptations
1:30 pm, 2:30 pm
Sunny Allen, Museum Educator
How can a desert lizard live without drinking water? Why do ferrets have flexible spines? Find out at Animal Adaptations! Come see how animals have adapted to nearly every environment on earth, and how evolution shapes every living thing around us. There will be live animals at this presentation!
Art and Stories Inspired By Science
3:30 pm
Event Horizon Magazine
Science and art don't always get along. Why is that? We at Event Horizon believe they aren't that different and work to foster the symbiosis of art and science.
EXHIBITS
Meet Jerry Binturong!
Conservators Center
Come meet Jerry Binturong and learn about the evolution and adaptations of binturongs and the 20 other species that live at the Conservators Center.
Electric Circuits vs. Genetic Circuits
Sozzani Lab at North Carolina State University
We will have two interactive demonstrations that show how genes in the human body act like electric
circuits we use everyday. We will use concepts from biology and engineering.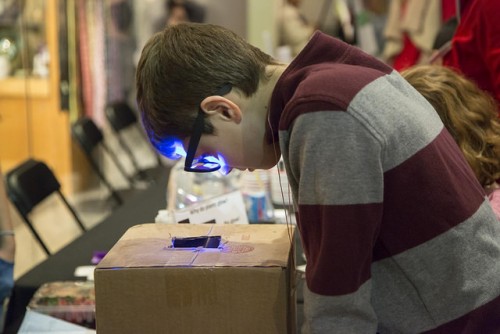 Darwin Day Buttons
NC Museum of Natural Sciences
Come design your own Darwin Day button– you can take it home with you!
Art and Stories Inspired by Science
Event Horizon Magazine
Art and science, together? Why not! Come experience it for yourself!
Darwin and Earthworms
North Carolina Entomological Society
The exhibit highlights Darwin's considerable contributions to our knowledge of earthworms.
The exhibit also features live earthworms, vermicomposting and a number of other show and tell items.
Exploring Adaptation and Natural Selection
Chapel Hill High School
Hands-on activities demonstrating principles of Darwin's theory of evolution by natural selection.
Yep, Your saliva evolved too!
BioNetwork
The North Carolina Community Colleges and NC BioNetwork are committed to success in life science. We provide hands-on opportunities to learn more about biotechnology and life science throughout the state. Visit our booth to learn more, test your knowledge or see just how well your saliva has evolved!
Sharing Skin Microbes in Madagascar
Triangle Center for Evolutionary Medicine (TriCEM); Duke Global Health Institute
Do people and domesticated animals share microbes when they come in contact with each other? Skin samples collected in rural Madagascar will show if bacteria are shared, and how this may have implications for our health.
Animal Evolution
NC Museum of Natural Sciences
Come see live animals that have evolved some incredible adaptations! Learn about a python with back legs, a turtle that can live for months without taking a breath, and a harmless snake that fools predators into thinking that it's dangerous.
Plants for Kids
NC State University
We offer a hands-on demo for all ages that teaches kids about plants. Learn how scientists study plants in a laboratory and set up a simple experiment to take home with you!
The Lab
Museum of Life and Science, Durham
We will have evolution games that will be played by using a unique controller, and anything from bananas to Play-Doh!
Pipus cleanerus vs. Natural Selection
NC Museum of Natural Sciences
Kids become fearsome predators in this activity! We will have a dark room filled with a rare type of "snake," the Eastern Pipe Cleaner Snake, Pipus cleanerus. Pipus cleanerus is a diverse species with many colors. As more and more "predators" weed out some of the easier-to-spot colors we will get to see natural selection in action over many generations!
On the Origins of Lemurs
Duke Lemur Center
Lemurs come in all shapes, colors, and sizes, and you can find out more about their amazing diversity. Feel real lemur fur, see the difference between a lemur and a monkey or ape and learn about how you can visit the largest lemur colony outside of Madagascar located in Durham, NC, the Duke Lemur Center!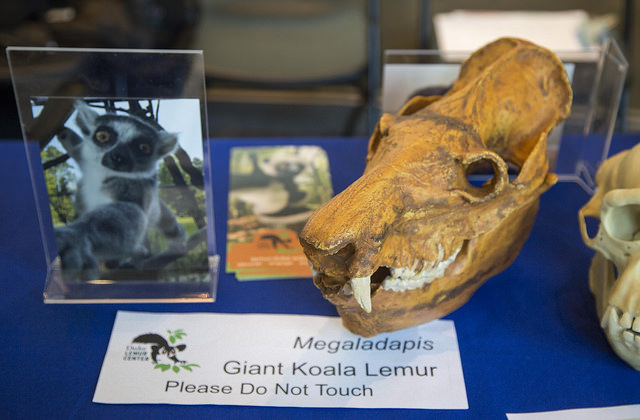 The Evidence for Evolution
Saint Mary's School
Interactive displays will help museum-goers understand convergent evolution, comparative biochemistry, and comparative embryology.
Dinosaurs Past & Present
Virginia Museum of Natural History
We will host a table display showcasing the incredible evolution of birds from dinosaurs. We will have real fossils and high quality casts that visitors can see and touch showing the major adaptations that led to dinosaurs being able to fly.
Convergent Evolution
NC Museum of Natural Sciences
Check out one of the coolest aspects of evolution — convergence. How can two animals separated by thousands of miles and millions of years look almost identical? Find out at Convergent Evolution! There will be live animals!
Bug Love
NC Museum of Natural Sciences
How does a bug find love? Turns out, there are lots of ways! Come learn about pheromones, hormones, and the aesthetics of an exoskeleton at Bug Love!
Insect Diversity
NC Entomological Society
Insects account for more than two-thirds of all known organisms. We are showcasing a few live insects to show their diversity.
The Evolution of Spider Webs
Shaw University
We will present the story of the evolution of spider silk from its origins as a tunnel-stabilizer to complex, sticky webs.  Live spiders using silk in various ways will be present at this exhibit.
Watermedia Painting Demo
Stacy Lewis Studio
Stacy Lewis will be creating some of her fun watermedia paintings of animals.
Arthropod Adaptations
NC Museum of Natural Sciences' Arthropod Zoo
Come check out some live arthropods from the Museum's Arthropod Zoo, and learn how this diverse group of animals has adapted to nearly every habitat on Earth!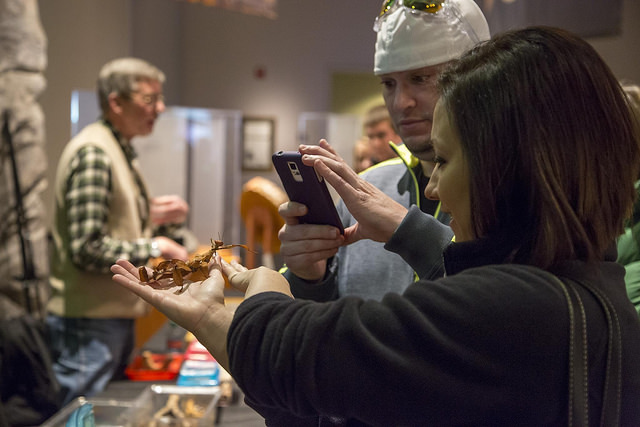 Mosquito Love
NC Museum of Natural Sciences' Natural World I-Lab
The Investigate Lab will be displaying its mosquito breeding chambers, and the Museum's own Bob Alderink will be on hand to discuss the breeding cycles of these infamous flying insects.
The Evolution of Birds
Sylvan Heights Bird Park
We will have a display set up that illustrates bird evolution, and live Nene goslings!
Darwin's Favorite Plants
Extension Master Gardeners of Wake County
Our exhibit will examine Darwin's interest in carnivorous plants and orchids.  We will also try to answer all of your gardening questions.
Orchids in Natural History
Triangle Orchid Society
We will have a wide selection of orchids from around the world, highlighting the diversity of this largest group of flowering plants.  We plan to have the famous Darwin Orchid in bloom.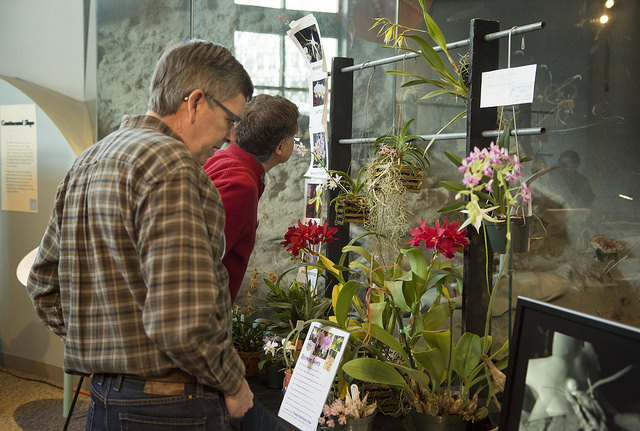 Evolution of Solar-Powered Symbiotic Fungi
Duke University
Most fungi form symbiotic associations with plants, from unicellular algae to sequoias. Spectacular solar-powered fungi have evolved from these interactions.
Echinoderm Exploration
North Carolina Aquarium at Fort Fisher
Explore the incredible diversity of sea stars and their relatives. Find out what characteristics these organisms have in common, and meet some live examples!
The Tobacco Hornworm Caterpillar Experiment and Hawkmoth Flight
University of North Carolina Department of Biology
Come learn about the life cycle of tobacco hornworm caterpillars, conduct an experiment to learn about insects and temperature, and watch videos and see live demonstrations of hawkmoth flight.
Dino Snow
Dr. Jennifer Landin, NCSU BioSci
Create your own dinosaur snowflakes!
Human Evolution
NC State University Department of Anthropology
This exhibit will contain casts of ancient hominids, starting with the earliest and advancing through to modern humans.
Narwhals: Unicorns of the Sea
NC Museum of Natural Sciences
We will build Arctic scenes with narwhals that kids can take home, while learning about narwhal evolution and conservation!
Fish Face Frenzy
The Roberts Lab, NC State University Biological Sciences
Different fish species have evolved differently-shaped jaws and faces that allow them to eat different kinds of food, from algae to other fish. At Fish Face Frenzy you can build and color your own fish, and figure out what it eats and where it lives.
Valentines from Darwin and Friends!
NC Museum of Natural Sciences
This station is for kids (and adults!) to write Valentines to their friends and loved ones on our Darwin-themed Valentine's Day cards!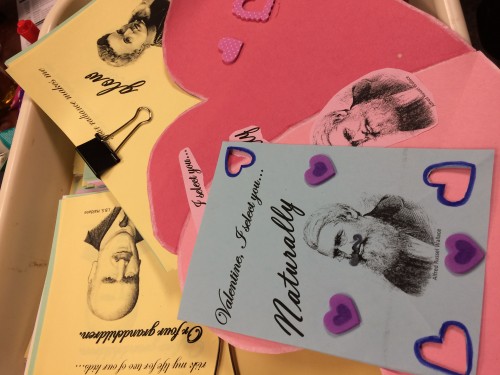 Amazing Co-Evolution! Plants and Pollinators Craft
NC Museum of Natural Sciences
Come learn about co-evolution while making 3-D dioramas of bees and flowers that you can take home with you!
Baboons and Friends: Studying the Evolution of Social Behavior in Wild Monkeys
Amboseli Baboon Research Project
Come study the evolution of friendship and sociality in our close monkey relatives using the same methods that we use when we are studying baboons in the African savannah!
Human Origins
William Peace University Anthropology
We'll be providing activities and specimens that display the changes to the human body that have occurred over our evolutionary history. Stop by and learn about our origins, adaptations to bipedalism and the evolution of humanity!
Darwin's Finches
NC State University
Come learn how Darwin developed the theory of evolution! Ever wonder what it would be like to be a bird? Kids and adults will have an opportunity to simulate Darwin's studies of finches on the Galapagos Islands. Test out different-sized "beaks" to see how adaptation works. Which bird beak do you think will be the best fit for a particular size of food item? Have fun with our game of survival and adaptation!
Chimpanzees & Humans: What We Share with Our Closest Cousins
Jane Goodall Research Center at Duke University
Discover the traits and behaviors that we share with our closest relatives, the chimpanzees, through videos and stories from Gombe National Park, Tanzania.
Domestication Station
NC State University Biological Sciences Department
Explore the science of domestication: learn how Darwin used artificial selection as an important line of evidence for his theory of natural selection and about how researchers study the domestication process today. Also, explore the age old question — are you a dog person or a cat person?
Similar Structures
NC Museum of Natural Sciences
Get an up-close look at evolution by examining bat wings, bird skeletons, frog bones, and more. Learn about the similar structures shared by related organisms and discover what this tells us about our own evolutionary history.
Avian Evolution
NC Museum of Natural Sciences
Learn how birds evolved and discover how they are related to both alligators and dinosaurs while examining bird specimens, alligator bones, and dinosaur fossils.
Insect Diversity
NCSU Entomology Graduate Student Association
Learn about the diversity of insects and observe insects up close!
Darwin's Battle of the Fittest
UNCG Biology Club
The exhibit will include a skull guessing game, along with various topics regarding natural selection. For example, the anatomical detail of various specimen studied by Darwin and their particular relevance to the concept of "fitness."
Phenotypic Plasticity
University of North Carolina at Chapel Hill
Organisms often respond to their environment by changing the way they look or behave. This exhibit explores the ecological and evolutionary implications of such responses and how they can muddle our perceptions of what is a "species."
Research and Biodiversity
Nash Community College
This Exhibit is run by students from Nash Community College. The exhibit will be displaying a variety of reptiles and amphibians from the NCC Biodiversity Center as well as undergraduate research posters.
Predator or Prey?
The North Carolina Zoo
Sometimes survival in the wild can be tricky.  Through hands-on materials and activities, discover some adaptations that help hunters succeed at the hunt … or help the hunted survive.
Carnivores
Carolina Tiger Rescue
Carolina Tiger Rescue is home to 8 species of Carnivores all with their own unique characteristics.  Come learn how they are all alike and so very different.
Mentawai Island (West Sumatra, Indonesia) Non-human Primates
NCSU Biological Sciences
Learn about the plight of the four non-human primates on the remote Mentawai Islands located off of West Sumatra, Indonesia.

Predicting Evolution in Mosquitofish
Langerhans Lab, NCSU
This exhibit focuses on how predation can influence what fish look like and how they behave.
Bat Adaptations
Triangle Troglodytes
Bats – mammals with wings, and echolocation that play important roles in pollination and pest control!
Searching for Early Primates in Wyoming
Lab for Evolutionary Morphology, Duke University
Our work investigating the earliest evolution of primates and other mammals in North America, as revealed through the rocks of the Bighorn and Bridger Basins of Wyoming.
Darwin Bookmarks
NC Museum of Natural Science
Encourage reading by making a bookmark with Charles Darwin's judgmental face on it. He's judgmental because if you're looking at him, you're not reading!