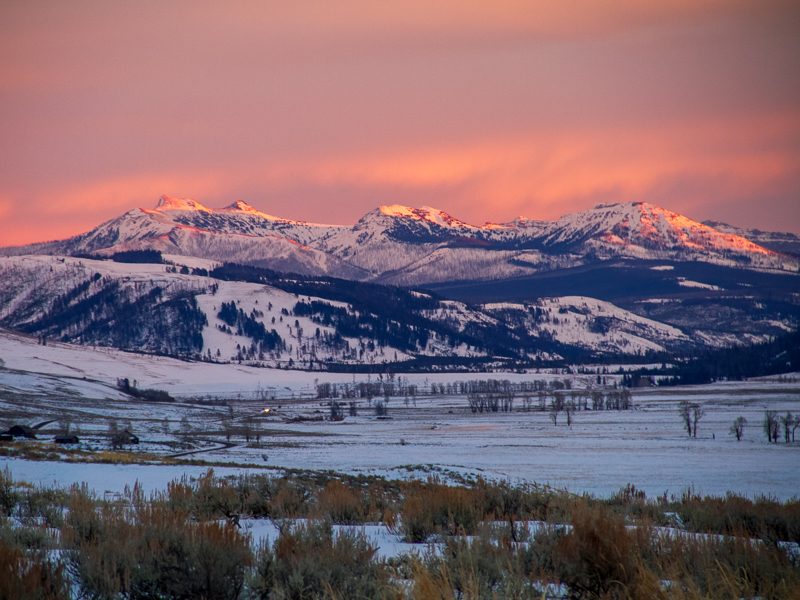 Orientation | Itinerary | Guides | Trip Logistics | A Day in the Life of a Yellowstone Traveler
Immerse yourself in the beauty and majesty of America's first national park in winter – the snow-covered landscape, the incredible wildlife and the magnificent thermal features. Yellowstone National Park was set aside as our first national park in 1872 because of its spectacular geological features, including the world's largest concentration of geysers. Yellowstone remains a refuge for the full complement of large mammals that once roamed the west, including gray wolves, which were reintroduced in 1995. Learn about Yellowstone's rich history, leading role in conservation and exceptional ecosystem as we travel through its magical winter landscape.
Tickets: $2,990 per person for double occupancy ($1,500 extra for single occupancy), current Museum membership required. Fee includes expert guides, ground transportation, all accommodations, some meals, two-day snowcoach charter, snowshoe rental and orientation meeting on December 4, 2021. Participants responsible for airfare. Members must login to their account to register. Not a member yet? Join today!
Registration deadline is September 10, 2021. Reserve your spot with a $1,000 deposit. Final payment due by October 10, 2021.
ONLY 1 SPOT LEFT!
All Connect With Nature Adventures will follow current state and federal health guidelines and apply a range of safety measures to mitigate health risks. Registrants will be updated on our current guidelines at the orientation meeting. Please note that all trips are subject to change or cancellation depending on COVID-19 restrictions. A full refund will be provided in the event of a cancellation.
---
Orientation
We will have a mandatory orientation meeting on Saturday, December 4, 2021 from noon to 5pm. The meeting will offer participants the chance to get to know one another, provide background information on Yellowstone and the trip itinerary, and go over recommended gear for the trip.
---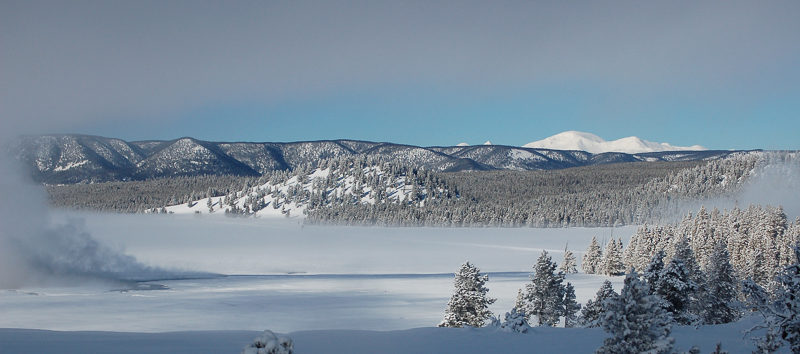 Itinerary
Jan. 12 — Participants arrive in Bozeman, MT.
Jan. 13 — Travel to Yellowstone National Park north entrance in Gardiner, MT; introductory group meeting; wildlife watching.
Jan. 14 — Travel via chartered snowcoach to Old Faithful with wildlife watching and scenic stops along the way, including the Grand Canyon of the Yellowstone and Hayden Valley.
Jan. 15 — Upper Geyser Basin dawn hike, travel via chartered snowcoach back to Mammoth with wildlife watching and scenic stops along the way, including geyser basins.
Jan. 16–18 — Wildlife watching, snowshoe hikes and guided tours in the Lamar Valley area.
Jan. 19 — Trip review and departure for Bozeman, MT.
---
Guides
Melissa Dowland, MS — Melissa is an experienced educator at the Museum of Natural Sciences with a BA in environmental sciences and an MS in structural geology. She has guided over 30 trips to Yellowstone National Park since 2005. She loves sharing her passion for Yellowstone with others in engaging and meaningful ways.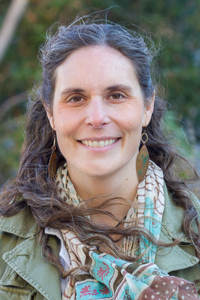 Megan Davis, MS — Megan is an experienced educator at the Museum of Natural Sciences with a BS in zoology and an MS in wildlife conservation. She has guided multiple trips to Yellowstone National Park since 2014. Her enthusiasm and outdoor experience make her an excellent and responsible guide.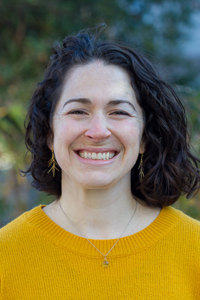 ---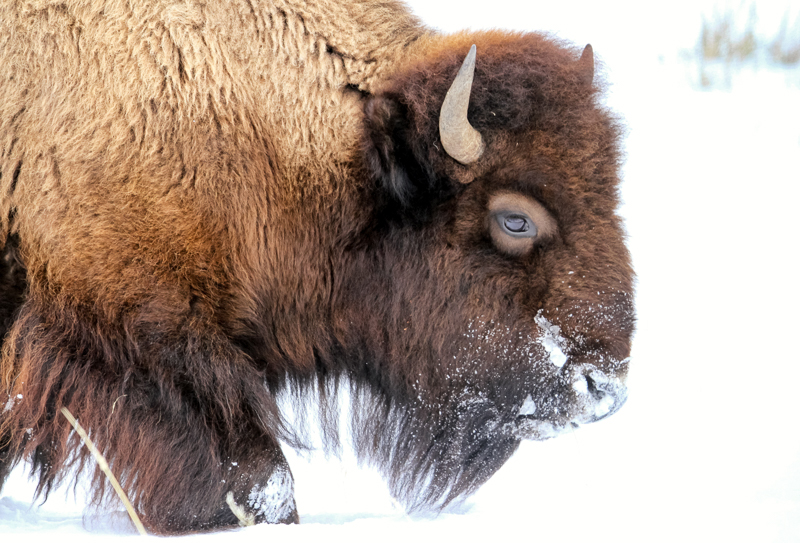 Snowy bison in Lamar Valley. Photo by Melissa Dowland.
Trip Logistics
Activity Level: Active
We welcome all travelers, but request that you be in good health to participate in the Yellowstone in Winter Adventure. This trip will involve a reasonable amount of walking (2–3 miles per day), often uphill, on icy and/or uneven surfaces, and at elevations above 7000 feet. You must be able to be active for a long day (typically 12ndash;14 hours) and be prepared and equipped for cold temperatures (ranging from about -50° F to 50° F). You must be able to get in and out of vehicles (van and SUVs) on your own. We regret that we cannot provide individual assistance. Please note that our itinerary cannot accommodate wheelchairs.
Flights
Each participant will need to book their own flight. Please do not make any reservations until the trip is finalized and you receive a notification from us. At that time, we will provide information on arrival and departure times and recommended airline itineraries.
Accommodations
We will spend our first night in a hotel near the airport in Bozeman, Montana. In Yellowstone, our time will be divided between the Mammoth Hotel and the Old Faithful Snow Lodge. Rooms will have either 1 king bed or 2 queen beds, and will have private bathrooms.
Meals
Most meals are not included in the trip fee. Expect grab-and-go style breakfasts and box lunches for one day of chartered snowcoach tour. Additional meal options will include the Obsidian Dining Room at Old Faithful, the Mammoth Dining Room, restaurants in the town of Gardiner, MT, and a sandwich shop in Cooke City.
More Information
This trip is modeled after our successful Yellowstone in Winter Educator Trek. We maintain a blog for that trip, so if you would like to learn more about what this experience will be like and see photographs from previous trips, please visit our blog.
---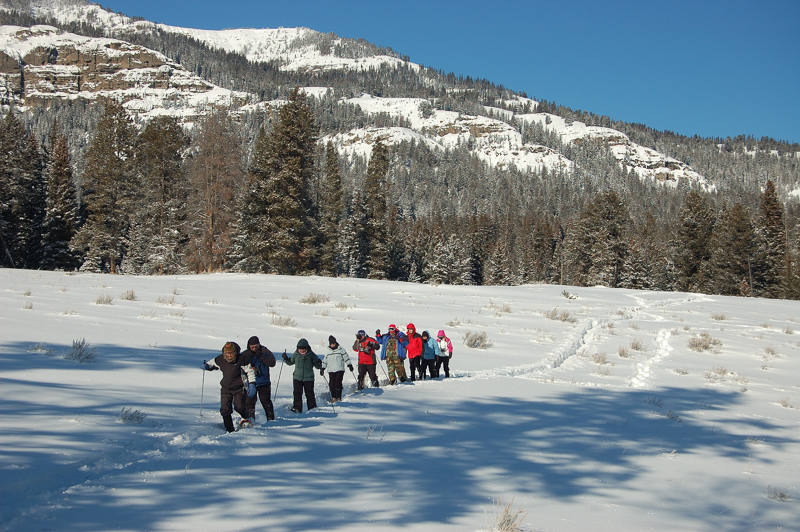 Group snowshoeing down a hill near Pebble Creek.
A Day in the Life of a Yellowstone Traveler
Each day in Yellowstone is different, but most begin the same way! We will start each day early in the morning in order to maximize our time in the park and increase our opportunities for seeing wildlife. Typically, our days will begin before dawn (6–7 am) and end after dark with dinner (7–8 pm), and on most days we will not return to our lodging during the middle of the day. Our itinerary will include some planned stops at beautiful and famous locations, but generally, we will keep our schedule flexible in order to capitalize on moments of serendipity and beauty.
The first of half of our trip will be comprised of two days of chartered snowcoach tours that will take us from Mammoth Hot Springs to Old Faithful, and on to the Grand Canyon of the Yellowstone. Distances in Yellowstone are great and over-snow travel can be slow, so we will spend time in transit, but don't let your guard down! We will constantly be on the lookout for wildlife and interesting sights, and will stop whenever the opportunity arises to get out of our vehicle to take in the moment. Highlights may include steaming rainbow-colored hot springs, boiling and bubbling mud pots, burly bison blocking the road, the snow-swept plains of Hayden Valley, a 100-foot tall ice pile in front of the Lower Falls of the Yellowstone and waterfowl (or maybe coyotes or otters) haunting the few ice-free areas along the Yellowstone River.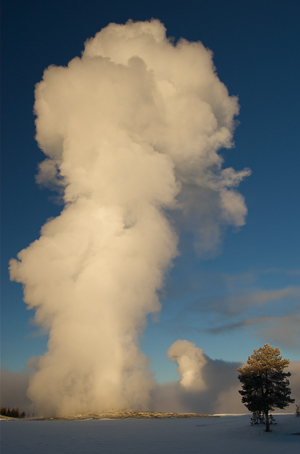 During the second half of our trip, we will rise early and return late as we search for wildlife. We will have the chance to meet wildlife photographers Dan and Cindy Hartman at their cabin outside Yellowstone for a glimpse into life in the Greater Yellowstone Ecosystem. Once or twice each day we will venture out on snowshoes to experience the beautiful Yellowstone landscape. We will truly be immersed in the wildest part of Yellowstone.
For additional information about this trip, contact Melissa Dowland at 919.707.9898 or Megan Davis at 919.707.9905.
---
Connect with Nature Adventures are open to Museum members. Travel with expert Museum guides to spectacular locations, explore wild parks and world heritage sites, tour behind the scenes at great museums, mingle with the locals and feast your senses on the wonders of nature. Not a member yet? Join today!