North Carolina is rich in beautiful waterfalls – some with a subtle beauty and inviting pools to swim in during the warmer months and others that spectacularly plunge off a rock face,  showing the sheer power of water. Join Head of Outreach Jerry Reynolds for a journey through the heart of waterfall country. Visit waterfalls in Pisgah National Forest, Dupont State Forest and Gorges State Park. Look for early spring wildflowers and keep your eyes out for wildlife that might cross your path or fly overhead.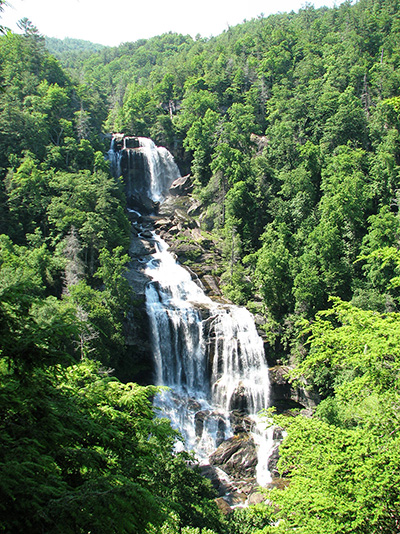 Activity Level: Moderate
Visiting waterfalls requires walking 2–3 miles on trails with variable slope and natural surfaces. We will take our time on the trail to enjoy the scenery. If you are moderately active with good physical mobility, then you should have no trouble on these trails.
Tickets: $120; current Museum membership required. Fee includes transportation and instruction. Participants pay for lodging and meals. Lodging reserved at Hampton Inn, Brevard for $129 per night + taxes. Includes hot breakfast bar. Registration opens January 16. Members must login to their account to register. Not a member yet? Join today!
Please note: You will be required to enter the following information for each registrant before you can complete your registration: emergency contact, physician contact and health information (allergies, conditions, medications relevant to this field experience). Take a moment to gather this information before beginning registration.
For additional information about this trip, contact Jerry Reynolds at 919.707.9884.
---
Connect with Nature Adventures are open to all Museum members. Travel with expert Museum guides to spectacular locations, explore wild parks and world heritage sites, tour behind the scenes at great museums, mingle with the locals, and feast your senses on the wonders of nature. Not a member yet? Join today!