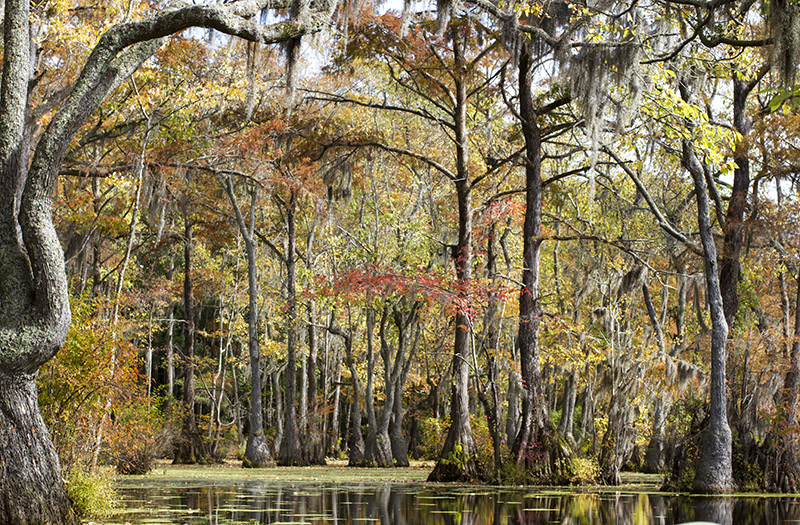 Trip departs on Saturday, November 14, at 8am and returns on Sunday, November 15, at 5pm.
Explore North Carolina's bottomland hardwood forest and experience a night in a remote swamp. Camp with Museum Educator Melissa Dowland on the Roanoke River Partner's platforms in the homes of beaver, barred owls, and migratory songbirds. Go to bed to the hootin' and hollerin' of barred owls and wake to sunrise through the cypress trees. Experience a true North Carolina wilderness on this special women's trip.
On Saturday, after a quick lunch, we will canoe down winding Gardner Creek past towering bald cypress trees reflected in dark water. Our 5-mile paddle will lead us to Upper Deadwater Creek and Beaver Tail and Lodge camping platforms, perched over the water amidst the swollen bases of water tupelo trees.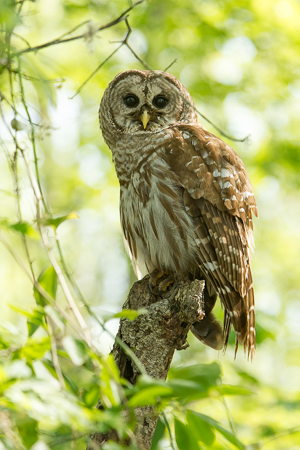 We'll enjoy an evening of peace and solitude and a simple meal. We'll fall asleep listening to the sounds of the swamp. In the morning, we'll take it slow as we enjoy a warm breakfast before breaking camp to paddle downstream. Our 3-mile canoe will take us along Devil's Gut to the mighty Roanoke River, where we'll take out at the small town of Jamesville.
Activity Level: Moderate
We will paddle almost 10 miles in two days. Participants do not need any significant canoeing experience, but it's recommended that you are comfortable on the water and do not have shoulder, back, or arm/wrist injuries.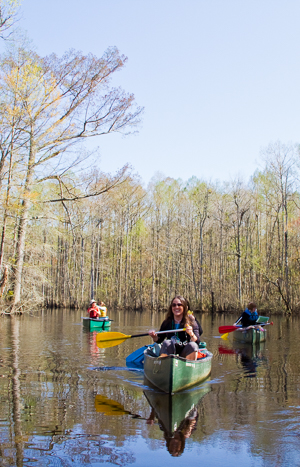 Tickets: $120, current Museum membership required. This special women's trip is open to female registrants only. Fee includes instruction, transportation, canoe rental, camping equipment, dinner and breakfast. Registration opens January 16. Members must login to their account to register. Not a member yet? Join today!
Please note: You will be required to enter the following information for each registrant before you can complete your registration: emergency contact, physician contact and health information (allergies, conditions, medications relevant to this field experience). Take a moment to gather this information before beginning registration.
Your Guide
Melissa Dowland, MS – Melissa is an experienced educator at the Museum of Natural Sciences with a BA in environmental sciences and an MS in structural geology. She has guided many trips for educators and students along the Roanoke River, as well as to other areas across North Carolina and the US. She loves sharing outdoor experiences with others!
Accommodations
We will be camping on wooden platforms and are not able to fit oversized sleeping pads/mattresses in the canoes (however, roll-up self-inflating mattresses are a good option), so you probably won't be quite as comfortable as you are at home in bed.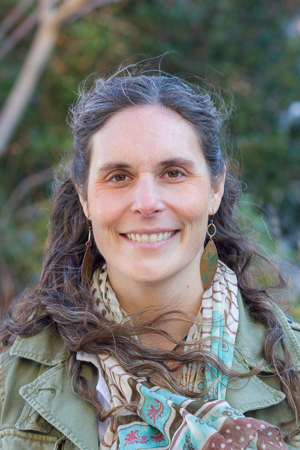 Because of the close quarters, it is inevitable that you will hear sounds of those sleeping nearby and may want to bring ear plugs if you are a light sleeper. There may be some biting insects, but their numbers should be limited at this time of the year. Temperatures may be fairly chilly in the evening and morning.
Meals
Museum staff will provide simple but tasty meals for dinner and breakfast. We can accommodate most dietary restrictions if we know in advance. We will make stops at local restaurants for lunch on Saturday and Sunday.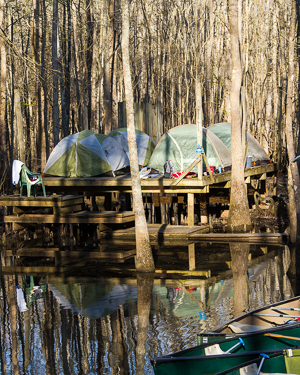 For additional information about this trip, contact Melissa Dowland at 919.707.9898.
---
Connect with Nature Adventures are open to Museum members. Travel with expert Museum guides to spectacular locations, explore wild parks and world heritage sites, tour behind the scenes at great museums, mingle with the locals and feast your senses on the wonders of nature. Not a member yet? Join today!