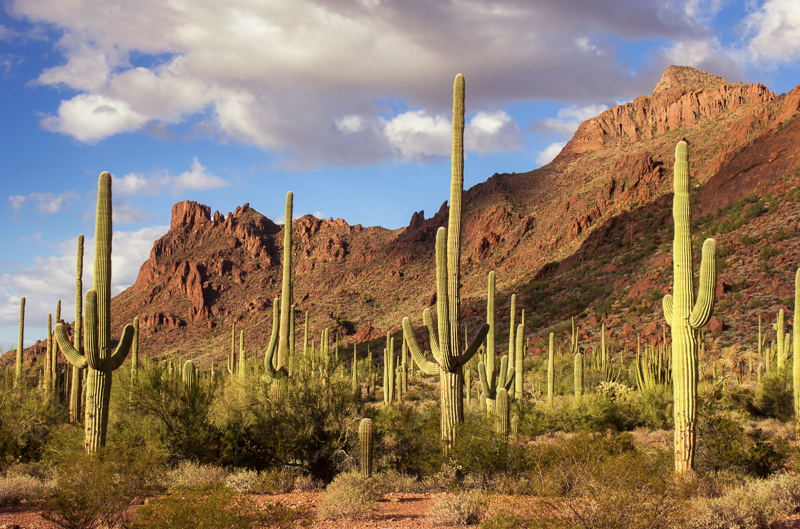 Saguaros in the Sonoran Desert.
Trip leaves the morning of Saturday, August 8, 2020, and returns shortly after midnight on Sunday, August 16, 2020.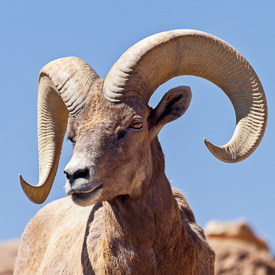 Bighorn sheep in Arizona-Sonora Desert Museum in Tucson.
Join the NC Museum of Natural Sciences as we explore the ecology of southern Arizona's spectacular Sonoran Desert and Chiricahua Mountains. Enjoy Arizona as a field biologist as we blacklight for bugs, search for lizards and other "herps," explore endemic desert fishes, view iconic desert plants and visit star natural and cultural attractions, including Saguaro National Park, the Arizona-Sonora Desert Museum and Biosphere 2. This is not your typical tour of southern Arizona, so don't miss out on the opportunity to visit this amazing landscape with experienced naturalists and local experts.
Activity Level: Moderate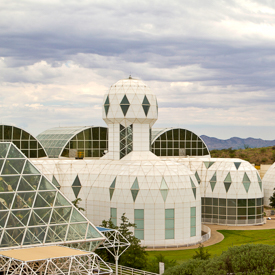 Biosphere 2.
We welcome all travelers, but request that you be in good health to participate in this trip. This trip will involve walking (2-3 miles per day), often over rocky uneven surfaces at 4,000 to above 7,000 foot elevations. You must be able to be active for a long day (typically 10-12 hours) and be prepared and equipped for higher temperatures (ranging from about 70° F to 105°F). You must be able to get in and out of a 15 passenger van on your own. We regret that we cannot provide individual assistance. Please note that our itinerary cannot accommodate wheelchairs.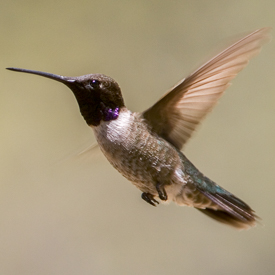 Black-chinned hummingbird (Archilochus alexandri) in flight.
Tickets: $2416 per person for double occupancy ($500 extra for single occupancy on the second half (four nights) of the trip), current Museum membership required. Fee includes airfare, ground transportation, all accommodations, some meals, instruction, entrance fees for attractions and orientation meeting on May 20, 2020. Members must login to their account to register. Not a member yet? Join today!
Registration deadline is May 1, 2020. Reserve your spot with a $1,000 deposit. Final payment due by July 1, 2020. If the Museum cancels your trip, you will receive a complete refund of all payments.
Orientation
We will have a mandatory orientation meeting on Thursday May 20, 2020 from 7 to 9pm at Prairie Ridge Ecostation. The meeting will offer participants the chance to get to know one another, provide background information on southern Arizona and the trip itinerary, and go over recommended gear for the trip.
---
Itinerary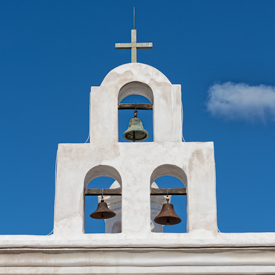 Bell tower at San Xavier Mission.
Our trip begins with a three-night stay in the Tucson area. From our base camp at the University of Arizona's Florida Station in the Santa Rita Mountains, we'll explore the Sonoran Desert's unique flora and fauna through visits to Arizona-Sonora Desert Museum, Madera Canyon, Saguaro National Park, and Sabino Canyon, hiking desert trails, and meet local naturalists and researchers. We'll visit San Xavier's mission and other cultural sites and dine on local cuisine in the first US City of Gastronomy. A behind-the-scenes tour of the BioSphere 2 project rounds out our itinerary.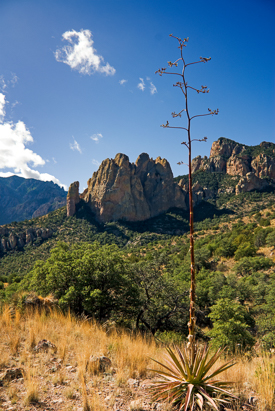 Agave with seed stalk in the Chiricahua Mountains.
We'll transition from Tucson to the Chiricahua Mountains via Aravaipa Canyon, a limited access wildlife area. This is a unique opportunity to explore one of the few remaining pristine wetlands, brimming with endemic species adapted to desert streams, with a local expert.
At the remote Chiricahua Mountains, we'll explore the trails of Cave Creek Canyon, the birds and amphibians of Cochise Lakes at the Willcox Playa, the rock wonderland of Chiricahua National Monument, the wildflowers of Rustler Peak Park, and the reptiles and amphibians at the Chiricahua Desert Museum.  We'll make a stop at the ghost town of Paradise and lodge for three nights at the town of Portal.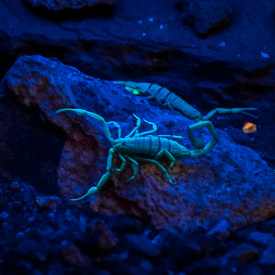 Scorpions at night under UV light.
Our final day takes us back to Tucson through the historic copper mining town of Bisbee, a hike through the Nature Conservancy's Ramsey Canyon Preserve, and final dinner at an upscale local restaurant.
Optional evening activities include blacklighting for insects, stargazing, and road cruising for the denizens of the desert nights, such as tarantulas, snakes, spade-foot toads, and kangaroo rats. Throughout the trip we'll weave journaling, citizen science projects, local research and conservation initiatives into a fun excursion through southern Arizona that you can experience only with NCMNS.
---
Guides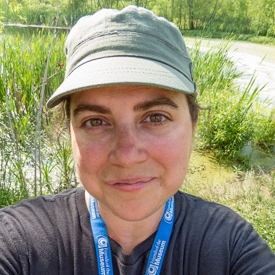 Chris Goforth, MS – Chris is an experienced educator and an Arizona native who lived in the Tucson area for 20 years. The Head of Citizen Science at the Museum, she holds a BA in biology and an MS in entomology. She has extensive experience doing field biology/research throughout Arizona as well as leading groups of people on multi-day outdoor trips. Her knowledge of the area, local flora and fauna, and life in the desert will make her an excellent leader for this trip.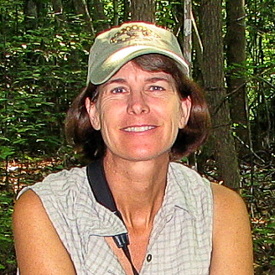 Jan Weems – Jan is Head of Early Childhood and Elementary Education at the Museum with a BS in biology and a BS in wildlife ecology. She has 35+ years of  leading natural science and professional development workshops including international excursions to Belize, Bahamas, & British West Indies. Visiting Arizona during the monsoons has become a personal passion, and she is excited to share this amazing natural science experience with our group.
---
Trip Logistics
Meals
Once arriving in Arizona, most breakfasts and lunches are included in this trip. The cost of dinners is not included. Restaurants selection ranges from authentic local cuisine experiences to hearty but only-game-in-town options. Our final dinner will be at Cafe Poca Cosa, a renowned upscale bistro that features imaginative Mexican cuisine with a menu that reflects the chef's morning visit to local markets.
Accommodations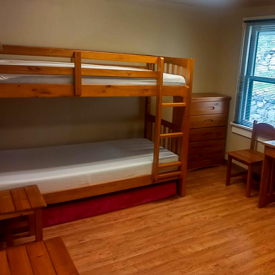 Florida Station bunkhouse.
We will spend the first three nights of our visit at Florida Station in Florida Canyon, a research field station operated by the University of Arizona. Located in the beautiful Santa Rita Mountains south of Tucson and part of the Santa Rita Experimental Range, Florida Station offers accommodations to scientists and educators and will be our home base the first three nights of the trip.
Accommodations at Florida Station will be more "rustic" than a typical hotel. Single occupancy accommodations will not be available during our stay. Rooms at the field station will be assigned in the bunkhouse (Wi-Fi and air conditioning available) or in one of two cabins (Wi-Fi and evaporative cooling available). Most beds are twin bunk beds. Shared bathrooms and kitchens are available in every building and we will have access to the Station classroom building.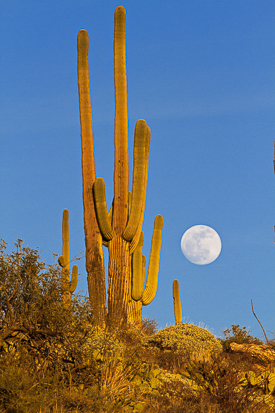 Full moon rising over saguaro cactus in the Sonoran Desert.
Florida Station offers our group unparalleled access to Sonoran Desert habitat and wildlife and will embed us in natural desert from the moment we arrive in Arizona.
The second part of the trip we will be ensconced in the shadow of the Chiricahua Mountains at the Portal Peak Lodge next to Cave Creek. Here, the southwestern hotel-style rooms surround a wooden deck, giving us a magnificent view of Sky Islands and a chance to relax while watching numerous hummingbirds and other local wildlife. Rooms are equipped with a microwave, refrigerator, coffee maker, free Wi-Fi and air-conditioning.
Our final night brings us back to an airport hotel in Tucson for a dip in the pool and a night on the town.
Weather Conditions
We are visiting Arizona during the monsoon season, the most biologically interesting part of the year.  Temperatures will likely be no lower than 65°F during our visit, and may reach as high as 105°F. The humidity, even during the monsoon, is far lower than what we experience in North Carolina in the summer. Afternoon thunderstorms are likely and temperatures will drop after rains. Outdoor activities in full sun will be undertaken in the mornings while it is still cooler out, and many activities will take place in mountains, creeks, or other cooler shaded areas. All accommodations and vehicles are cooled.
Appropriate Clothing
Casual quick-drying outdoor clothing with a jaunty wide-brimmed hat is the fashion for this trip.  Light colored and lightweight long sleeve shirts paired with light colored and lightweight loose-fitting pants are recommended. Sturdy closed-toed shoes (ankle-high hiking boots preferred) are mandatory due to the abundance of sharp spines and rocks along trails. Water shoes for stream adventures are also required. A complete recommended packing list will be available at orientation.
For additional information about this trip, contact Chris Goforth at 919.707.8882 or Jan Weems at 919.707.9901.
---
Connect with Nature Adventures are open to Museum members. Travel with expert Museum guides to spectacular locations, explore wild parks and world heritage sites, tour behind the scenes at great museums, mingle with the locals and feast your senses on the wonders of nature. Not a member yet? Join today!