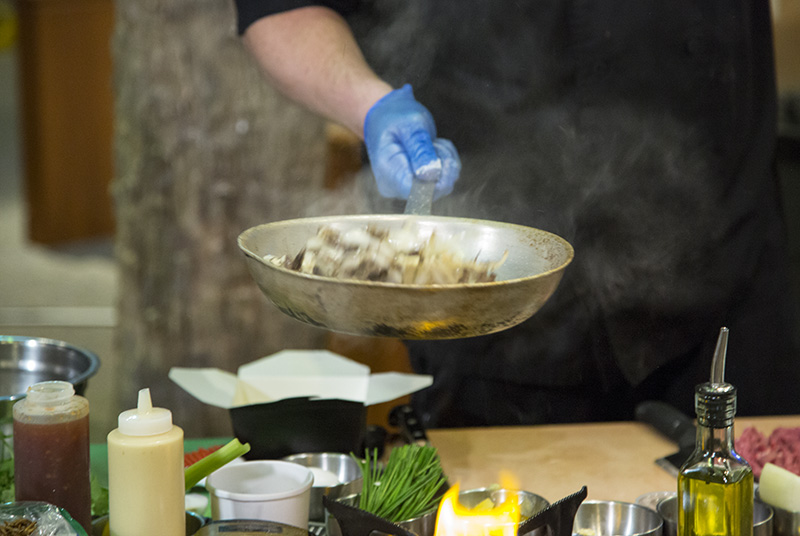 Triangle Restaurant Hotspots Compete in Battle of the Bugs
Let the "bug battle" begin! Two of the Triangle's hottest new restaurants will face off in this year's BugFest Critter Cookoff. Kyle Fletcher of Wye Hill Kitchen & Brewing in Raleigh and Zweli Williams of Zweli's Kitchen in Durham will battle head to head for the title of BugFest Critter Cookoff Champion. Wye Hill opened its doors in the redesigned Boylan Bridge Brewpub in June 2019. Zweli's Kitchen was voted Best New Restaurant in Durham County by INDYweek's Best of the Triangle.
The BugFest Critter Cookoff will be held on Friday, September 20 at 11am in the Nature Research Center of the NC Museum of Natural Sciences at 121 W. Jones Street in the lobby (1st floor.) The Cookoff serves as the official start to BugFest and pits two local chefs against each other "Iron-Chef" style. Both chefs have 50 minutes to prepare an appetizer, entrée and dessert using mealworms (mealworm beetle larvae), superworms (darkling beetle larvae), crickets and the special ingredient this year — beetles, the theme bug for BugFest.
Each dish will be judged on originality, taste and presentation by a celebrity panel of judges. This year's panel consists of Debra Morgan, WRAL; Bill Reh, CBS17; Caroline Blair, Spectrum News; Karen Clark, Foxy 107/104; and Nigel Armes, Director of Research and Development for BASF. The chef whose creative concoctions stimulate the judges' taste buds the most will be crowned BugFest Critter Cookoff Champion.
Friday's preview will last about an hour, with opportunities for the media to interview the guest chefs and celebrity judges. Parking is available in the visitor parking lot at the corner of Jones and Wilmington streets. BugFest is on Saturday, September 21 from 9am to 7pm.