Early-bird entry from 10 to 11am for Members only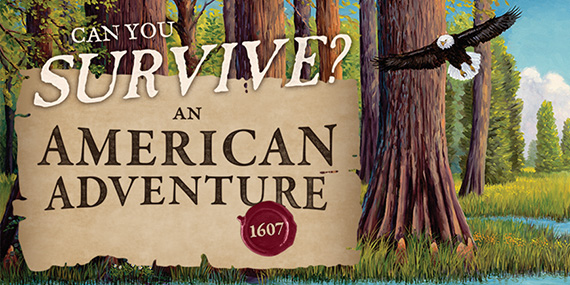 In 1607, settlers landed on the shores of America and called it home, creating the first permanent European settlement — Jamestown. Fewer than half of the colonists would survive the year. How would you have fared?
Take a trip through the American Adventure survival maze then test your hand at historical survival skills, from navigation to rope-making, plus hands-on activities and take-home crafts.
Special Presentation: American Indian Survival Skills
Exhibit Hall Classroom
Members-Only presentation at 10:30am
Public presentations: 11:30am & 1:30pm
Join Museum educator Bob Alderink for an exciting and entertaining look at early American Indian survival skills. During this fast-paced presentation, you will see how stone tools were created from flint and obsidian, examine fishhooks, needles and other useful tools made from animal bones and learn the steps of turning deerskin into soft, usable buckskin.  See an atlatl, the simple, but history-changing hunting tool that allowed late Paleolithic hunter/gatherer societies to support larger families.
This half hour presentation ends with an amazing demonstration of the Cherokee blowgun, and fire made by literally rubbing two sticks together.  At the end of the program, participants will have the opportunity to make rope from natural fibers using a common American Indian technique, and compare it with the rope machine used by the early European colonists.  Seating for this event is limited so please make sure to come early.
Just for Friends:
Early-bird entry from 10 to 11am for Members only
American Indian Skills presentation at 10:30am for Members only
Special 20% discount in the Museum stores
10% discount at Daily Planet Café and Acro Café
Prize giveaways and more!
For more information about American Adventure, visit naturalsciences.org/exhibits/featured-exhibitions or call 919.707.9950.