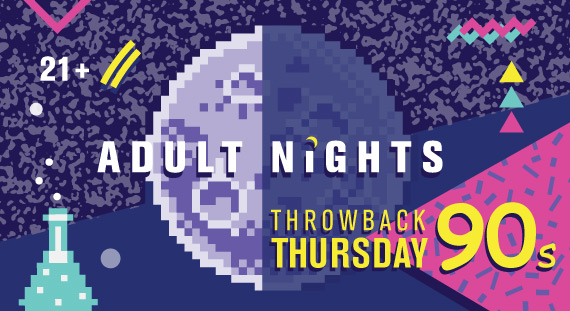 Time to dust off your pagers and Doc Martens — the 90s are back! Join us to explore the trends, fads and scientific discoveries of the 90s. Neon track suits and Tamagotchis welcome. Costumes encouraged. Use the link on the left side of the page to explore the amazing activities that will be featured at this bangin' event.
Highlights
Dance in the 3-story SECU Daily Planet Theater with DJ Al-Ski Love of SPIN.
Play in our giant Game Room, featuring retro arcade games, corn hole, and more. Presented by Boxcar Bar + Arcade.
Get nostalgic in the Naturalist Center's "Toy Box."
Jam like Jordan in our Slam Dunk inflatable basketball court. Presented by Citrix.
Conduct experiments with "Bob Nye."
Meet some feisty sheilas with our "Crocodile Hunter."
And More!
Tickets: $15, $10 for Members. Beer, wine, cocktails and food will be available for purchase. You must be 21 years or older to attend. A photo ID is required for entry.
Costume and Mask Policy
For the safety of all visitors, we ask that guests refrain from wearing masks or other items that obscure the face.
Costumes should not contain any elements which resemble, or could easily be mistaken for, an actual weapon.
The Museum reserves the right to turn away any guest with a costume that we deem offensive or unsafe.
Learn more about the Adult Nights Series
Sponsorship Opportunities: Contact Andrea Jones at 919.707.9839 or andrea.jones@naturalsciences.org.
---
Sponsored by:
In partnership with: