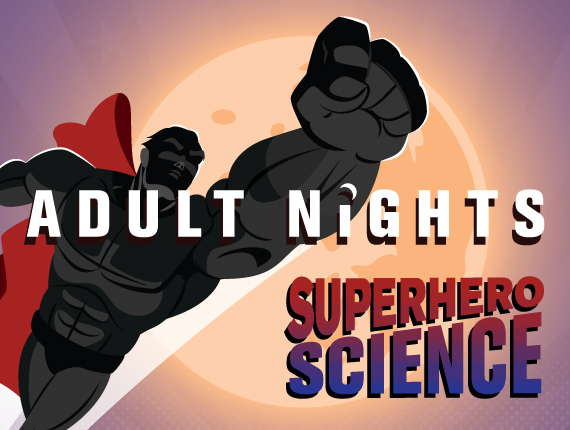 Adult Nights :: Superhero Science :: Activities :: Food & Drink
Can humans use echolocation, develop immunity to electricity, or resist being burned by boiling water? Learn what makes real-life superheroes tick and how science is uncovering the secrets behind their superpowers at the next Adult Night: Superhero Science on June 22. Plus, create your own superhero profile, see how your powers stack up against the natural world, and watch a live demo of how to punch like Superman. Do you have what it takes to wear the cape? Find out at Adult Nights: Superhero Science. Mutants welcome! Costumes encouraged.
Highlights
Dance in the 3-story SECU Daily Planet Theater to the musical stylings of DJ Al-Ski Love of SPIN.
Create your own Superhero: Explore origins and develop abilities.
Craft shields and gadgets with the Scrap Exchange of Durham.
Master Your Powers: Conquer mental and physical trials.
Hang Like Spiderman on our Velcro Wall.
Punch Like Superman: Live martial arts demonstration.
Battle of the Professor Xs, live animals, trivia and more!
Tickets: $15, $10 for Friends of the Museum members. Beer, wine, cocktails and food will be available for purchase. You must be 21 years or older to attend. A photo ID is required for entry.
Costume and Mask Policy
For the safety of all visitors, we ask that guests refrain from wearing masks or other items that obscure the face.
Costumes should not contain any elements which resemble, or could easily be mistaken for, an actual weapon.
The Museum reserves the right to turn away any guest with a costume that we deem offensive or unsafe.
Learn more about the Adult Nights Series
Sponsorship Opportunities: Contact Andrea Jones at 919.707.9839 or andrea.jones@naturalsciences.org.
Sponsored by White Street Brewing Co. and 95X– Raleigh's New Rock Alternative
In partnership with: