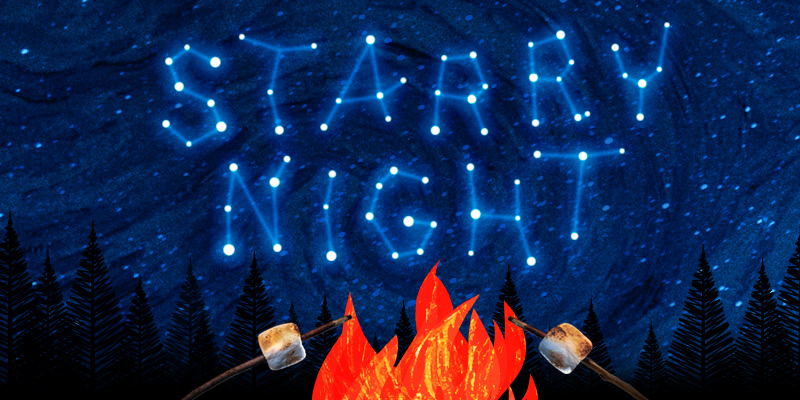 Gather around the glow of your computer screen and relax with a virtual evening under the stars. Learn how to light a fire without matches, explore stars across the galaxy and marvel at the science of s'mores. Play Trivia and guess which animals are coming to join the party in our Nocturnal Noises game.
You must be at least 21 years old to attend. Admission is free, but donations are encouraged! Donations help us keep research and science education going strong across all of North Carolina. We appreciate your support now more than ever.
Space is limited. Each registration = one unique device login. Once you complete your registration, you will receive an email with instructions on how to join the program.
---
Schedule of Activities
7pm: Backyard Bonfire
It's time to light up that backyard fire pit but, "Oh no!" — you've forgotten your matches and the lighter is out of fuel. No worries, just scrounge a couple of dry sticks from your yard and twirl yourself up a fire using friction! Could it really be that simple? Bob Alderink, Coordinator of Visitor Programs, shows you how.
7:30pm: Nocturnal Noises
Ever wonder what goes bump in the night? Is that low rumble in the bushes a harmless bird or a predator on the prowl? Play our Nocturnal Noises guessing game and see if you can correctly identify the animals that own the night.

7:50pm: S'mores: All-American Campfire Candy Sandwich with International Roots
Keith Harris, Associate Professor of Food Science, NC State University
S'mores are the quintessential campfire treat, with crunchy graham crackers outside and gooey roasted marshmallows and melted chocolate inside. Find out how the invention of a Connecticut minister, an Egyptian survival food, and the Mesoamerican "food of the gods" came together to make one decadent dessert sandwich.

8:15pm: Star Search
Rachel Smith, PhD, NCMNS/Appalachian State University
Get an introduction to stars from Dr. Rachel Smith, Head, Astronomy & Astrophysics Research Lab, and see results from her recent observations of forming stars across the Milky Way. Explore new data from her current project using NASA's Infrared Telescope Facility on the summit of Maunakea in Hawaii and discuss how using big ground-based telescopes helps us understand how stars and planets form and evolve.
8:40pm: Trivia at Twilight
Are you ready for s'more trivia? Test your knowledge of camping, the Carolinas and the cosmos.
---
Sponsored by

---
All proceeds benefit the Friends of the NC Museum of Natural Sciences. Proceeds from Friends' activities – including gift shop sales, membership and events – support Museum programs, research and exhibits.