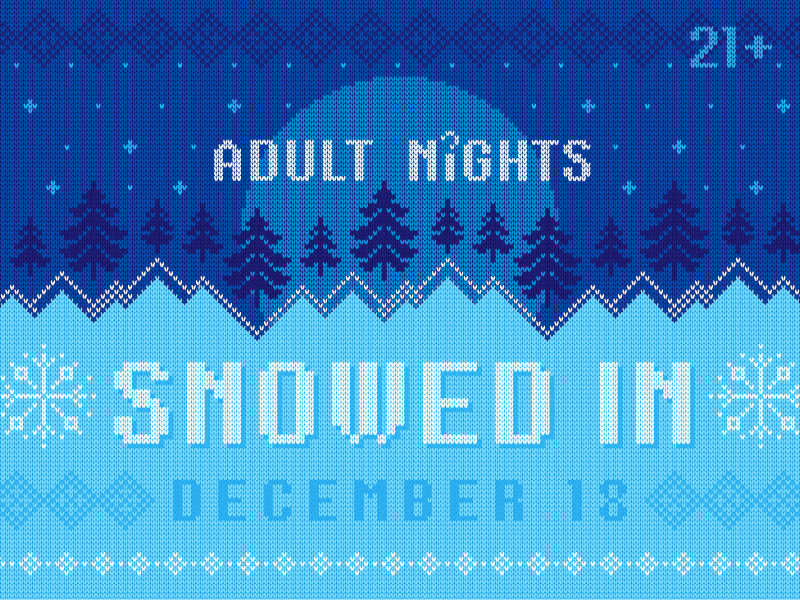 Oh the weather outside may be frightful, but Adult Nights are so delightful. Get cozy in your most outrageous holiday sweater and join us for an evening of winter wonders and festive frivolity at Snowed In! Explore North Carolina's impressive Tundra Swan migration and discover how to create your own electricity with household items. Play Trivia, discover unusual traditions from around the world and test your emoji fluency in our Merry Moji movie challenge.
Outrageous holiday sweaters or festive attire encouraged!
You must be at least 21 years old to attend. Admission is free, but donations are encouraged! Donations help us keep research and science education going strong across all of North Carolina. We appreciate your support now more than ever.
Space is limited. Each registration = one unique device login. Once you complete your registration, you will receive an email with instructions on how to join the program.
---
Schedule of Activities
---
7pm: Holiday Spirits
Oak City Amaretto and The Black Bourbon Guy
Forget the milk and cookies. Toast the season with delectable cocktails from Anthony Scalabrino of Oak City Amaretto and Che Ramos of The Black Bourbon Guy. Learn how to create a spiced simple syrup to flavor two seasonal spirits – Winter Spiced Old Fashioned and Winter is Coming. Get your fixings ready to mix along with Anthony and Che or take notes for festive experimentation later.
What you'll need:
Spiced Simple Syrup: Water, sugar, allspice, clove, cinnamon, ginger, orange peel
Winter Spiced Old Fashioned: Rye whiskey, amaretto, spiced simple syrup, crude orange & fig bitters
Winter is Coming: Amaretto, bourbon, lemon juice, orange juice, cranberry juice, spiced simple syrup, egg white, crude orange & fig bitters, angostura bitters
7:20pm: Tradition or Not
Think your family has some unusual holiday traditions? Play our guessing game and learn about holiday traditions from around the world. Can you tell the real from the fake?
7:40pm: Festival of Light
Did the Griswold light display down the block spark a blackout on your street? No worries! You can make your own power with Bob Alderink, Coordinator of Visitor Programs. Explore a brief history of electricity, how it works, and how you can create your own power using household items to keep your holiday light displays merry and bright.
8pm: Merry Moji
Test your emoji fluency with our holiday movie challenge. Can you guess the movie titles from the emojis on screen?
8:20pm: 7,000 Swans-a-Swimming
This time of year, Pocosin Lakes National Wildlife Refuge becomes a winter wonderland blanketed with snow-colored tundra swans and other migratory waterfowl that flock by the thousands. Take a virtual field trip with Melissa Dowland, Coordinator of Teacher Education and leader of countless trips to the wilderness of Eastern NC, to experience one of our state's must-see natural treasures.
8:40pm: Triv-i-a, Triv-i-a, Trivia All the Way
---
All proceeds benefit the Friends of the NC Museum of Natural Sciences. Proceeds from Friends' activities – including gift shop sales, membership and events – support Museum programs, research and exhibits.