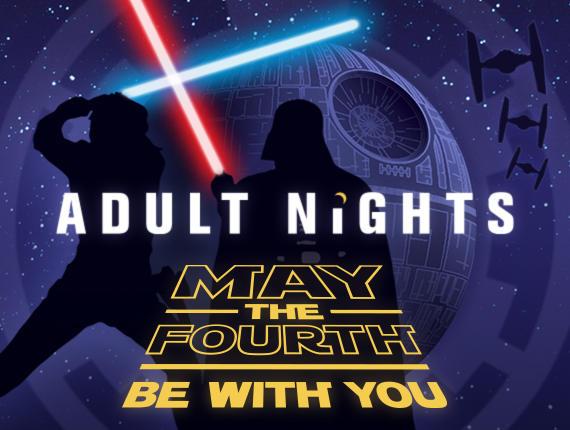 This IS the event you're looking for! Explore new galaxies, ecosystems of distant worlds and cutting-edge technologies in a galaxy not so far away. We'll use the Force to separate the science from the fiction in the Star Wars universe.
Dance in the 3-story SECU Daily Planet Theater, featuring DJ Al-Ski Love of SPIN
Meet real-world inspirations for galactic creatures such as dewbacks, porgs and dianogas.
Enjoy droid encounters with R2-D2 and BB-8 replicas.
Fight in our ultimate Laser Tag battle.
Harness your Jedi powers and more!
Tickets: $15 in advance, $20 at the door, $10 for Friends of the Museum members (no matter when you buy). Beer, wine, cocktails and food will be available for purchase. You must be 21 years or older to attend. A photo ID is required for entry.
Become a Catalyst member and get access to sold out events, including May the Fourth Be With You! Enjoy the first round of drinks on us! For just $12 a month, you and a "plus one" will receive two free drink tickets at each Adult Night, a complimentary pair of tickets to one Adult Night of your choice and more! Become a Catalyst today!
All proceeds benefit the Friends of the NC Museum of Natural Sciences. Proceeds from Friends' activities — including gift shop sales, memberships and events — support Museum programs, research and exhibits.
COSTUME AND MASK POLICY
For the safety of all visitors, we ask that guests refrain from wearing full face masks or other items which completely obscure the face.
Costumes should not contain any elements which resemble, or could easily be mistaken for, an actual weapon.
The Museum reserves the right to turn away any guest with a costume that we deem offensive or unsafe.
Sponsorship Opportunities: Contact Andrea Jones at 919.707.9839 or andrea.jones@naturalsciences.org.
Sponsored by: