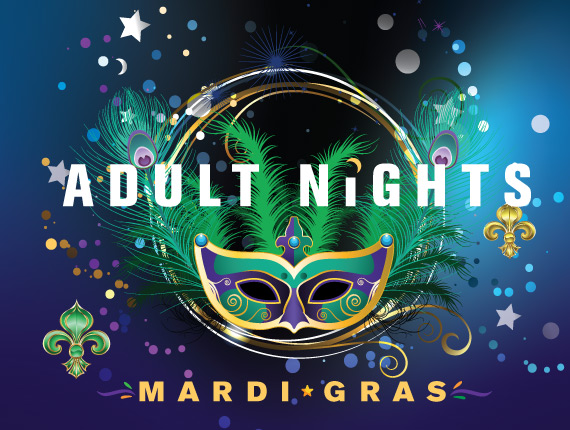 Grab your krewe and join us for our Big Easy bash as Adult Nights moves to Friday nights. Discover the biodiversity of the bayou, taste Cajun cuisine, fish for 'gators, and toast hurricanes; featuring live music by Peter Lamb and the Wolves. Let the good times roll in "N'awlins"!
Dance in the 3-story SECU Daily Planet Theater, featuring live jazz by Peter Lamb and the Wolves.
Add your shining touch to our 16-foot mural and explore the explosive nature of metals.
Snare predatory reptiles in our Gator Den.
Discover why T-Rex is the King of the Cretaceous Carnival.
Compete for prizes in our French Quarter Fun House and Fat Tuesday trivia.
Explore extreme animal mammaries, voodoo fauna and more!
After Party: Keep the Mardi Gras celebration rolling at The Big Easy. Enjoy complimentary Cajun/Creole cuisine upstairs in our private Adult Night lounge or socialize downstairs with ½ price appetizers. Lounge access and appetizer special open to ticketed Adult Night guests only. Space is limited. Sponsored by The Big Easy.
Tickets: $15 in advance, $20 at the door, $10 for Friends of the Museum members (no matter when you buy). Beer, wine, cocktails and food will be available for purchase. You must be 21 years or older to attend. A photo ID is required for entry.
SOLD OUT!
CATALYST MEMBER TICKETS STILL AVAILABLE.
Sign in to your account to purchase up to 2 tickets. Buy Catalyst tickets
Become a Catalyst member and get access to sold out events, including Mardi Gras. Enjoy access to our Mardi Gras Member's Lounge featuring themed giveaways, food and festival ambiance. Enjoy the first round of drinks on us! For just $12 a month, you and a "plus one" will receive two free drink tickets at each Adult Night, a complimentary pair of tickets to one Adult Night of your choice and more! Become a Catalyst today!
All proceeds benefit the Friends of the NC Museum of Natural Sciences. Proceeds from Friends' activities — including gift shop sales, memberships and events — support Museum programs, research and exhibits.
COSTUME AND MASK POLICY
For the safety of all visitors, we ask that guests refrain from wearing full face masks or other items which completely obscure the face.
Costumes should not contain any elements which resemble, or could easily be mistaken for, an actual weapon.
The Museum reserves the right to turn away any guest with a costume that we deem offensive or unsafe.
Sponsorship Opportunities: Contact Andrea Jones at 919.707.9839 or andrea.jones@naturalsciences.org.