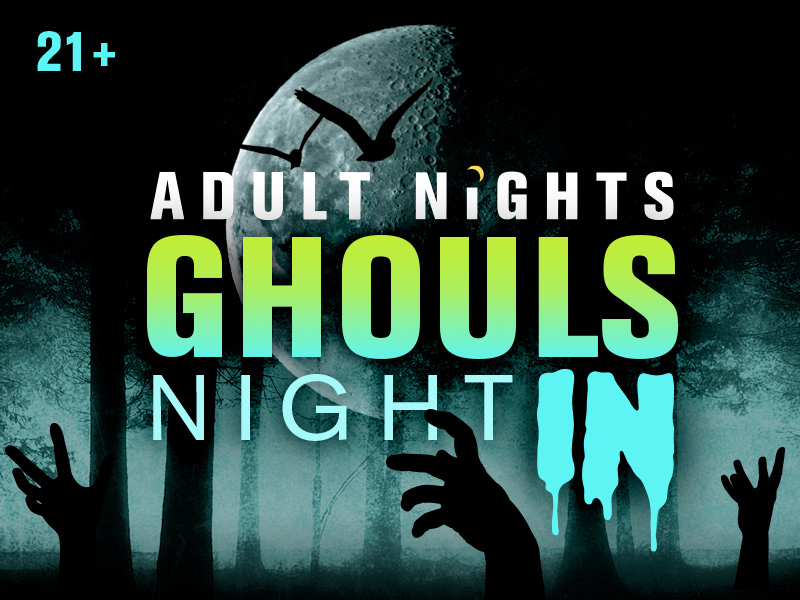 It's Halloween!!! Save your candy and trick 'r treat with the big kids – Adult Night style. Put on your favorite costume and join us for a night of virtual thrills and chills at Ghouls Night In! Discover nocturnal creatures (dead, alive, and possibly the living dead). Curate your own collection in our home scavenger hunt. Play Spooky Trivia and our own horror howls edition of Name that Tune.
Costumes or festive attire encouraged!
You must be at least 21 years old to attend. Admission is free, but donations are encouraged! Donations help us keep research and science education going strong across all of North Carolina. We appreciate your support now more than ever.
Space is limited. Each registration = one unique device login. Once you complete your registration, you will receive an email with instructions on how to join the program.
---
Schedule of Activities
6:30pm: Quarantine-o-ween Collection Expedition
Curate your own Museum at Home with the Quarantine-o-ween Collection Expedition. We'll post the scavenger hunt list on Zoom at 6:30 then you gather the goods, and we'll meet to discuss and show off our coolest collectibles at 7pm.
7:35pm: Let's Scare Up a Drink!
Toast It Up
Have your fixings ready to concoct a delectable potion — The Poison Apple — with Mixologist Shannon Spivey-Aris from Toast It Up. What you'll need: vodka, apple pucker, lemon-lime soda, triple sec and sour mix or a squeeze of lemon. Mix along with Shannon or take notes for potion brewing later.
7:45pm: The Great Pumpkin
Fossil preparator Aaron Giterman will unveil his dinosaur pumpkin for Halloween. Aaron is the preparator in the NCMNS Paleontology Research Lab responsible for carefully revealing fossils hidden within a rock matrix. The same skill used in carving away rock allows Aaron to carve the best dinosaur pumpkins!
7:50pm: Owl Bomb!
Piedmont Wildlife Center
Meet a live owl ambassador from the Piedmont Wildlife Center, debunk common owl myths and discover the fascinating world of these nocturnal hunters.
8pm: Scream, Screech and Roar
Discover the real animal grunts, growls and guffaws behind your favorite big screen sound F/X in our horror howls edition of Name That Tune.
8:15pm: Bring Out Your Dead (Rat)
Join Curator of Mammalogy Dr. Mike Cove as he walks us through the process of preparing a study skin for the Museum's Research Collection.
8:35pm: Trivia
Do you have the guts to answer some of the spookiest questions around? Test your knowledge on creepy creatures and customs.
8:45pm: Artificial Intelligence
Citrix
Learn how to build your own AI at home with the Citrix team.
---
Sponsored by

---
All proceeds benefit the Friends of the NC Museum of Natural Sciences. Proceeds from Friends' activities – including gift shop sales, membership and events – support Museum programs, research and exhibits.