The Plaza, Jones Street, and the first floor of the Nature Exploration Center (main building) will be teeming with live bands, bug stations, and lots of bugs to eat!
2018 stations coming soon!  Read below for sample of what we had in 2017.

ABC — Art, Bugs, Conversation
Arts-N-Design
Get up close and personal with bugs when they are combined with other natural elements to create a work of art. Guess the everyday objects by placing your hand in a box, then see how they are reused rather than being thrown out. By remapping our creative processes, insects are reborn to become a beautiful and educational conversation piece for your home or office!
Airbrush Station
Paint Savvy
Themed temporary tattoos with skin-safe paint!  Fee.
Alberti Flea Circus
Share the magic of a traditional flea circus!  Meet Paddy O'Reilly Shaughnessy who waves an Irish flag, Captain Spaulding, who is shot from a cannon, and the daring diving bikini clad Dardenell, who does the traditional flea circus high dive.  Show times are 10:45am, noon, 3pm and 6pm.
Arthropod Olympics
NC Museum of Natural Sciences
Become an Arthropod Olympian!  Participate in three events: Dung Ball Races, Ant Races and Bee Races and win a medal and all the glory a bug deserves!
Audubon Mealworm Necklaces
Wake Audubon Society
Come visit for information on birds and insects and conservation. $2 for a Petri-dish mealworm necklace — you can raise your own pets to see the stages of complete metamorphosis!
Battling Beetles
NC Museum of Natural Sciences
Delve into the violent world of large scarab beetles.  Learn how males duke it out to win the favor of a female.  Test your beetle ID skills at the beetle spinner game!
Bug Bites! Bite Them Before They Bite You!
NC Museum of Natural Sciences
Join us for a meet-and-eat!  See bugs cooked right before your eyes and sample some delicious buggy treats.
Buggy Make-n-Take
The Scrap Exchange
Make your own insect — or any other type of arthropod — with wacky, fun, colorful materials from The Scrap Exchange!
Butterfly Citizen Science
Pieris Project
Come learn about a citizen science project about one of the most widespread and abundant butterflies on the planet — one you probably mistook for a moth — the small cabbage white butterfly. With your help we can learn how this butterfly is adapting to changes in its environment.
Cool Crustaceans
NC Museum of Natural Sciences
Get a load of that lobster!  Come see a giant lobster molt and meet a few real-live crustaceans.
Doodlebugs Chalk Art
Paul Dumlao
Come see colorful chalk illustrations of dragonflies and damselflies by local artist Paul Dumlao! Join in the fun and create your own original designs with sidewalk chalk!
Face Painting
Paint Savvy
Family fun station with fee-based, bug-themed face painting!
Heroic Horseshoe Crabs
NC Museum of Natural Sciences
It's a crab!  It's a spider!  It's neither…it's a horseshoe crab!  Come learn about this ancient animal and how they are modern heroes in the biomedical field.
Insect Art and Accessories
La Chicharra
A variety of insect- and nature-inspired accessories, home goods, art, and more.
Insect Macrophotography
Entomopixel
Overview of techniques in insect macro photography.
Life of a Silk Moth
Come see the biggest moth in North America at our interactive exhibit, complete with video of all six stages of the cecropia silk moth's life cycle!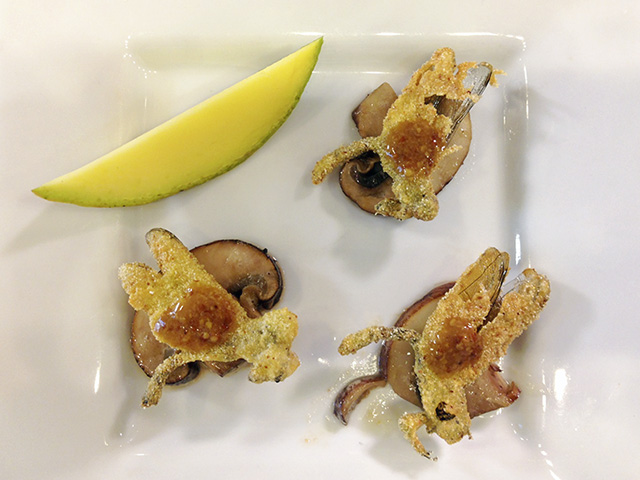 Odonate Hors d'Oeuvres
Zack Lehmann, Audubon Butterfly Garden Insectarium
Run on over to taste our delectable theme arthropod, the dragonfly!
Robot Insect Paintings and Prints
Zendustria Studios, LLC
A modern twist on classical scientific illustration: insect paintings with mechanical details.
Sandy Feat
Navigate to the Plaza to see the one, the only, the AMAZING Sandy Feat Sand Sculpture!  This year's fabulous creation will feature BugFest's 2017 theme arthropod, the dragonfly! Watch as the sculptors etch away the sand to reveal the snazzy dragonfly scene, create your own masterpiece at the base and ask questions of the sculptors.
Spider Diversity
Shaw University
This exhibit focuses on the diversity of spiders and their behavior.
Stag Beetle Battles
NC Museum of Natural Sciences
Jump into a stag beetle costume and enter the arena!  The battles begin!  See if you can triumph over your friend and win the day!
Todos Leyendo Spanish Bookstore
We will be bringing a collection of bug-themed books in Spanish for sale. Good quality Spanish language books are hard to find, and this will be an all-bugs book display!
T-Shirt Sales
NC Museum of Natural Sciences
Check out the 2017 BugFest t-shirt featuring the our theme arthropod … the dragonfly!  Vintage shirts will also be available.
What Is a Bug?
NC Museum of Natural Sciences
Know your arthropods!  Arthropods range from insects to crustaceans to arachnids and more!  Come learn the similarities and differences and meet some live critters on your entomological quest!
Who Else Eats Your Food? Welcome to the World of Agricultural Pests
AgBiome
Crops today are bombarded by lots of different bugs. AgBiome is trying to come up with novel solutions to solve this problem. Stop by their booth to learn about and meet some of our major agricultural pests!
Wire Art Insects
JD Wire Art
Hand-crafted wire and bead art made by Jonathan Daniel, Zimbabwean wire artist.
Wonderful World of Orthoptera
NC Entomological Society
Leap into the world of Orthoptera and meet some amazing critters!  Fly with the grasshoppers, dig with the mole crickets and sing with the katydids!