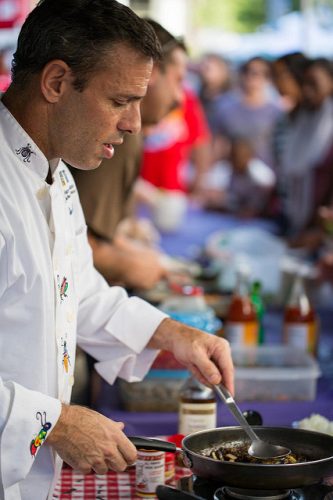 The BugFest Evening Insectival takes place from 5pm–7pm on Jones Street, the Bicentennial Plaza and on the first floor of the Nature Exploration Center. Some of the daytime activities will remain, but we are also bringing in a few new activities, like "Bug Bites," where you can watch our chefs prepare some fresh buggy bites for you to taste!
Special Movie Screening
WRAL 3D Theater
5:00pm: Kubo and the Two Strings — Free Screening
Young Kubo's peaceful existence comes crashing down when he accidentally summons a vengeful spirit from the past. Now on the run, Kubo (Art Parkinson) joins forces with Monkey (Charlize Theron) and Beetle (Matthew McConaughey) to unlock a secret legacy. Armed with a magical instrument, Kubo must battle the Moon King (Ralph Fiennes) and other gods and monsters to save his family and solve the mystery of his fallen father, the greatest samurai warrior the world has ever known.
EXHIBITS and ACTIVITIES
OUTSIDE
Buggy Make-n-Take
The Scrap Exchange
Make your own insect — or any other type of arthropod — with wacky, fun, colorful materials from The Scrap Exchange!
Battling Beetles
NC Museum of Natural Sciences
Delve into the violent world of large scarab beetles!  Learn how males duke it out to win the favor of a female. Test your beetle ID skills at the beetle spinner game!
Todos Leyendo Spanish Bookstore
A collection of bug-themed books in Spanish for sale. Good-quality Spanish language books are hard to find, and this will be an all-bugs book display!
Arthropod Olympics
NC Museum of Natural Sciences
Become an Arthropod Olympian!  Participate in three events: Dung Ball Races, Ant Races and Bee Races and win a medal and all the glory a bug deserves!
Stag Beetle Battles
NC Museum of Natural Sciences
Jump into a stag beetle costume and enter the arena: The battle begins!  See if you can triumph over your friend and win the day!
Accessibility and Information
NC Museum of Natural Sciences
BugFest for everyone!  This year BugFest is proud to introduce our Information and Accessibility Buddies.  These volunteers are trained to assist BugFest visitors with any and all information, wayfinding or accessibility questions or needs.  Buddies can be found roaming the event and at the Accessibility and Information Tent located near the accessible drop-off area on the corner of Wilmington and Jones Streets.  The tent is also where you'll find courtesy manual wheelchairs, noise cancelling headphones, sighted guides, maps, event information and more.  For more information on the accessibility features of BugFest or to request an accommodation, please contact Hugo Romero Sanchez at hugo.sanchez@naturalsciences.org or see the Accessibility and Inclusion page.
Friendly Dung Beetles
Oberweis Dairy
Come learn how dung beetles help dairy cows.
Face Painting — Jones Street
Paint Saavy
Children and adults can become who or what they want at this year's BugFest! Make your day memorable with a unique and beautiful face painting design! (Fee.)
Doodlebugs Chalk Art
Paul Dumlao
Come see local artist Paul Dumlao create colorful, large-scale chalk renditions of beetles from around the world. Kids can take part and create their own chalk bug designs!
Sandy Feat
Navigate to the Plaza to see the one, the only, the AMAZING Sandy Feat Sand Sculpture!  This year's fabulous creation will feature BugFest's 2019 theme arthropod, the beetle! Watch as the sculptors etch away the sand to reveal the dazzling beetle scene, create your own masterpiece at the base and ask questions of the sculptors.
ABC — Art, Bugs & Creativity
Arts-n-Design
Lauri Arntsen has been resurrecting lifeless bugs into beautiful award-winning art for years. In 2017 she began experimenting with eating insects as a protein source and introduced her bug suckers at BugFest 2018. The suckers sold out and this year we will have more flavors, ants on a sticky pretzel log, crunchy peanut butter cups and more!
Bug Bites! Bite Them before They Bite You!
NC Museum of Natural Sciences
Come join us for a meet-and-eat! See bugs cooked right before your eyes and sample some delicious buggy treats.
Exterminati Sunt Mecchanica
Zendustria Studios, LLC
An artful and whimsical take on creepies, crawlies and bugs on the wing, the Exterminati collection seeks to showcase one of the most polarizing groups in the animal kingdom through the use of traditional and modern media and tools, shedding a different light on "Nature's little robots."
Café Insecta
NC Museum of Natural Sciences
Plaza T-Shirt Sales
NC Museum of Natural Sciences
Check out the 2019 BugFest T-shirt featuring our theme arthropod … the dung beetle!  A small number of zip hoodies will be available, as well as reusable bags and vintage shirts.
Biospeleologist: Say that Five Times Fast!
NC Museum of Natural Sciences
Come see the lifetime work and legacy of the Museum's own John E. Cooper– a biospeleologist with a passion for crustaceans.
Bee Better Naturally with Helen Yoest
Bee Better Naturally teaches sustainable gardening without pesticides so we can protect the  birds, bees and butterflies, and the food for them in the web chain.
Xerces Society & Bee City USA
Visit Xerces Society & Bee City USA to choose which pollinator you would like to be, and learn about enhancing its habitat at home! Make antennae to be a bee, beetle, butterfly or fly to help you find sweet nectar — antennae act like noses and help you smell!
Conservation | Collaboration | Community | Celebration
Apiopolis Urban Bee Sanctuary
Learn about their efforts to improve the health and habitat of honeybees and native pollinators, support our local food system and our community through natural, sustainable beekeeping practices, native plantings and educational opportunities!
Bug-themed Hair Accessories
Erin Alicia Studio
Erin Alicia Studio offers handmade, girly accessories such as headbands, flower hair bows and hair clips for girls of all ages.
Insect Art and Accessories
La Chicharra
A variety of insect- and nature-inspired accessories, home goods and art.
Insect Jewelry
Ocelli Creations
Wear your favorite insect with pride! They create preserved insect jewelry using locally foraged and found insects.
Roachingham 500 Cockroach Races
NC Museum of Natural Sciences
Watch Madagascar hissing cockroaches race each other! We'll do a few rounds of Buggy Bingo in between Roach Races.
Whizzpop's Fantastic Fleas
Professor Whizzpop
Professor Whizzpop's Fantastic Fleas is an amazing new show featuring mighty mites and fabulous fleas performing feats of daring and death-defying stunts. Meet their resident strongman, Hercu-flea, and watch as he lifts two hundred times his own body weight! Be awe-inspired by juggling fleas or the incredible Rosa Flea the high diver!
First Floor, Nature Exploration Center
Flight of the Hawkmoth
UNC Biology
Visitors will learn about the biomechanics of insect flight and get to see a live action example as hawkmoths hover and feed in a specially designed display enclosure.
What Is a Bug?
NC Museum of Natural Sciences
Know your arthropods!  Arthropods range from insects to crustaceans to arachnids and more!  Come learn the differences and the similarities and meet some live critters on your entomological quest.
Who Else Eats Your Food? Welcome to the World of Agricultural Pests
AgBiome
Crops today are bombarded by lots of different bugs. AgBiome attempts to come up with novel solutions to solve this problem. Stop by their booth to learn about and meet some of our major agricultural pests!
Biopod
Tar River Trading Post, LLC
Tar River Trading Post manufactures devices used to grow large quantities of black soldier grubs, a Southeastern US native species of beneficial insect.  Their pods divert food waste from the landfill and bio-convert it into chicken, fish and reptile feed.
Scorpions and Their Kin
Harrell House Bug Museum
Did you know there are many other arachnids besides spiders? Come learn about the OTHER arachnids including scorpions, vinegaroons, whipspiders and more!
Tarantulas and Other Spiders
Harrell House Bug Museum
Come face to face with live giant tarantulas from around the world as well as spiders you might meet in your own back yard!
Scarabs of Ancient Egypt
NC Museum of Natural Sciences
Come learn how scarabs, ancient Egyptian funeral rituals, and dung beetles are all related at the Scarabs of Ancient Egypt table! We'll have a real scarab model, information about ancient Egyptians and lots of cool facts about dung beetles!
Wonderful World of Orthoptera
NC Entomological Society
Leap into the world of Orthoptera and meet some amazing critters!  Fly with the grasshoppers, dig with the mole crickets and sing with the katydids!
Cool Crustaceans
NC Museum of Natural Sciences
Explore the diversity of crustaceans, from our backyards to the bottom of the sea!
Spider Diversity
Shaw University
While many people think of spiders as being mostly the same, in reality there are many different kinds of spiders living in many different environments. Come and see the diversity of this amazing group of arthropods.
Face to Face — Bug Portrait Painting Demonstration
Stacy Lewis Studio
Stacy Lewis will be demonstrating her mixed media painting techniques to create up-close and personal portraits of some of the Museum's arthropod residents.
Lemurs Love Bugs!
Duke Lemur Center
Learn all about the amazing lemurs living at the Duke Lemur Center and hear about some of their favorite bugs to eat!
Insect Macrophotography
Entomopixel
Entomopixel uses close-up photography to look at insects in great detail. They photograph  insects in nature and in museums. They use simple and advanced equipment to accomplish many aspects of insect photography.
Heroic Horseshoe Crabs
NC Museum of Natural Sciences
It's a crab! It's a spider! It's neither … it's a horseshoe crab!  Come learn about this ancient animal and how they are modern heroes in the biomedical field.
Small Wonders
William Fisher Photography
Selling photos of many insects close up like you have never seen before.