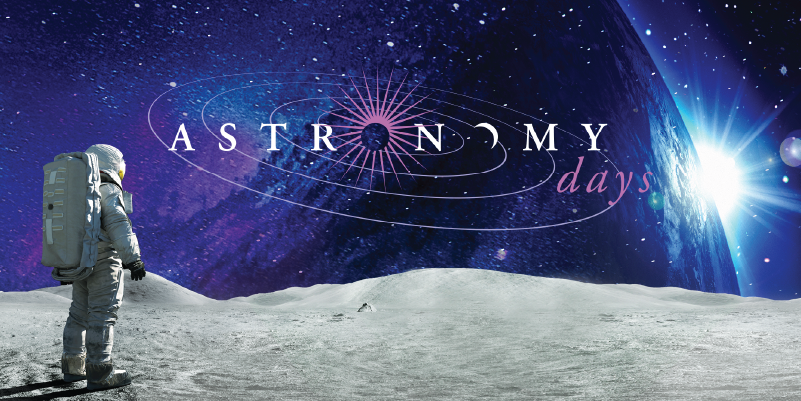 Saturday, January 28 & Sunday, January 29, 2023
Both Days: 10:00am–5:00pm

Astronomy Days has many wonderful exhibits and activities. Exhibits will be updated frequently, so check back often!
Age, Weight and Jumping on Other Planets
Raleigh Astronomy Club
How old are you in Martian years? How much would you weigh on Venus?  How high could you jump if you were on Pluto?  Find out the answers to these questions and many more at this exhibit.
Animal Navigation
NC Museum of Natural Sciences
Animals use different ways to navigate the planet. Come learn about the ways animals find their way using the Sun, the Moon, the Earth's magnetic field and more, and how scientists are still learning just how the animals do it!
Animals of the Constellations
NC Museum of Natural Sciences
Have you ever wondered how the constellations got their names? There are 88 constellations in the sky and many of them are named after animals! Come meet some of these critters and learn about the mythology and natural history of the animals, as well as how constellations provide a map of the night sky.
Astronomy and Astrophysics Research Lab
NC Museum of Natural Sciences
Welcome to the Museum's Astronomy & Astrophysics Research Lab (times for lab openings will be posted during the event). The Lab showcases cutting-edge space visualization software called OpenSpace, a NASA-funded collaboration led by the American Museum of Natural History, in New York. Visitors will see the latest on their research, and solar system and planetary fly-throughs using real mission data to create an open-source educational tool! Museum astronomers, Dr. Rachel Smith and Dr. Patrick Treuthardt, as well as colleagues and students, will be circulating during the event and may be discussing their research and outreach with visitors as well!
Astronomy at Appalachian State University
Appalachian State University
Learn about the astronomy program and observatories at Appalachian State University.
Astronomy Days T-Shirt Sales
NC Museum of Natural Sciences
Purchase this year's shirt!
Astronomy with Binoculars
Raleigh Astronomy Club
View a display of low-cost astronomy equipment for Astrophotography.
Astrophotography
Raleigh Astronomy Club
Come view excellent examples of astronomy photos taken by members of the Raleigh Astronomy Club.  Examples of astrophotography gear will be exhibited and members will be available to discuss techniques and processes.
Blast Off Rockets
NC Museum of Natural Sciences
Create a rocket masterpiece and launch it sky-high!
Bring Back the Night Sky
NC Museum of Natural Sciences
Light pollution affects all of us on the planet, from astronomers to sea turtles. Find out about this environmental issue and what you can do to help bring back the night sky!
CHAOS
Chapel Hill Astronomy and Observational Society
Club members range from precocious teenagers to UNC astronomy professors but most are just enthusiastic amateur astronomers.  Stop by and meet them and see what they're up to.
Constellation Exploration
NC Museum of Natural Sciences
Learn about the history and uses of constellations and then use a flashlight to head out into "space" to track down some constellations right here in the Museum!
Discovery Room
NC Museum of Natural Sciences
Explore the natural world and the skies above in the Discovery Room! Create constellations, learn about eclipses, and more. The Discovery Room is an ideal space for intergenerational learning for children and families. Hours: 10:30am-12:30pm and 1pm-3pm.
Astronauts: The Next Generation – A Fun and Interactive Exploration
Over the Moon Playspace
Join us as we take a journey into the exciting world of space travel and discovery. Future astronauts will have the opportunity to have their picture taken in a realistic astronaut costume. They will also learn about exotic exoplanets, and use their creativity and imagination to design and decorate their own unique new world on a wooden disc that they will take home!
Exoplanets
Raleigh Astronomy Club
Learn about the methods used for detecting exoplanets and see some models of exoplanets.  They'll use their own version of the Kepler Space Telescope; a Lego orrery and artificial star to demonstrate the transit method of detecting Exoplanets. Visitors can also learn about the Drake Equation and input their own variables to see how many other communicating civilizations are in our galaxy. They'll also have a video illustrating the Fermi Paradox.
Face Painting
Paint Savvy
Themed face painting with aliens, galaxies and other celestial-inspired designs. (Fee)
Festival of Stars
Capital Quilters Guild of Raleigh
Come by and talk to the quilters to see how the Festival of Stars, a beautiful quilt bursting with color, could be yours. With all ticket proceeds supporting Capital Quilters Guild of Raleigh Community outreach programs.
Exploring the Universe: Filtered Light
NC Museum of Natural Sciences
"Filtered Light" demonstrates how scientists can use telescopes and other tools to capture and filter different energies of light to study the Universe. Most objects in the Universe are so distant from us that we can only study them through light. Filters allow us to block some energy levels of light and isolate others; each energy of light can offer new information about the object of study. In "Filtered Light," participants discover how colored filters can help reveal more about an image. They can also make and study colorful images of their own.
Finding the North Star and Others
Raleigh Astronomy Club
A very kid-friendly and beginner-friendly exhibit of how to find the North Star (Polaris) and others, and why the sky moves the way it does. Based on books by H.A. Rey, the author of the Curious George books.
Get Wild with TLC
Triangle Land Conservancy
What does land conservation have to do with star gazing? Visit this table during Astronomy Days to learn through fun activities about the benefits to our health, ecosystems, and yes, even star gazing, that the Triangle Land Conservancy provides for our communities.
Green Roof Solar Observing
NC Museum of Natural Sciences, Astronomy and Astrophysics Research Lab
See our star up close at Astronomy Days! Astronomers will set up solar telescopes on the 4th floor terrace of the Nature Research Center to safely view the Sun with special filters. You'll see fascinating solar surface features and solar storm ejections, and possibly a few sun spots! Scientists and experienced volunteers will be on hand to explain and answer questions. 1:00pm–2:30pm, both days, weather permitting.
High Powered Rocketry Club at NC State University
High Powered Rocketry Club
Learn about the hobby of High Powered Rocketry and how we use real world rocket science. Also build your own straw rockets for launching.
If Earth Were the Size of the Daily Planet
Raleigh Astronomy Club
At 70 feet in diameter, the Daily Planet is the largest satellite-image globe in the world. It's also a giant scale model, and this exhibit shows how it can be used to visualize the depths of the ocean, the heights of mountains and the atmosphere, and even the relative biomass of different life forms on Earth.
Imagining Life
NC Museum of Natural Sciences
"Exploring the Universe: Imagining Life" is a hands-on activity in which guests imagine and draw an extreme environment beyond Earth, then invent a living thing that could thrive in it. They learn that NASA scientists study extremophiles on Earth to imagine the variety of life that might exist elsewhere, and make predictions about where to look for it.
Interesting Physics Demonstrations
NC State University Physics Department
Space is all about physics. Come see interesting and interactive physics demonstrations!
Live in the Vis Lab: Apollo Engineer Ted Dunn
Visual World Investigate Lab, NC Museum of Natural Sciences
Meet one of the engineers that worked directly on the spacecraft that took astronauts to the moon! Hours: 10:30am-12:30pm and 1pm-3pm.
Living Conservatory
NC Museum of Natural Sciences
Open for Astronomy Days!
Meet the Raleigh Astronomy Club & Ask the Astronomer
Raleigh Astronomy Club
Meet Raleigh Astronomy Club members, learn about how the club supports astronomy in the greater Raleigh area, check out upcoming events and the Ask an Astronomy booth.  An interactive speed of light exhibit will also be on display.
Moon Phases
Micro World Investigate Lab, NC Museum of Natural Sciences
Want to know how to make a Moon calendar and how to use it? Check out our lab and learn about different Moon phases and fun Moon facts.
Planet Hunters and Investigators
UNC Physics and Astronomy
Explore how astronomers detect and characterize planets far away in solar systems of their own!
Preserve Our Pale Blue Dot
Climate Action NC
What can astronomy teach us about our home planet? Come learn what's so special about Planet Earth and how to protect its unique environment with Climate Action NC! Answer a trivia question correctly for a prize!
The Quest for Extraterrestrial Life
North Carolina Academy of Science
From living water bears and vinegar eels to plants small enough to fasten onto necklaces, join the Academy in the spacious Curiosity Classroom for a fun look at life of extreme environments, activities featuring Mars and Earth's extreme environments, and colorful crafts — Pinwheel Galaxy pinwheels, seed planters, and draw-your-favorite alien sheets.
Scale of the Universe
Raleigh Astronomy Club
This interactive exhibit created by two high-school-aged brothers will allow you explore the scale of our Universe from the smallest theoretical scales (the Planck length at 10 to the negative 33rd meters) to the largest distances of the observable universe (10 the 28th meters) and everything in between.
Solar Observing
Raleigh Astronomy Club
Safely look at the Sun through telescopes from Raleigh Astronomy Club members (weather permitting).
Statewide Star Party: Celebrating the Night Sky
Morehead Planetarium and Science Center
Get a sneak preview of some of the activities available at the annual Statewide Star Party — 35 free sky-watching events in April at locations from the mountains to the coast. Create your own constellation, make a star wheel, and learn how you can celebrate the night sky.
Telescopes on Display
Raleigh Astronomy Club
Come look at photographic views of the Moon and planets through member-owned telescopes.  Accept the "challenge at the eyepiece" to locate specific features on the Moon.  See different types of telescopes at work.
UNC Physics and Astronomy
University of North Carolina at Chapel Hill
This exhibit offers fun and simple physics demonstrations for visitors and allows UNC physics undergraduates to talk about our available B.S and B.A programs.
Women and Astronomy
Girl Scouts: North Carolina Coastal Pines
The Girl Scouts will be showing pictures and providing information about famous astronauts who were Girl Scouts. They will also be providing a "phases of the Moon" activity!