Art Dissected :: Become a Catalyst | Food & Drink
All activities are from 7 to 10pm unless otherwise noted.
NATURE RESEARCH CENTER, 1ST FLOOR
Dance Party in the Globe
Enjoy atmospheric vibes early in the evening with DJ ChocolateRice. As the night goes on, the globe will transform to a dance party featuring DJ SPCLGST.
Good Vibrations
Witness the visually stunning patterns created by different frequencies of sound. Pick your tone and watch the sand dance into unusual and beautiful shapes.
Origami
Alexander Roa
Learn the art of origami with artist Alexander Roa and create your own masterpiece.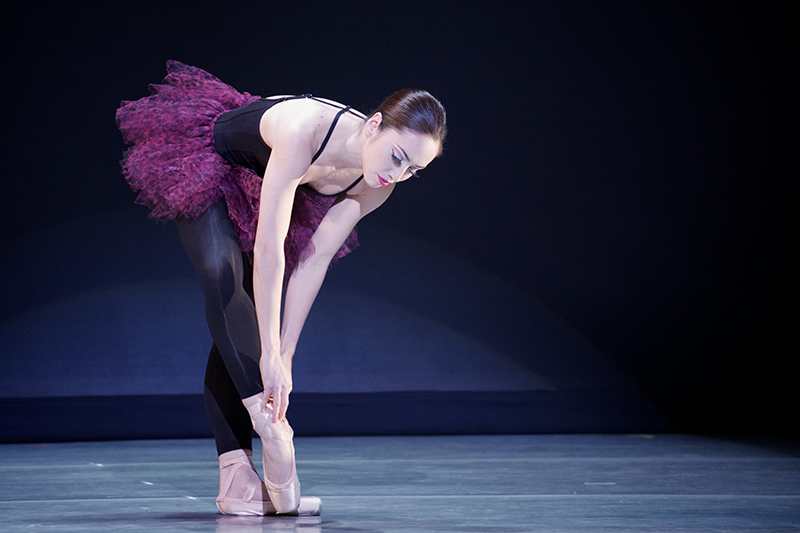 On Your Toes!
Carolina Ballet
Step up to the barre, try on pointe shoes and plié with Carolina Ballet ballerinas. Who hasn't wondered how it feels to be in pointe shoes? Professional dancers from Carolina Ballet will be on hand to give you some insider tricks of the trade in this interactive exhibit.
Animals en Pointe
Ballerinas aren't the only ones who can stay on their toes. Graceful gazelles and chasing cheetahs are just two examples of animals en pointe. Learn why these animals evolved to do a constant balancing act and how it benefits them in the wild.
No Permission Needed: CREATE
Senator Jaiz
Learn the basic principles of multi-tracking and create your own music: live! You can just CREATE, no permission needed. No musical knowledge needed and all music will be available for download after the event. Senator Jaiz is a solo performer and a two-time Moogfest artist. This experience was created to show not only that everyone has art inside them, but you can have a blast bringing it out to the world.
Paint It!
Bob Ross said anyone could paint. Here's your chance to express yourself on our 16-foot-long mural of science. Pick up a brush and add your artistic flare.
7:30, 9:30pm: Break the Silence
Black on Black Project
"Break the Silence" is a Spoken Word and movement piece about mental health that was featured in VAE Raleigh's BOBV3, curated by Mike Williams of the Black on Black Project. Spoken Word by Johnny Lee Chapman, III; choreography by Anthony Nelson, Jr.
7:45-9:15pm: Art in Motion
Elevate
Watch a masterpiece come alive with our canvas paint performer. She starts with a blank canvas and creates a painting with her graceful body movements. Register to win the completed painting.
NATURE RESEARCH CENTER, 2ND FLOOR
Is it Real?
Meet the artists who make the Museum's exhibits come alive! Learn about the techniques our staff use to create, repair and maintain the Museum's seven floors of exhibits.
Hear the Rainbow
Jennifer Schiller, UNC PhD candidate
Do you see colors when you listen to music or hear different sounds? You might have a form of synesthesia. Learn about this rare neurological phenomenon, experience how a person with color synesthesia perceives music and engage your senses!
The Art of Taxidermy
The Naturalist Center
Watch a taxidermy demonstration by award-winning taxidermist, Joshua Hussey. Joshua is owner of Bear Creek Wildlife Artistry in Moore County. The process of taxidermy combines art and science to create life-like reproductions of wildlife. Examples of these mounted animals can be found throughout the Museum – especially in the Naturalist Center — where they are used to educate visitors about wildlife and conservation.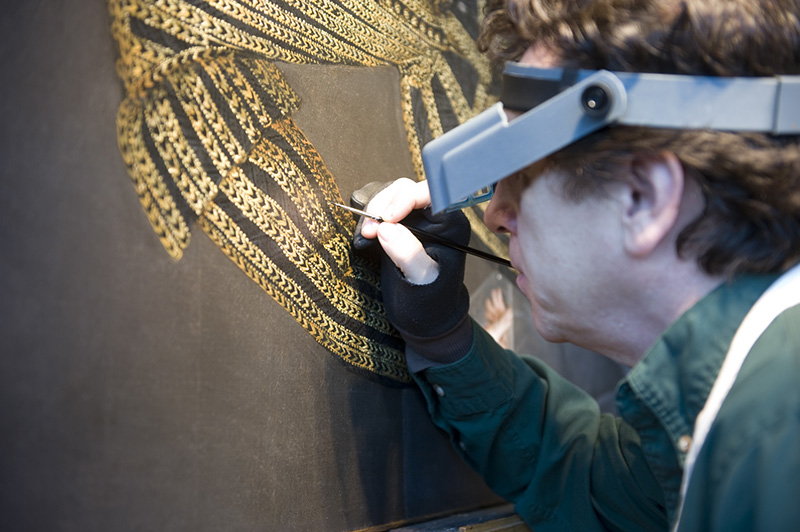 Under the Surface
North Carolina Museum of Art
Look inside a painting with X-rays as Art Conservator Perry Hurt shares layered views of artworks from the Permanent Collection of the North Carolina Museum of Art (NCMA) — see if you can match the X-ray to the painting! Check out the stages of conservation different works go through in the NCMA Lab.
Animal, Plant or Mineral: Paint Pigments Revealed!
North Carolina Museum of Art
What makes that color? Discover how artists through the centuries found the pigments to make the dazzling colors seen in the art of the NCMA's Permanent Collection. Examine samples of the real things — as they look in nature and as they were used by artists — and give us your best guess: animal, plant or mineral?
Wild Fashion: Meet the Animals Behind Your Prints
Biodiversity Research Lab
Nature is one of the main sources of inspiration for fashion. In this exhibit, you'll learn about some of the animals that make up your favorite prints to wear.
Light Painting and Perception
Theatre Raleigh
Lighting is crucial to theatrical productions. Join Theatre Raleigh for some light painting photography fun in the Immersion Theater to better understand how we perceive light.
NATURE RESEARCH CENTER, 3RD FLOOR
Did Dinosaurs Roar?
Paleontology Unit
Discover how a dinosaur's anatomy determined its ability to roar. We'll examine the closest known living relatives of the extinct animals and comparative vertebrate morphology to explore the science behind dinosaur sounds.
Prehistoric Art: Reconstructing Extinct Animals
Paleontology Unit
Explore artistic recreations of dinosaurs and other fossil organisms, showing the process of collaboration between scientist and artist from fossil specimen to illustration of the living animal.
DIY Mini Infinity Rooms
North Carolina Museum of Art
Get creative with this hands-on project inspired by the art of Yayoi Kusama at the NCMA. Create an environment full of fun sparkly objects and then use our technology to get a tiny figurine's-eye-view of your new world!
Painting with a Purpose
RaeAnn MacDonough
RaeAnn was born legally blind and with a passion for art. She started painting when she was a child, and went on to receive a BA in the Arts and Humanities in 2014. Today, she is dedicated to the cause of empowering others and engaging her community through art. Join her to learn more about her techniques and the steps she takes in creating a masterpiece.
Duck Stamps for Conservation
Make your own duck stamp and learn about the history of this US Fish & Wildlife tradition. Can you create a stamp that will inspire millions to conserve our wild lands?
Computers Can See Too
Visual World iLab
Explore how computers detect moving objects by comparing changes in the color values of each pixel to find clusters that are thought to be objects and then displayed as contour lines. Computer vision is the science of how computers can extract information from images. This technology is used in the natural sciences for automatic  identification of camera trap images, modeling environments, organizing information and tracking.
NATURE RESEARCH CENTER, 4TH FLOOR
Custom Caricatures Members' Lounge
Friends of the Museum
Catalysts and Museum members gain exclusive access to the lounge, featuring complimentary caricature art from Marx Myth, plus snacks. Get your caricature made or a pet portrait from a picture on your phone, have a seat and enjoy a nibble before returning to the terrace for the Silent Disco!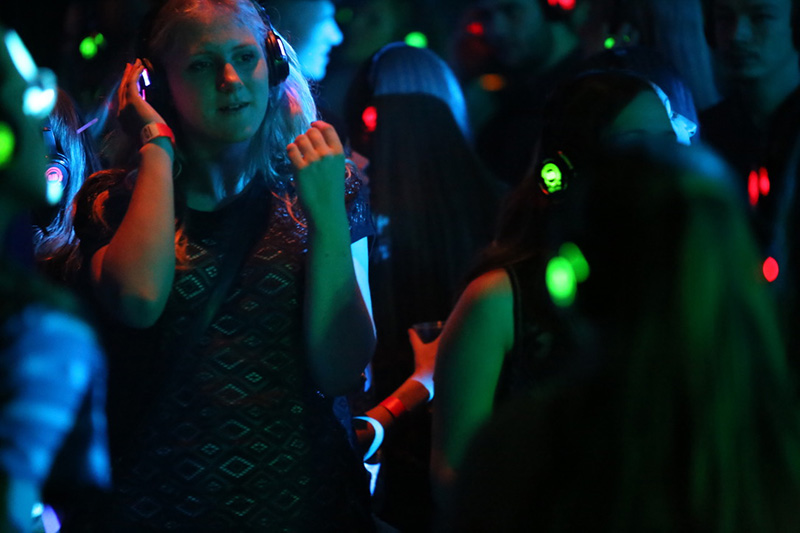 Silent Disco
Join us on the Rooftop Terrace for a dance party like no other! Grab a pair of headphones, choose your track and dance to your own beat, featuring DJ Between2Clouds and DJ P.Nominal.
The River Cube Project
Christina Lorena Weisner & Matt Keene
Sculptor Christina Lorena Weisner and natural, social & systems scientist Matt Keene will be on hand to talk about their ambitious quest, The River Cube Project. The River Cube, a floating conceptual sculpture that is also a research lab, will be paddled/peddled/sailed or drifted down the entire length of the Neuse River from Falls Lake to Ocracoke Inlet in May of 2019. The River Cube Project will explore the Neuse River as a unique environment created and influenced by relationships among nature, people, and technology. The Project is the catalyst for the collection and creation of context-specific materials that take the form of sculpture, drawings, data, audio visual materials, scientific and social studies that synthesize and reflect — present a sampling of — the Neuse River's diversity and complexity.
Unconventional Gourd Art
Apex Gourd Lady
Step inside the mind of a Creative and see imagination transform a gourd.
Musical Instrument Zoo
North Carolina Symphony
The NC Symphony presents its hands-on Instrument Zoo for adults. Come try out instruments of all sizes and learn the science behind the music!
Flirty Frogs
Can you flirt like a frog? Grab an "instrument" and mimic the springtime chorus of our native species.
Free Expression Terrace
Grab some sidewalk chalk and express yourself!
Magic Eye Puzzles
Can you see the hidden image in Magic Eye Puzzles? Learn how your brain steps in to translate these images, known as stereograms, into one cohesive 3D experience.
Rainbow Animal Interlude
Stop by a cocktail table to learn about colorful, color-morphing animals. Awaken the kid inside you by creating a scratch paper doodle. Every "scratch-off" stroke reveals a beautiful rainbow below!
---
Nature Art Gallery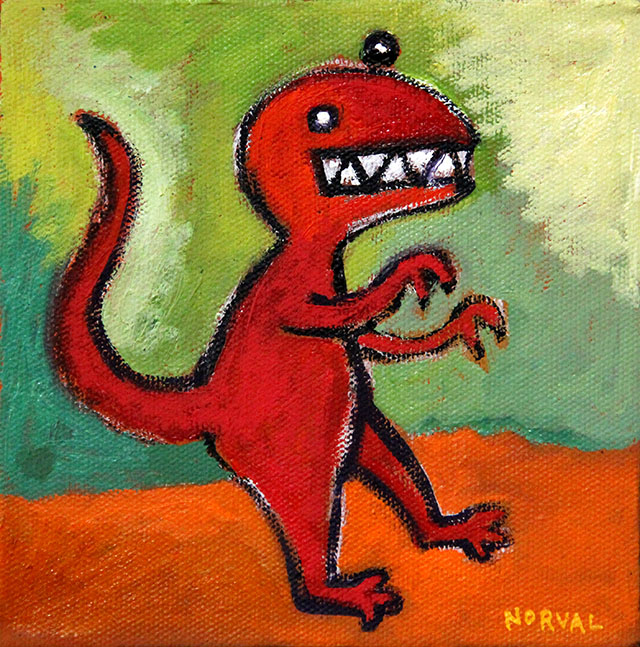 Meet popular local artists featured in the Museum's Nature Art Gallery. Enjoy painting demonstrations, learn about their creative process and purchase original artwork.
Abstracted Animals
Keith Norval
Meet artist Keith Norval and see him create one of his whimsical pop art-inspired oil paintings on-site.
Live Paleo-Art Painting Demo
Stacy Lewis Studio
Stacy Lewis will create an original dinosaur painting on-site, from skeleton references to the final piece of art.
A Painted Mosaic of American Landscape
Micah Mullen
Micah Mullen will present iconic American landscapes broken down into thousands of contrasting shapes and colors. Witness the progression of a piece in various stages, highlighting the science behind his process. Acrylic paintings on canvas.
A portion of the your Nature Art Gallery art purchase benefits the Friends of the NC Museum of Natural Sciences. Proceeds from Friends' activities – including gift shop sales, membership and events – support Museum programs, research and exhibits.