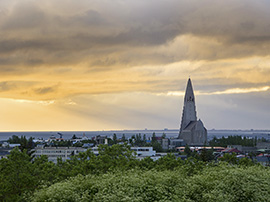 June 21: Departure from the US
Overnight to Iceland as the Sun rises from the shortest night in 2018.
*Recommended flights: United Airlines, UA 3588 and UA 138, from Raleigh/Durham (RDU) departing at 7:46pm via New York/Newark (EWR) to Reykjavík (KEF) arriving at 8:10am.
---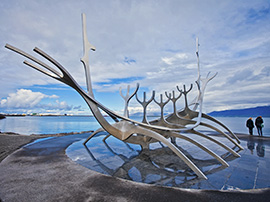 June 22: Arrival, tour orientation and welcome dinner
Early arrival in Keflavik International Airport. Meet our local guide, Birgir Jónnson. Transfer to Reykjavík for orientation bus tour. Guided visit to the National Museum of Iceland, then an illustrated lecture on the island's natural history by Ari Trausti Guðmundsson, a geologist, explorer, broadcaster, and a member of Iceland's Parliament. Brunch, check in at hotel, and rest. Free time until 6pm for nearby welcome dinner.
Driving distance: 35 miles
Radisson Blu Saga Hotel, Reykjavík
---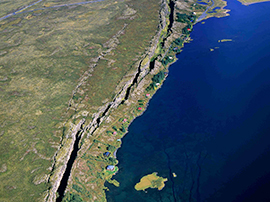 June 23: Reykjanes Peninsula
The rugged southern coastline of the Reykjanes Peninsula, where lighthouses outnumber villages, is a showcase of Iceland's youngest volcanic features: lava flows and crater rows from the 12th and 13th centuries, geothermal features, fissures and faults, lava shields and subglacial volcanic structures. Cross the bridge between two continents – literally! – a zone where the Mid-Atlantic Ridge traverses Iceland, subdividing it between Europe and North America.
Driving distance: 125 miles
Hotel Selfoss, South Iceland
---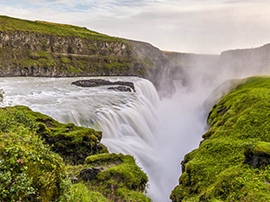 June 24: Þingvellir, Gullfoss and Geysir
Explore the varied landscape of the Southern Lowlands. Tour the Þingvellir UNESCO World Heritage Site where annual national gatherings occurred from 930 to 1799 AD and Skálholt where Iceland's first bishops settled in 1056. View the spectacular Gullfoss waterfalls with meltwater from Iceland's second largest glacier and the Great Geysir area with the powerful and famous Strokkur, erupting every 6-10 minutes, 60-80 feet high. Driving distance: 155 miles
Hotel Selfoss, South Iceland
---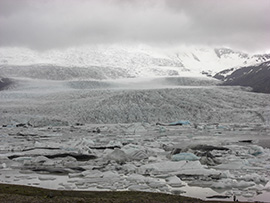 June 25: Ring Road at the South Coast
Walk behind the Seljalandsfoss waterfall. View the southern slopes of Eyjafjallajökull, the majestic volcano which famously erupted in 2010 with its ash disrupting trans-Atlantic flights. Visit the new Lava Centre in Hvolsvöllur village and the Skógafoss waterfall. The Mýrdalsjökull ice cap and Katla volcano, passing through a huge lava flow to the south side of Vatnajökull, the island's largest ice cap and the second largest in Europe after Svalbard in Norway. Cross large flood plains from glacier-fed rivers, volcanic mud flows called lahars and glacier outburst floods called jökulhlaups.
Driving distance: 155 miles
Hotel Geirland or Hotel Skaftafell, Skaftafell
---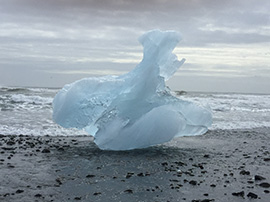 June 26: Vatnajökull area to the Eastern Fjords
To Hornafjörður and the seaside town of Höfn. Pass debris fans from lahars and jökulhlaups from the large Öræfajökull volcano with its high peaks and steep outlet glaciers. Boat trip across a glacial lagoon with icebergs. View the spectacular landscape of the eastern fjords, an area with some of the island's oldest lava flows and dike swarms. Cross Reyðarfjörður town, over Fagridalur to Egilsstaðir at Lake Lögurinn, a glacially eroded long lake.
Driving distance: 250 miles
Lake Hotel Egilsstaðir, Egilsstaðir
---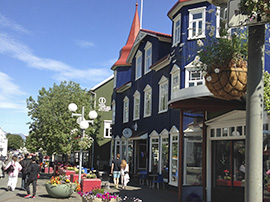 June 27: Vatnajökull National Park and Húsavík
The high country and heaths of north-east Iceland. Cross over tundra-like landscape of Möðrudalur with a great view towards Mt. Herðubreið and the northern fringes of the Vatnajökull ice cap. Drive to Grímsstaðir at the northernmost part of the Vatnajökull National Park along the mighty river Jökulsá á Fjöllum with Dettifoss, Europe's largest waterfall. Then to Húsavík village with its whaling museum and to Akureyri, the island's second largest city.
http://www.visitakureyri.is/en
Driving distance: 150 miles
Hotel Kea, Akureyri
---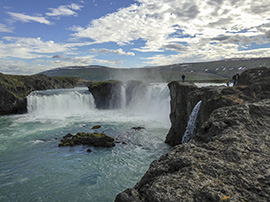 June 28: Lake Mývatn and Goðafoss waterfall
Lake Mývatn is renowned for lush surroundings, bird life, and varied volcanic formations with its most recent lava flows dating from 1975-1984. In 999 or 1000 AD Iceland's parliament – the oldest in Europe – debated which religion they should practice. The decision was Christianity and according to myth, it is said that upon returning from Reykjavík, a lawmaker threw his statues of the Norse gods into the waterfall which is Goðafoss waterfall, known as the "waterfall of the gods".
Driving distance: 150 miles
Hotel Kea, Akureyri
---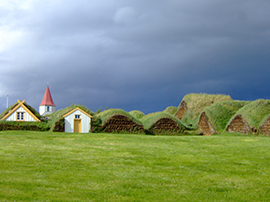 June 29: Akureyri and Ring Road to Borgarfjörður area
Nicknamed the Capital of North Iceland, Akureyri is an important port and fishing center with a large ice-free harbor. The area was settled in the 9th century with a municipal charter in 1786 and became the site of Allied units during World War II. Head west on the Ring Road with various stops including the Glaumbær Farm, which gives insight into old Iceland.
Driving distance: 220 miles
Hotel Húsafell, Borgarfjörður
---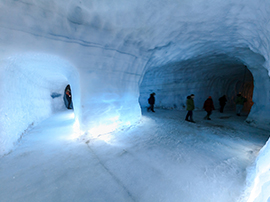 June 30: Langjökull ice cap and Borgarfjörður district
Morning tour, up close, on – and inside! – the second largest ice cap in Iceland, Langjökull. A specially equipped bus connects to the largest man-made ice tunnel in the world to experience the blue crystalline beauty that only the inside of a glacier can offer. With waterproof outer clothing provided, walk through illuminated tunnels and rooms to understand the dynamics of ice formation and movement. After this once-in-a-lifetime experience, head to Reykjavík with stops along the way.
Driving distance: 90 miles
Radisson Blu Saga Hotel, Reykjavík
---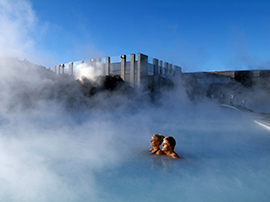 ---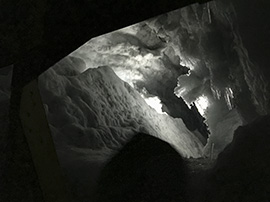 July 2: Farewell
Free time until transfer to Keflavik International Airport, back home in good time for July 4th festivities.
*Recommended flights: United Airlines, UA 139 and UA 3669, from Reykjavík (KEF) departing at 11:55am via New York/Newark (EWR) to Raleigh/Durham (RDU) arriving at 5:46pm.

*Flights can vary according to participant schedule.
---