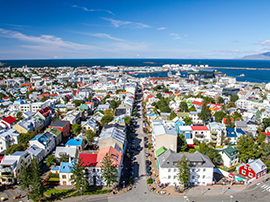 JUNE 16
Afternoon flight from Raleigh to New York Kennedy, overnight flight to Reykjavik.
---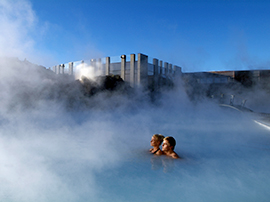 JUNE 17
Arrive early morning on Iceland's National Day; brunch by the geothermal 99-102°F Blue Lagoon, (bathing extra $62); free afternoon; early evening reception with orientation lecture.
---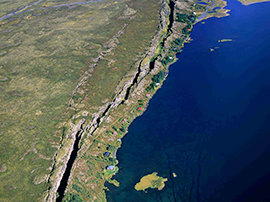 JUNE 18
South Coast around the Reykjanes Peninsula where lighthouses outnumber villages; experience a showcase across the Mid-Atlantic Ridge of volcanic, tectonic and geothermal activities.
---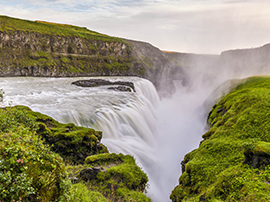 JUNE 19
The varied landscape of the Southern Lowlands; tour the Þingvellir UNESCO World Heritage Site where annual national gatherings occurred from 930 to 1799 AD; visit Skálholt where Iceland's first bishops settled in 1056 and now with a cathedral; the spectacular Gullfoss waterfalls.
---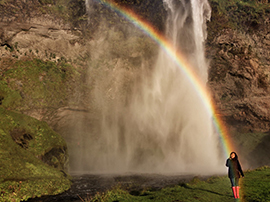 JUNE 20
Walk behind the Seljalandsfoss waterfall; study Eyjafjallajökull which erupted in 2010 and visit the volcano study center at Þorvaldseyri; pass the Skógafoss waterfall, Mýrdalsjökull ice cap and Katla volcano; traverse a lava flow on the south side of Vatnajökull, Iceland's largest ice cap.
---
JUNE 21
Mountainous Eastern Fjord region past the seaside town of Höfn; pass debris fans from volcanic mud flows, glacier outburst floods from the Öræfjökull volcano; marvel at high peaks with steep glaciers; boat trip on a lagoon with icebergs.
---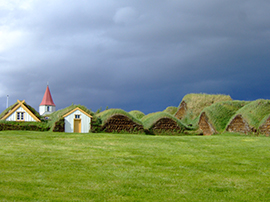 JUNE 22
Fjord town of Reyðarfjörður; high valley of Fagridalur to Lake Lögurinn; tundra-like country past Möðrudalur, Iceland's highest community, with view of Mount Herðubreið; along the Jökulsá á Fjöllum River with Europe's most powerful waterfall at Dettifoss; Jökulsárgljúfur Park with landforms left from a flood.
---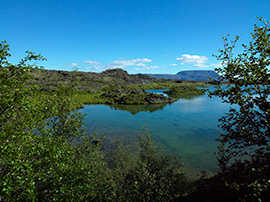 JUNE 23
Picturesque town of Húsavík, its Whale Museum, and the lush surroundings of Lake Mývatn with abundant bird life and volcanic features, including lava flows from 1975-1984; Goðafoss waterfall and Hverfjall Tephra Ring.
---
JUNE 24
Head to Akureyri via the Fnjóskadalur valley and Víkurskarð mountain pass; enjoy browsing time in Akureyri; Glaumbær Museum; Vatnsskarð panoramic viewpoint; Hvammstangi Seal Center; Holtavörðuheiði panoramic viewpoint.
---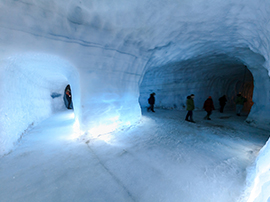 JUNE 25
Onward to the margin of Langjökull, Iceland's second largest ice cap, where a specially equipped bus connects to the largest man-made ice tunnel in the world for a guided tour; evening walk in a birch forest.
---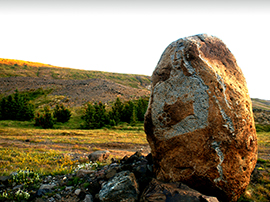 JUNE 26
Húsafell to Reykjavík by noon with an orientation tour followed by free time; reception at the National Museum of Iceland; closing dinner; accommodation at the Grand Hotel Reykjavík.
---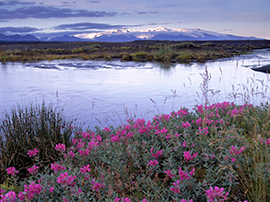 JUNE 27
Morning departure on same-day flights to New York Kennedy and Raleigh.
---
GUIDES
Oddur Sigurðsson with the Icelandic Meteorological Office has expertise in climatology, geology, glaciology, geomorphology, and oceanography; he is also an avid landscape photographer. Born in Akureyri and living in Reykjavik with a tremendous knowledge of Iceland, he was an exchange student at North Carolina's Davie County High School. He will be accompanied by Emlyn Koster, PhD, Director of the NC Museum of Natural Sciences and a former President of the Geological Association of Canada.
ADVISORS AND PARTNERS
Iceland's Embassy in Washington, DC; in Iceland, geoscientist, author and guide Ari Trausti Guðmundsson with travel agent Sandra Gunnarsdóttir with Icelandic Farm Holidays; Delta Airlines.
WEATHER AND CLOTHING
Reykjavík has a humid subarctic climate with cool summers and no dry season. Average daily highs/lows in June are 54°/45°F with extremes of 70°/32°F. There is an 80% probability of drizzle or rain. Dress daytime in warm layers with light gloves and warm hat, rain jacket/coat, sturdy waterproof footwear, and with nice casual alternatives for receptions and opening/closing dinners.
COST AND RESERVATIONS
The total per person cost is $4,850 for Members, and $5,050 for non-Members, for double room occupancy ($715 extra for single occupancy). This includes group-rate economy fares from/to Raleigh and, in Iceland, all ground transportation and tour guides, all accommodations, meals, fees, receptions, and speakers. A passport valid for at least three more months is required. Personal travel/health insurance is recommended.
For any questions about this Adventure, including cancellation policy and liability coverage details, please contact cassandra.williams@naturalsciences.org, 919-707-9802. To become a Member, please contact lisa.dziepak@naturalsciences.org, 919-707-9848.
To secure your space(s), please register at http://naturalsciences.org/iceland: you may also informally reserve space by contacting cassandra.williams@naturalsciences.org, 919.707.9802. Either way, full payment is due no later than March 10, 2016. Reservations will be acknowledged in their order of receipt until the maximum of 26 is reached, after which a wait list will be used in the event of any cancellations.