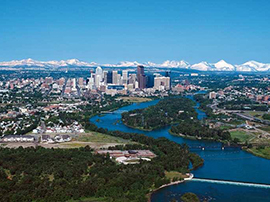 AUGUST 22
Morning flight from Raleigh via Minneapolis, arriving early afternoon in Calgary; head to Drumheller, overview of Horsehoe Canyon; visit the Royal Tyrrell Museum galleries.
---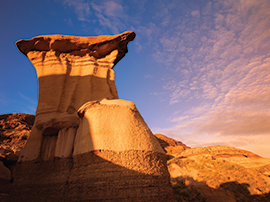 AUGUST 23
Royal Tyrrell Museum briefing by its Director; back-stage tour to see amazing fossils in preparation for research and display, gallery visit and shopping times; optional walk in adjacent badlands; evening entertainment.
---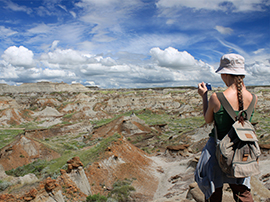 AUGUST 24
To Dinosaur Provincial Park, one of the world's richest dinosaur collecting grounds; tour its Field Station, take a private bus tour to the Park interior, hike to a dinosaur mass mortality site; enjoy a rustic watering hole in a nearby hamlet.
---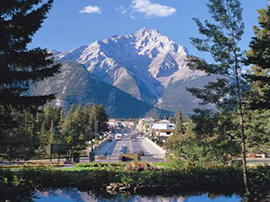 AUGUST 25
To Banff National Park; ride Sulphur Mountain gondola for a birds-eye panorama of six mountain ranges; relax at the famous Banff Park Springs Hotel; pre-dinner reception at the Whyte Museum of the Canadian Rockies.
---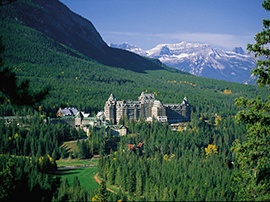 AUGUST 26
Sightseeing of glacially shaped mountains, lakes, wildlife, and remnant glaciers in Banff National Park; board the Columbia Icefield Adventure where rivers begin to the Pacific Ocean and the Arctic's Hudson Bay and with clear impacts of climate warming on this largest ice cap atop the Canada-US Rocky Mountains.
---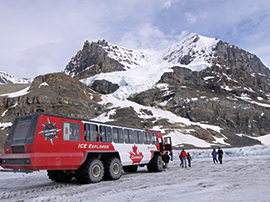 AUGUST 27
Shop Banff; ride a chuck wagon to a riverside bbq; bus to Calgary, pre-dinner reception at the Glenbow Museum with its collection of early northwest North American landscape paintings; concluding dinner at the Palliser Hotel, another historic landmark.
---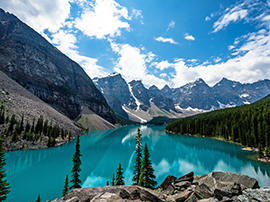 AUGUST 28
Afternoon and evening flights to Minneapolis and Raleigh.
---
GUIDES
Emlyn Koster, PhD, heads the NC Museum of Natural Sciences and is a former President of the Geological Association of Canada. From 1986-91, he led geological survey projects at the Alberta Research Council, directed Alberta's Royal Tyrrell Museum of Palaeontology, and conducted field studies in Alberta's Dinosaur Provincial Park. Leader of last year's first Connect-to-Nature Adventure, Emlyn will again be assisted by several Alberta museum and park colleagues.
ADVISORS AND PARTNERS
Alberta Culture and Tourism, Alberta Environment and Parks; Brewster Travel Canada; Delta Airlines.
WEATHER AND CLOTHING
The climate of southern Alberta ranges from semi-arid to sub-alpine. In Dinosaur Provincial Park, August's average high/low are 79°/51°F with extremes of 99°/33°F. In Banff, August's average high/low are 70°/45°F with extremes of 91°/-15°F. Dress is casual in layers with sturdy footwear for daytime and business casual for receptions and dinners in Banff and Calgary.
For any questions about this Adventure, including cancellation policy and liability coverage details, please contact cassandra.williams@naturalsciences.org, 919-707-9802. To become a Member, please contact lisa.dziepak@naturalsciences.org, 919-707-9848.
To secure your space(s), please register at http://naturalsciences.org/alberta: you may also informally reserve space by contacting cassandra.williams@naturalsciences.org, 919.707.9802. Either way, full payment is due no later than April 15, 2016. Reservations will be acknowledged in their order of receipt until the maximum of 26 is reached, after which a wait list will be used in the event of any cancellations.