For immediate release ‐ February 27, 2017
Contact: Jon Pishney, 919.707.8083. Images available upon request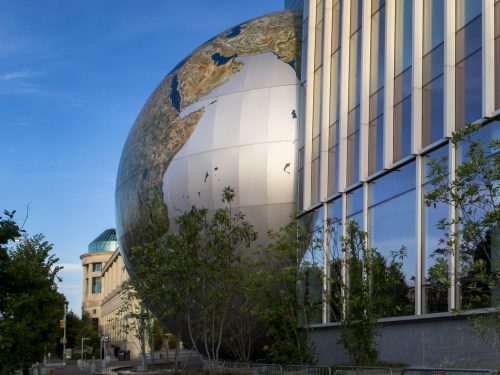 RALEIGH, N.C. — The North Carolina Museum of Natural Sciences has again achieved accreditation by the American Alliance of Museums, the highest national recognition afforded the nation's museums. Accreditation signifies excellence to the museum community, to governments, funders, outside agencies, and to the museum-going public. The N.C. Museum of Natural Sciences was initially accredited in 1979, with reaccreditations in 1987 and 2001.
Alliance Accreditation brings national recognition to a museum for its commitment to excellence, accountability, high professional standards and continued institutional improvement. Developed and sustained by museum professionals for over 45 years, the Alliance's museum accreditation program is the field's primary vehicle for quality assurance, self-regulation and public accountability. It strengthens the museum profession by promoting practices that enable leaders to make informed decisions, allocate resources wisely, and remain financially and ethically accountable in order to provide the best possible service to the public.
"AAM accreditation is a highly valuable professional service for member institutions that encourages constructive reflection and informs efficiency and effectiveness improvements," remarks Emlyn Koster, PhD, director of the Museum. "For this institution which since 2000 has undertaken one of the field's most profound advances — in scale, meaning, collaborations, outcomes and stature terms — re-accreditation affirms the major dividends of the institution's invested efforts and support. It also gives confidence to our sense of direction and encourages our remarkably talented team.
"Among all of the exemplary practices cited by our peer reviewers," Koster adds, "I think that the most significant feedback was stated this way: 'The Museum has forthrightly evolved its interpretative philosophy and strategy to address bigger stories about humans as an inseparable element in the ecosystem of all life, and therefore to be concerned about matters of conservation and sustainability.'"
Only 3 percent of the nation's estimated 35,000 museums are accredited; 27 are in North Carolina. "For 138 years, the N.C. Museum of Natural Sciences has been in the business of understanding our region's biodiversity, past and present, and sharing this knowledge with tens of millions of fascinated visitors," remarks Susi H. Hamilton, Secretary of the Department of Natural and Cultural Resources. "As this institution has developed, its philosophy and practice have become exemplars for the museum field which has been in search of new models of relevance to challenges and opportunities — regionally, nationally and globally. I commend all who have contributed to this remarkable resource."
Accreditation is a very rigorous but highly rewarding process that examines all aspects of a museum's operations. To earn accreditation a museum first must conduct a year of self-study, and then undergo a site visit by a team of peer reviewers. AAM's Accreditation Commission, an independent and autonomous body of museum professionals, considers the self-study and visiting committee report to determine whether a museum should receive accreditation.
"Accredited museums are a community of institutions that have chosen to hold themselves publicly accountable to excellence," said Laura L. Lott, Alliance president and CEO. "Accreditation is clearly a significant achievement, of which both the institutions and the communities they serve can be extremely proud."
---
The North Carolina Museum of Natural Sciences (11 and 121 W. Jones St.) in downtown Raleigh is an active research institution that engages visitors of every age and stage of learning in the wonders of science and the natural world, drawing them into the intriguing fields of study that are critical to the future of North Carolina. Hours: Mon.– Sat., 9 a.m. –5 p.m., and Sun., noon–5 p.m. Visit the Museum online at www.naturalsciences.org. Emlyn Koster, PhD, Museum Director.
About the American Alliance of Museums
The American Alliance of Museums has been bringing museums together since 1906, helping to develop standards and best practices, gathering and sharing knowledge, and providing advocacy on issues of concern to the entire museum community. Representing more than 35,000 individual museum professionals and volunteers, institutions and corporate partners serving the museum field, the Alliance is the only organization representing the entire scope of the broad museum community. For more information, visit www.aam-us.org.