For immediate release ‐ July 26, 2017
Contact: Jon Pishney, 919.707.8083. Images available upon request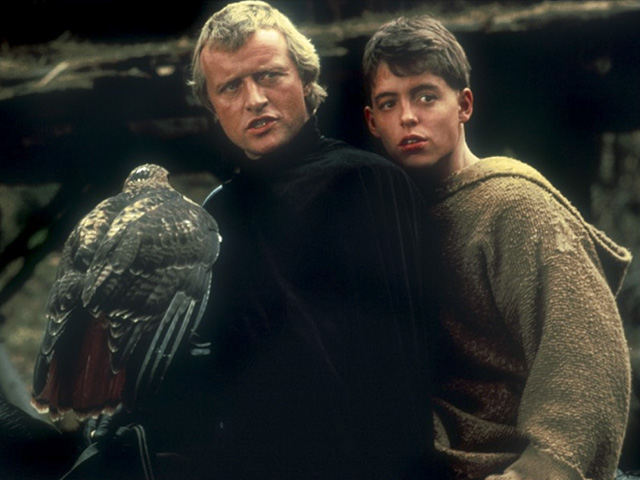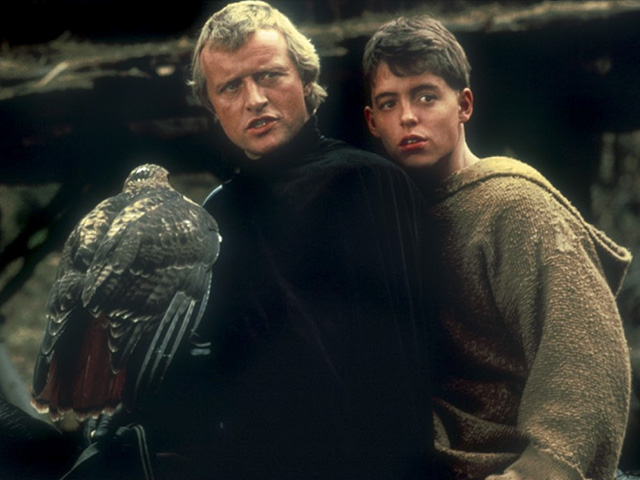 (RALEIGH, N.C.) — Enter the medieval fantasy world of knights, castles and well-trained hawks as the North Carolina Museum of Natural Sciences explores the 1985 film "Ladyhawke" on Final Friday, July 28, 5:30-9 p.m. "Ladyhawke" (PG-13) stars Matthew Broderick as petty thief Philippe "The Mouse" Gaston, who escapes from prison in the medieval French city of Aquila. After being tracked down by city guards, Gaston gets rescued by the mysterious knight Etienne Navarre (Rutger Hauer). Gaston then travels with the knight and his beautiful hawk companion, but soon discovers the tragic link between the two after meeting Lady Isabeau (Michelle Pfeiffer).
This film lands squarely in the decade of peak popularity for all three actors. Broderick's appearance in "Ladyhawke" was nicely bookended by leading roles in "WarGames" (1983) and "Ferris Beuller's Day Off" (1986). For Hauer, his Capt. Navarre was preceded by an unforgettable role as replicant Roy Batty in the futuristic thriller "Blade Runner" (1982) and followed by the menacing lead role in "The Hitcher" (1986). For Pfeiffer, a riveting performance alongside Al Pacino in "Scarface" (1983) was only outdone by her resurrection of Catwoman in "Batman Returns" (slightly outside the "slot" at 1992).
Solar eclipses figure prominently in "Ladyhawke," but did you know the United States is gearing up for one of these extremely rare astronomical events this summer? Beginning at 5:30, you can check out live red-tailed hawks from the NC Falconers Guild, learn more about the Great Solar Eclipse (happening August 21), test your skill at turtle-glider jousting, enjoy live music, or fill up on sliders (pork BBQ or meatball) and drinks — including local craft beers. At 7 p.m., the Museum shows "Ladyhawke" on the big screen, then after the show, hear from Museum ornithologist John Gerwin to find out what the movie got right or wrong, scientifically speaking.
Final Fridays take place on the last Friday of each month. A/V Geeks' Skip Elsheimer provides a fun night of trivia and tongue-in-cheek commentary on popular science-themed movies as well as samples from his vault of 24,000+ short films. Movies are also complemented by experts and hands-on science stations related to each night's theme. Dinner (such as sliders or tacos), drinks (including NC beer and wine) and popcorn will be available for purchase before the show. Doors open at 5:30 p.m., movies and presentations begin at 7 p.m. Admission: $5/person. For more information, a list of future Final Fridays, or to buy tickets, visit naturalsciences.org/finalfridays.
---
The North Carolina Museum of Natural Sciences in downtown Raleigh (11 and 121 W. Jones St.) is an active research institution that engages visitors of every age and stage of learning in the wonders of science and the natural world, drawing them into the intriguing fields of study that are critical to the future of North Carolina. Hours: Mon.– Sat., 9 a.m. –5 p.m., and Sun., noon–5 p.m. General admission is free. Visit the Museum online at www.naturalsciences.org. Emlyn Koster, PhD, Museum Director.